Paralympic athlete helps 2-year-old try out prosthetic leg for first time
Oklahoma City, Oklahoma - A heartwarming video that went viral on social media shows a 2-year-old toddler learning to walk with his first prosthesis while being cheered on by none other than Blake Leeper, Paralympic medalist and double amputee.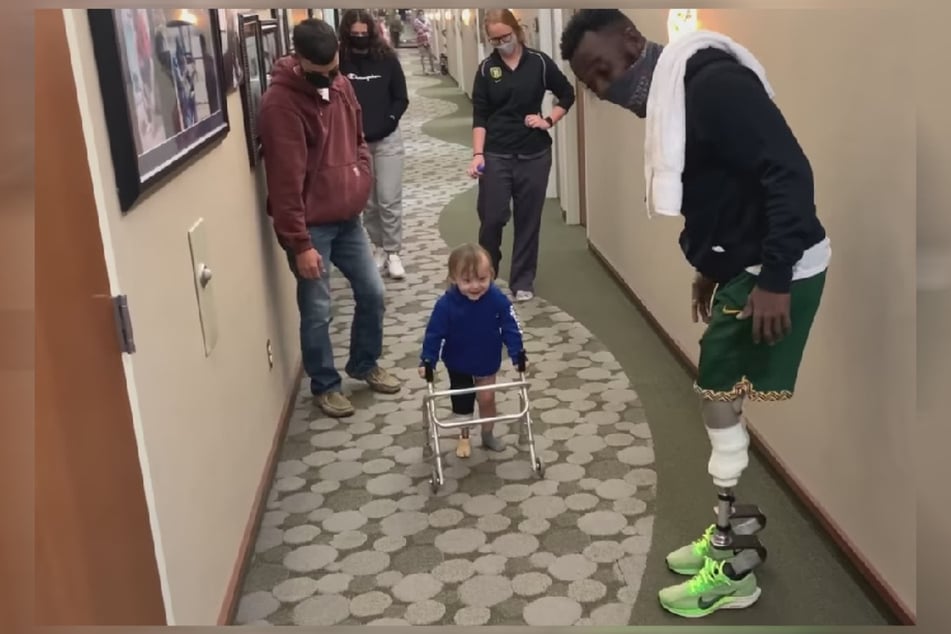 The clip shows the 31-year-old athlete encouraging a little boy named KJ Dyer on his first walk with his prosthetic leg.
The moment was captured at the Scott Sabolich Prosthetics & Research center in Oklahoma City, where the boy got his new prosthetic leg fitted.

The inspiring footage shows 400 meter Paralympian world record holder Leeper telling the brave KJ not to give up and keep going, which puts a big smile on the toddler's face.
News 9 journalist Karl Torp initially shared the video on Facebook and it has since gone viral on several social media platforms.
"The best thing I saw today," Torp's caption said. "That's 2 yr old KJ Dyer using his prosthetic leg for only the second day while being encouraged by 400 meter Paralympian world record holder Blake Leeper."
"These two are pretty much inspiring everyone at Scott Sabolich Prosthetics & Research," he continued.

Apparently, Leeper happened to run into the young patient because he was in town getting fitted for his own new sprinting prosthetic legs.
Three-time US record holder Blake Leeper beat Oscar Pistorius's 400 meter Paralympic world record in 2017.
Cover photo: Screenshot Facebook/Karl Torp