Cat burglar caught pulling a heist for all the household pets
Tulsa, Oklahoma - There's no safe place to hide the treats when you've got a crafty cat burglar in the house!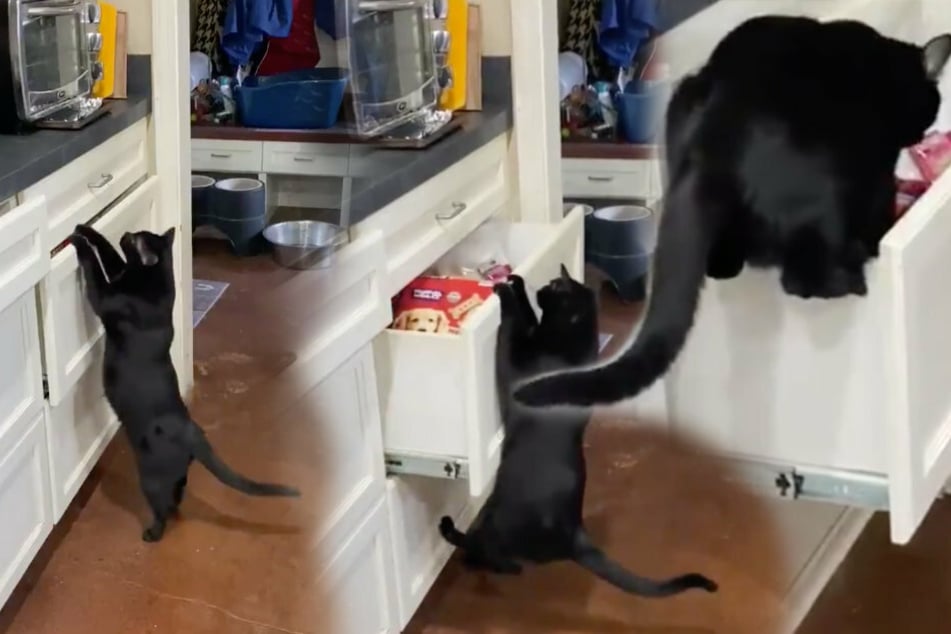 A kitchen drawer seems like the perfect place to store the pet food. But that's not always true, as this Twitter user proved. Her cat Sabrina has figured out how to break into the stash.
In Anna America's video, you can watch this sneaky feline at work. The second kitchen drawer from the top was left open just a crack, which is all this cat needs to get the goods.
The fluffy thief skillfully slips her paws into the crack and hoists herself up like a rock climber. Her body weight is just enough to open the drawer. As soon as the drawer slides open, it's clear why the cat was going for that one: it's full of treats.
After opening the drawer, the cat drops to the floor, walks to the side, and proceeds to jump into her treasure chest. It sure looks like she is getting ready to enjoy a feast.
The video of the cat burgler at work goes viral
Her owner was probably really surprised when she caught her pet stealing snacks. Luckily, she didn't immediately shoo the cat away. Instead, she filmed the trick and shared it on Twitter. The clip now has over 1,000 views.
The best part about the cat's heist is that the drawer contains dog treats, too. Perhaps Sabrina isn't stealing for herself. She might actually be working for the dogs of the house!
Cover photo: Twitter/Screenshot/Bildmontage/annaamerica