Chickens team up to show a frisky cat the true pecking order on the farm
St. Petersburg, Russia - Talk about real teamwork!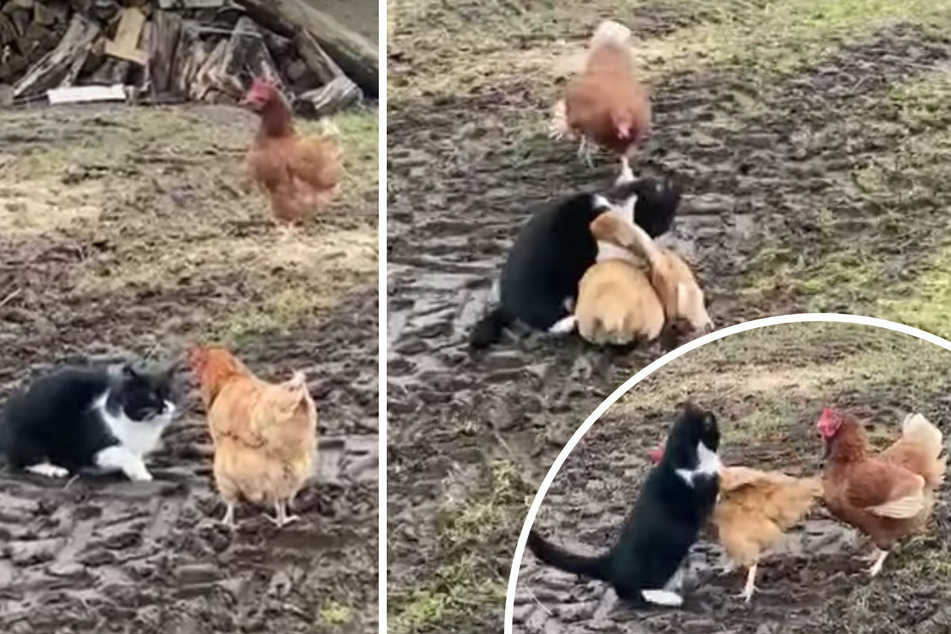 When a farm cat decided it wanted chicken for dinner, it didn't count on its first victim joining the fray in a quick reminder of who rules the roost.
In a video shared on Viralhog's Youtube channel, the hens proved that there is always strength in numbers.
In the first few seconds of the short clip, several of the chickens scrounge about the farmyard, absolutely uninterested in the cat.
Suddenly, the cat decides he deserves a couple of plump drumsticks for dinner and tries to take down one of the nearby hens.
It seems the cat was certain that one hen would be an easy grab, but it took all of five seconds before another hen came to the rescue.
Three bystanders sprinted away in shock when the cat turned its energies to bringing down the second, more resolute hen. But in an excellent tag-team effort, the chicken initially earmarked for dinner turned around and bullied their attacker into submission.
A couple of angry flutters and pecks later, the cat had to slink away with its tail between its legs, off to find a less combative meal.
These two ladies proved to this cat that angry sisters are a force to be reckoned with!

Video proves: Teamwork gives the cat no chance to get a chicken!
The roughly 35-second clip was recorded in St. Petersburg, Russia, and it is not known if the cat has learned his lesson in the long run.
Cover photo: Collage: Youtube / ViralHog