The cat that got the cream: kitten can't get enough of her first Frappuccino
Sicklerville, New Jersey - Starbucks has a new floofy fan! This little kitten's first taste of a delicious Frappuccino is making millions laugh.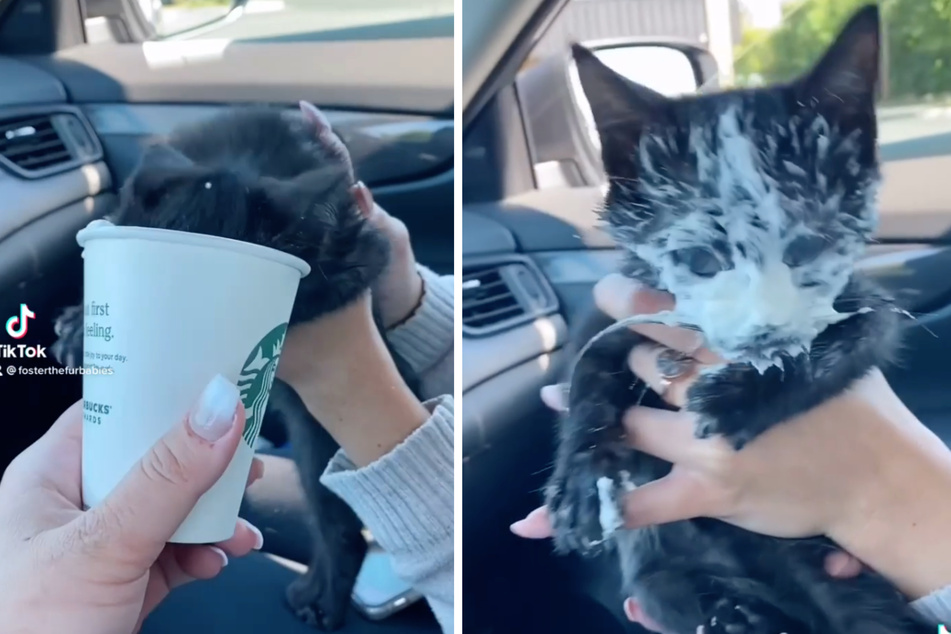 Foster the Furbabies, a New Jersey rescue agency for cats, shared a clip in early February of one of their lucky little ones celebrating her adoption with a tasty treat.
The adorable kitten gobbles down a Starbucks Frappuccino to the delight of 13 million TikTok users and thousands more on Instagram after the clip went viral.
"Starbucks should really sponsor us," reads the caption.
The cute vid of this funny furry customer proves the company could have one adorable spokesperson on their hands!
In the clip, the young black kitten named Meredith gorges herself on the drink, as it covers her whole face.
When the Furbabies ladies pull the drink out from under her nose, the funny feline seems confused and milk "drunk".
"It's so bad...It's a sin!" the girls in the video laugh.
But with her milk goggles on and still thirsty, the kitty keeps going back for more.
The hilarious video wows on Instagram
A heated debate sparks on TikTok
TikTok is all over this adorable clip! Users have already pressed the little heart icon more than two million times.
"This is the cutest mess ever," one of them wrote. "When whipped cream is more important than breathing," another chimed in.
But while some followers were laughing their heads off, many also gave a lot of flack, noting that dairy is not good for a cat's digestion.
The topic sparked a heated debate in the comments section. Some people claimed cats cannot have dairy at all, while others assured that a little bit in moderation was a-okay.
Foster the Furbabies updated their Instagram to issue a disclaimer: "Dairy is not ideal for cats and kittens. This was a one time treat for her... She's happy and healthy."
They also said the kitten never got sick from the sugary Starbucks drink.
As one user summed it up: "The cat was like 'I have zero regrets.'"
Cover photo: TikTok/Screenshot/fosterthefurbabies (2)