Blind dog with a guide dog: TikTok video of amazing canine friendship goes viral
Internet- A viral video of a dog is currently moving the TikTok world to tears. The scene is even making some people rave about how much better and friendlier animals are compared to humans.
In the clip posted by the TikTok user Millie Soto, two dogs walk down a staircase. But one of the four-legged friends can't see anything!
Their owner revealed that the big boxer helps the smaller blind dog descend the stairs, step by step.
The clip shows how the two slowly and gently make their way down the stairs. The boxer is being incredibly considerate throughout. After each step, it pauses, turns to its buddy and continues guiding it by leading the way through body contact.
Their touching climb down is so sweet that the TikTok clip scored more than one million views and some 270,000 likes within twelve hours of its release.
Take a look at the heartwarming video yourself!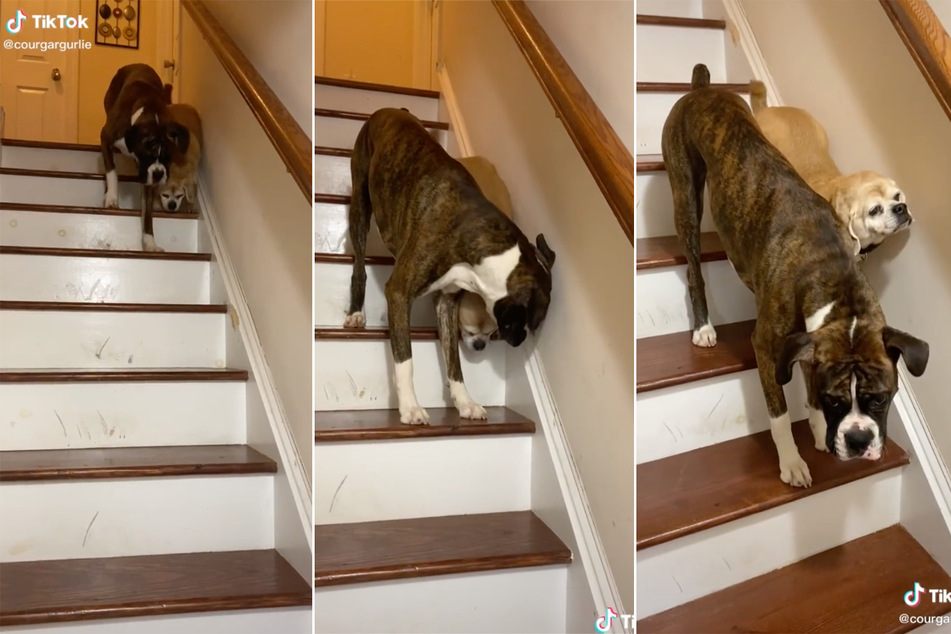 TikTok users are convinced that animals are better than people!
There are tons of comments from enthusiastic TikTok users. One user wrote "Dogs are just beautiful souls aren't they." Another can't get over the fact that a dog has a support dog and wrote: "A DOG with a GUIDE DOG!"
Other users gushed about how kind-hearted and selfless dogs are. "Dogs are so much better than us. Compassion with no ego or self righteousness just pure." More than one user agreed that humans could learn a thing or two from this kind of compassion.
Unfortunately, this the only video of Millie Soto's dynamic dog duo on TikTok. Her channel is brand new and hopefully the reaction to her huge viral hit means that more clips are coming soon.
Cover photo: tiktok.com/@cougargurlie