Cruel ripoff: family mourns loss of their puppy 24 hours after bringing it home
Raleigh, North Carolina - A family from the North Carolina was the victim of a terrible scam. They are mourning the loss of the puppy they only had for 24 hours before it had to be put to sleep.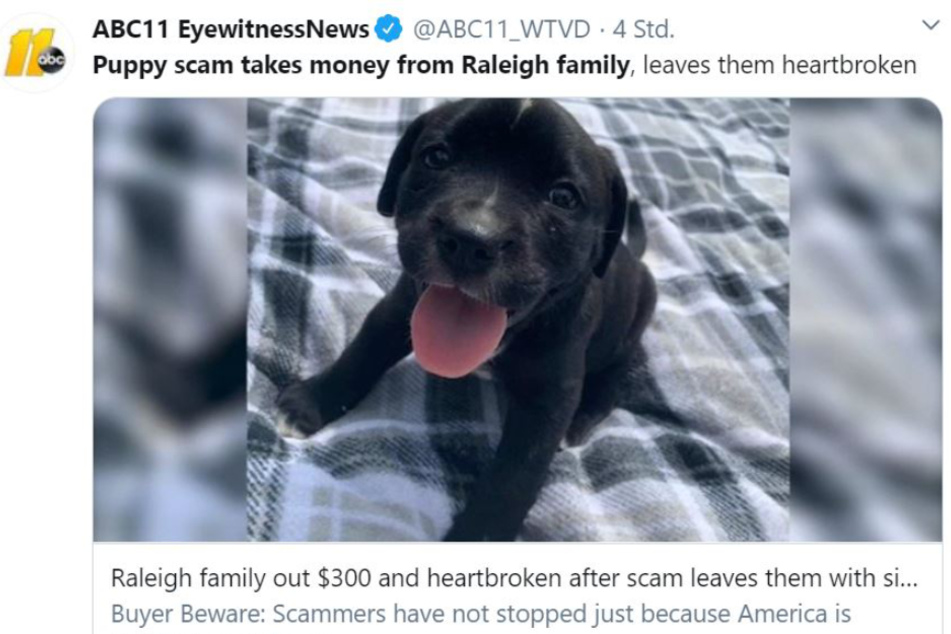 ABC11 reported that the family is devastated by the loss of the puppy, whom they had just named Jasmine. "Even though we only had the puppy for 24 hours, it's very difficult," Cassie Graves said.
Cassie added, "It was very difficult to have all the leftovers - the feeding bowls, the food, the leash, the toys - but no puppy in the house."
But why did the loving family, have to put little Jasmine down so suddenly?
It turned out the poor animal was extremely ill when she arrived at her new home. The new owners had been ripped off. The seller that they had found on Craigslist had scammed them out of $300 for a terminally ill puppy . 
The family had driven to Greensboro to buy the puppy from a man that they had only communicated with online. Once there, the exchange was quick.
"Everyone was excited, it was like having a baby in the house," said Cassie.
Family had to say goodbye to Jasmine
Only hours later the mood changed. The family quickly realized that the baby dog needed medical attention. They took her to the vet, where she was found to have anemia and a severe worm infestation.
After a thorough examination, the vet told the family that the best thing to do would be to put Jasmine to sleep. With a heavy heart, the family had no choice but to end her suffering.
They had their puppy's remains cremated and buried them in their backyard.
They tried to contact the scammer, but both his numbers had been disconnected. The family had fallen victim to a terrible but sadly not uncommon scam. 
Cover photo: Twitter/Screenshot/@ABC11_WTVD