Dog gives owner a paw-ful of Pomsky sass with voice message: "Get a grip!"
One scholarly dog gave her human some tough love after the canine companion witnessed its owner fake crying on the floor.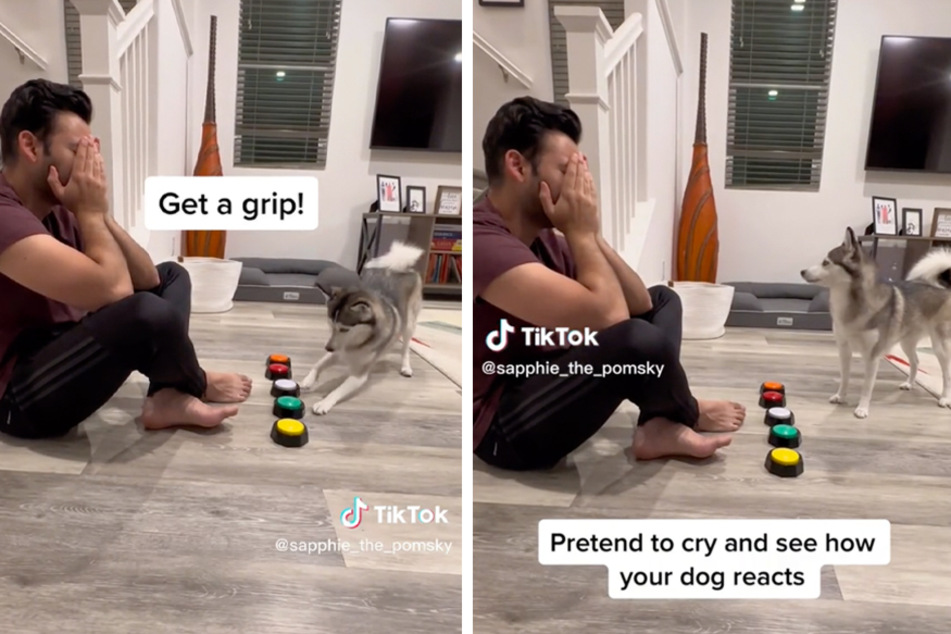 Many dog owners seem to be hopping on the trend of teaching their four-legged friends how to communicate with the use of recordable buttons for dogs.
Clearly, Sapphie the Pomsky has been trained to use them quite well, and her owners constantly update the pup's 4.9 million TikTok followers with all her latest learnings and interactions on her personal page.
But the half-Pomeranian, half-Husky pup had 1.2 million viewers in tears of laughter in one of her latest videos. In the clip, Sapphie is seen looking at her owner, who is fake crying on the floor.
With the voice buttons laying on the floor between the owner and his dog, the Pomsky steps up to give him a sincere message of advice: "B**ch, get a grip," the dog seemingly says via the pre-recorded buttons she steps on.
Sapphie's owner then glares at her in a perplexed manner, as the dog lays down, appearing completely unbothered by the sobbing scene in front of her.
Other videos on the dog's TikTok page show Sapphie savagely roasting her owners in other situations, as well, such as a fake argument between her two humans with 53.9 million views, and an affectionate scene that showcases Sapphie's owners hugging, to which the dog lovingly tells them, "b**ch."
As one can see, Sapphie's owners have truly given the Pomsky all the communication tools she needs to roast them on the daily!
Cover photo: Collage: Screenshot/TikTok/sapphie_the_pomsky