Dog owner is touched when he reads letter from young neighbor
Internet - This note from a ten-year-old boy not only went to the heart of the neighbors...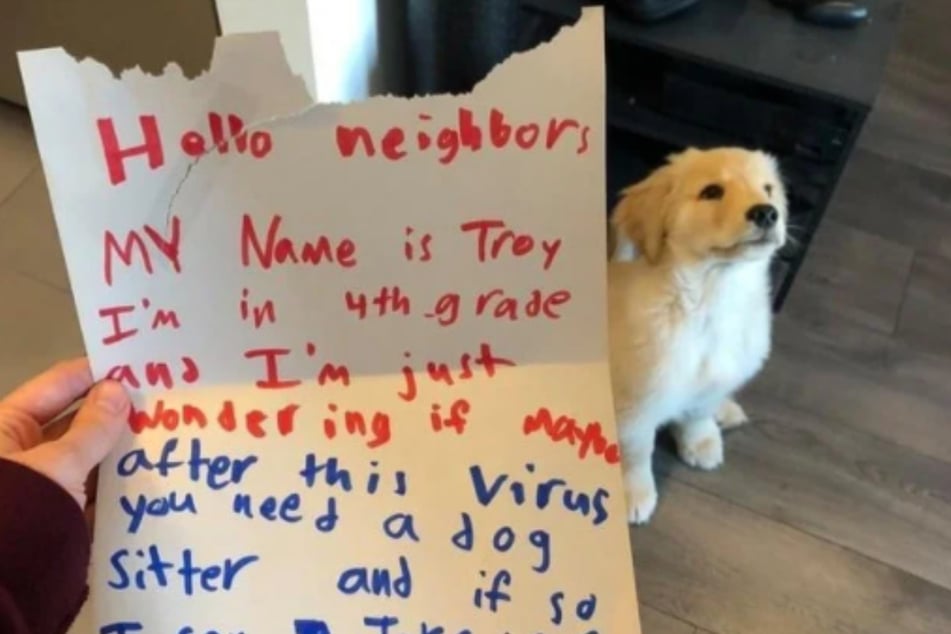 A picture went viral on Reddit of a touching handwritten letter from a little boy.
It reads, "Hello neighbors My name is Troy I'm in 4th grade and I'm just wondering if maybe after this virus you need a dog sitter and if so I can take your dog on walks and more."
Moved by the sweet gesture, user KingTimKap snapped a picture of the note and posted it on Reddit. As he holds up the letter, an adorable golden retriever puppy sits dutifully in the background.
The snapshot was posted in 2020 but recently resurfaced on Reddit. It has received a total of 103,000 upvotes.
Some users gave funny explanations for the photo, with one writing, "The dog has a look like it wrote the note and secretly just wants to play with the human pupper next door."
Another said, "Doggos face is like when you tell your friend to ask your mom if you can spend the night because she'll say yes to your friend but no to you lol."
Another praised the kid's courage: "Troy seems like a real go-getter. Kid is going places."
Cover photo: Screenshot/Reddit/KingTimKap