Dog with a terrible diagnosis finds comfort in a blue octopus
Illinois - Life hasn't been kind to the dog Theo. His previous owners left him in a parking lot and after being rescued, the dog got a sad diagnosis. But the four legged friend has found comfort with his new family and a very special toy.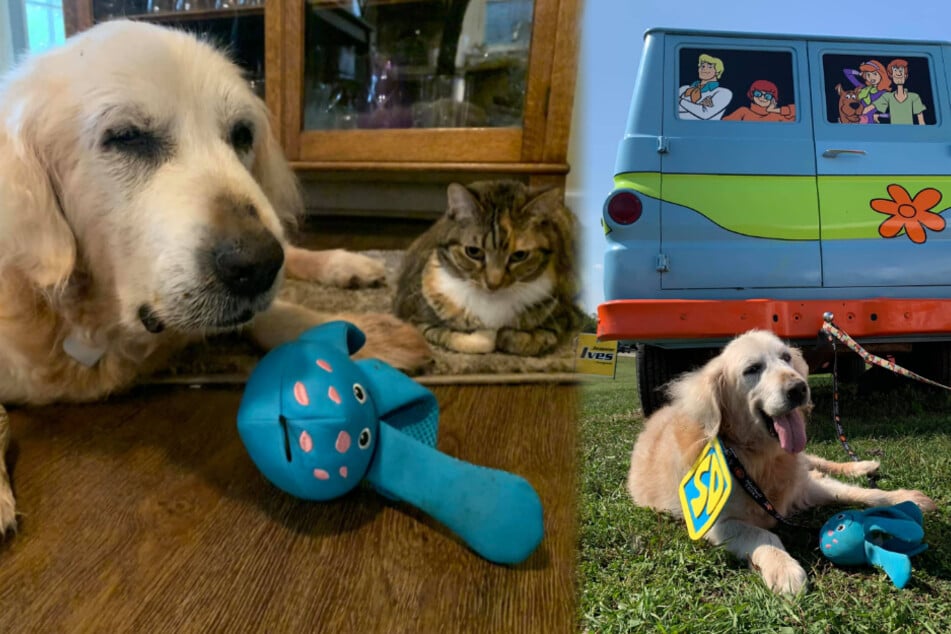 When Theo has his beloved blue octopus toy with him, life is easier for him.
His love for the stuffed animal has gone so far that Theo no longer wants to leave the house without it.
The octopus is like his safety blanket in these trying times – because Theo has terminal cancer.
The poor golden retriever was found all alone in a supermarket parking lot in Illinois. His previous owners had apparently abandoned him. Jenny Leech, who fosters dogs with special needs, took in the old dog. 
He was found with huge lumps all over his body. The twelve-year-old dog is suffering from testicular and pancreatic cancer.
Jenny decided to make the rest of Theo's life as pleasant as possible and even let him pick out a new toy. He chose a blue octopus.
Cancer-suffering dog Theo becomes an internet star thanks to his keeper
After she saw how happy the octopus made Theo, Jenny wanted to get him a spare. According to the Mirror, she asked for help on Facebook and immediately received 13 stuffed blue toys from all over the country. 
But Jenny didn't stop at this little army of stuffed toys. She has also created a bucket list of adventures for the old guy. So far, Theo has been on a blind date and gone on a magical mystery tour with his foster dog friends. 
He and his octopus are kind of famous. You can even get a T-shirt with the retriever's likeness and the message "Theo: Inspiring Kindness Worldwide". All proceeds go to Live Like Roo Foundation, which helps owners deal with their pet's cancer diagnoses. The foundation is also paying for Theo's cancer care.
Jenny Leech regularly documents Theo and his octopus' adventures on her Facebook page. Theo's forever family is determined to make the last weeks of the dog's life as beautiful and pleasant as possible.
Cover photo: Facebook Screenshot @Jenny Leech