Family finds out their rescue dog has a healing superpower!
Paterson, New Jersey - After being found atop a cliff in the freezing cold, Jersey Pits Rescue took one pit bull in to give him a second chance at life. After being adopted by his lucky "fur-ever" family, Benny began to show his superhero side just when they needed him most.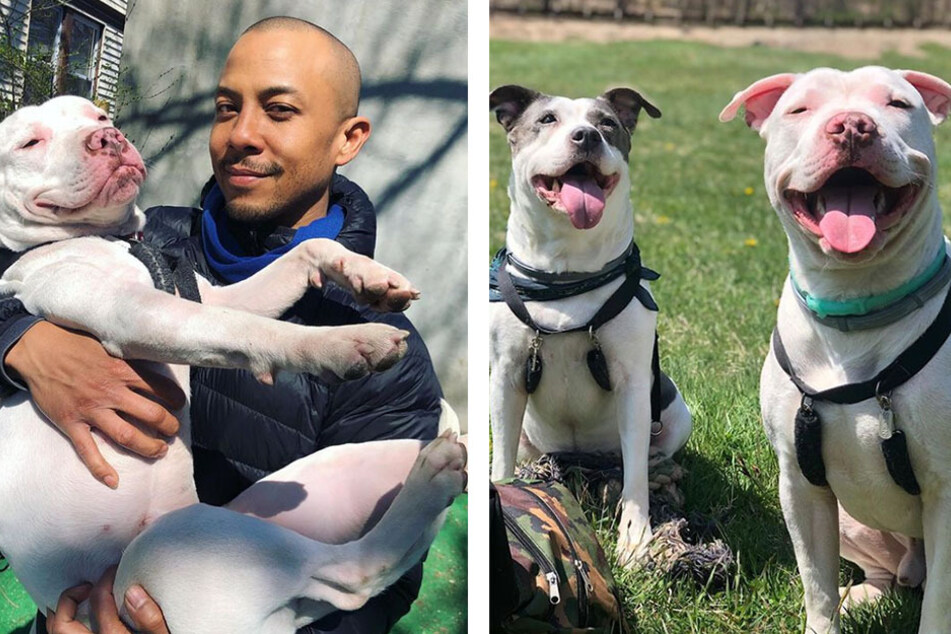 After the team at Jersey Pits Rescue worked tirelessly to save a dog who was shaking atop a cliff, one couple put in an application to foster the pitbull.

Fostering turned into adoption after they fell in love with the dog, now named Benny. After they found out their other dog, Sky, had cancer, it didn't take long before they realized Benny had a particularly special quality to him.

With sky looking notably sicker as each day passed, Benny grew closer to his new sibling, offering support, love, affirmation, and protection to his canine companion.
His adoptive parents told The Dodo: "Benny was like the supportive energy. He just gave us little laughs".

Sadly, one dog's love can only do so much in the eyes of cancer before the illness took Sky from Benny and his human parents.

Although the trio was going through heavy grief, Benny knew he had a job to do. After consoling his pup-sister through her illness, the couple noticed his energy shifted towards them in their darkest times.

Benny came into the family's lives when they needed him most
After Sky's passing, Benny would come up next to his adoptive "dad", and gently put his paw on his shoulder as to tell him everything was going to be alright.
The timing of Benny finding his way into the couple's lives is something the two will cherish forever.

"We are so happy that he came at the right opportunity. We feel like that was part of Sky's cosmic energy. All the stars aligned for him to be with us during this difficult time."
Benny has come a long way since he was found shaking on the top of a cliff, but it's safe to say that he wasn't only saved by his new owners – they were also saved by him.
Cover photo: Screenshot/Instagram/Benny Blanco & Sky