Golden retriever reunion has the internet wiping away tears after big twist
Santa Ana, California - An ordinary day out for this gorgeous golden retriever turned into a family reunion that left social media users with something in their eye.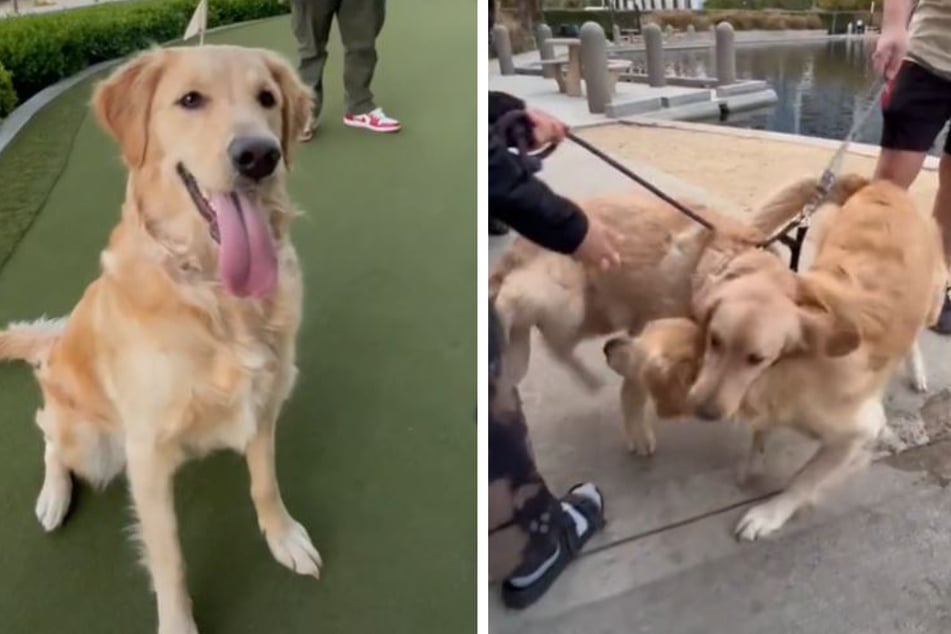 Aubrey already had a healthy follower count across different platforms before one chance encounter caught on video made her go viral.
The handsome hound was taking a walk with her owner when they bumped into another retriever out for a stroll.
Now, there's nothing particularly unusual about two dogs hitting it off immediately, but Aubrey and her new four-legged friend, called Ahsoka, definitely seemed stoked to meet. The clip shows them wagging their tails like there's no tomorrow and climbing all over each other.
But their enthusiasm wasn't the only thing that stood out. As Aubrey's owner wrote on Instagram, "I couldn't believe how similar they looked." Neither could Ahsoka's human, which is why they started talking about where they had gotten their pooches from.
That's when the big reveal came. It turns out both golden retrievers came from the same breeder! From there, it was almost obvious that there would be one more twist – Aubrey and Ahsoka have the same dad, which makes them long-lost sisters.
The furry family reunion got 10 million views on TikTok alone, as well as thousands of comments, including one that added yet another layer to this incredible story.
"WAIT THIS IS MY PUPS SIBLINGS TOO IM GUESSING?! from Pam Berry in SoCal? I have one of Docs sons!!," one user wrote, just about blowing everyone else's minds.
Part two soon followed on Aubrey's social media accounts, showing the two sisters out on a play date. Who knows, maybe the next one will feature all three siblings reunited.
Cover photo: Collage:Screenshot/TikTok/pawbrey