Pup teaches owner to "talk dog" in hilarious viral video
Tucson, Arizona - A hilarious video of an owner and his playful four-legged friend has gone viral on social media. In it, the pup tries to teach his owner how to "speak dog."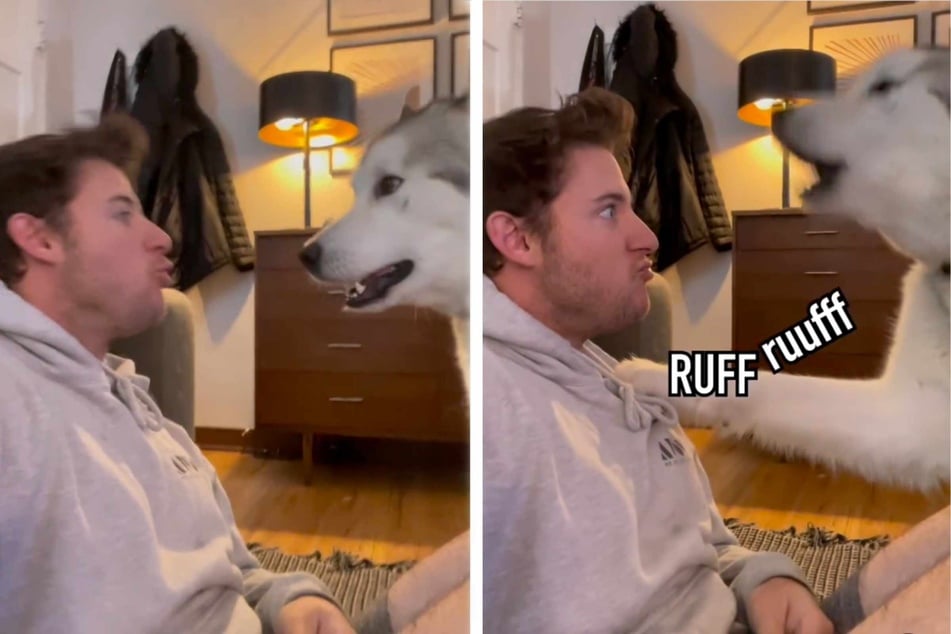 There simply can't be enough videos of cute dogs on the internet, but ones where pets are taught tricks are particularly popular.
This one turns the stunts right back around when a pup tried to make his own do the showing off!
Brian Hanshaft from Tucson and his Alaskan Malamute named Hugo dive into doggy language in a clip that's making internet users giggle.
As seen in the short clip, which has received more than 193,000 likes on Instagram and counting, Hugo tries his hand at being a teacher.
"Hugo teaches me to speak dog," reads the caption.
Hugo did indeed put in a lot of effort and did his best to teach his human the howling ways.
Dog "teaches" owner how to bark in viral video
The two of them sit on the floor in the clip and look deep into each other's eyes. Hugo repeatedly tries to "teach" Brian the correct "pronunciation" for his barks, which his owner imitates.
However, the dog occasionally seems a little frustrated when his Brian gets a howl "wrong."
In the end, Brian laughs his head off, and they cuddle.
Many Instagram users reacted, loving the dog video.
"It seems that Hugo has no patience for this student," one joked. Another admired the pair's "great relationship."
And of course, viewers noticed Hugo put his paw on Brian's shoulder at the end, "like a real buddy."
Cover photo: Collage: Screenshot/Instagram/hugo_themalamute