Toy poodle fiercely defends her home from an unwanted intruder: the mail!
Seattle, Washington - This dog shows no mercy! When she hears the mail truck approaching, there is no stopping the little poodle from Seattle...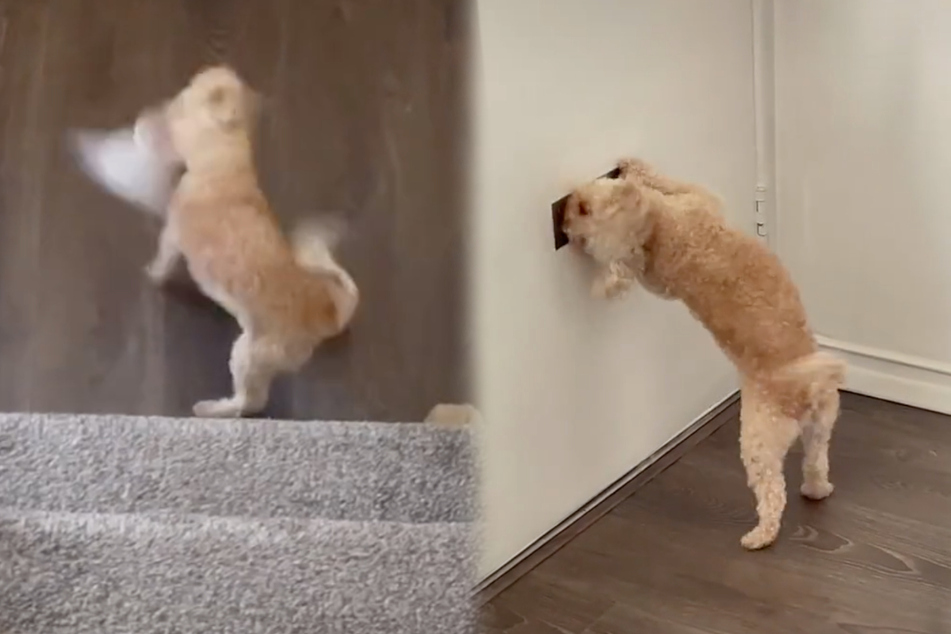 Jake, a 28-year-old designer, and his wife Taylor have been sharing videos of their little pooch Louise (short: Louie) furiously ripping up magazines and envelopes every time they are tossed through the mail slot.
"After quarantine started, like everyone, we spent more time at home, which meant Lou was awake when the mail came. And she did not like the papers coming through the door," Jake said.
Louie has become a real TikTok sensation with her hilarious tantrums every time the mail arrives. A recent clip amassed over 4.5 million clicks and 250,000 likes. The video shows the dog racing towards the door as soon as the mail carrier tosses a new load through the slot. The poodle starts jumping up and down and grabs the mail with her teeth, leaving only pieces behind.
"He's not a fan of utility bills," one user joked in the comment section.
The mail destroying seems to have become a daily ritual for the family, as the animal's TikTok, Instagram, and YouTube channels are filled with similar videos. Apparently, the four-legged friend likes to wait on the back of a chair in the front window to see when the mail is coming.
The couple have been so amused by Little Louie's behavior, they have set up their own P.O. Box and started asking people to send their dog more letters to shred at the door.

The dog parents set up a website for their toy poodle Louie
The TikTok account called louiesmailtime has around 34,500 followers, and the videos repeatedly go viral on the platform. Since December, the pooch's adorable attacks have been available on Instagram and YouTube as well.
The couple from Seattle seems determined to kick-start Louie's career as a dog influencer: they have already created Little Louie's own website, which includes a merchandise shop with caps and t-shirts featuring their ferocious poodle's face.
Cover photo: tiktok.com/@louiesmailtime