What the duck! Golden retriever meets his favorite toy come to life in adorable video
Springfield, Ohio - There's cute, there's cuter, and then there's Charlie. The golden retriever from Springfield, Ohio, is a social media star with hundreds of thousands of followers, and his latest video is just ducking adorable!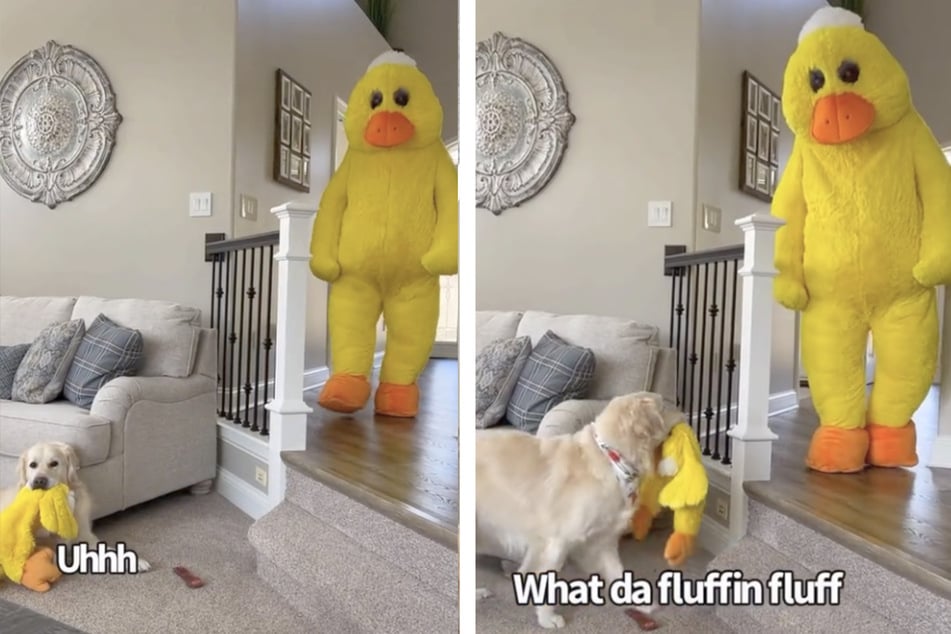 For the past two years, Charlie has had a soft spot for Mr. Quackers, a fluffy duck toy that he won't let out of his sight.
Quackers clearly means a lot to the pooch, since he's survived far longer than any of his other playthings. Where other toys got chewed up and spit out in record time, Charlie has been protective and caring with his cuddly friend.
"He started taking it everywhere he went and was even sleeping with it," owner Alicia says in a Facebook video, which also shows the dog taking his best bud out for a walk on a leash.
On his third birthday, Charlie even got a duck-themed hat as a present and eventually, Quackers got some backup in the form of several identical toys.
All this time, Alicia and her husband, Stan, were planning to take things to the next level with another special surprise.
Mr. Quackers comes to life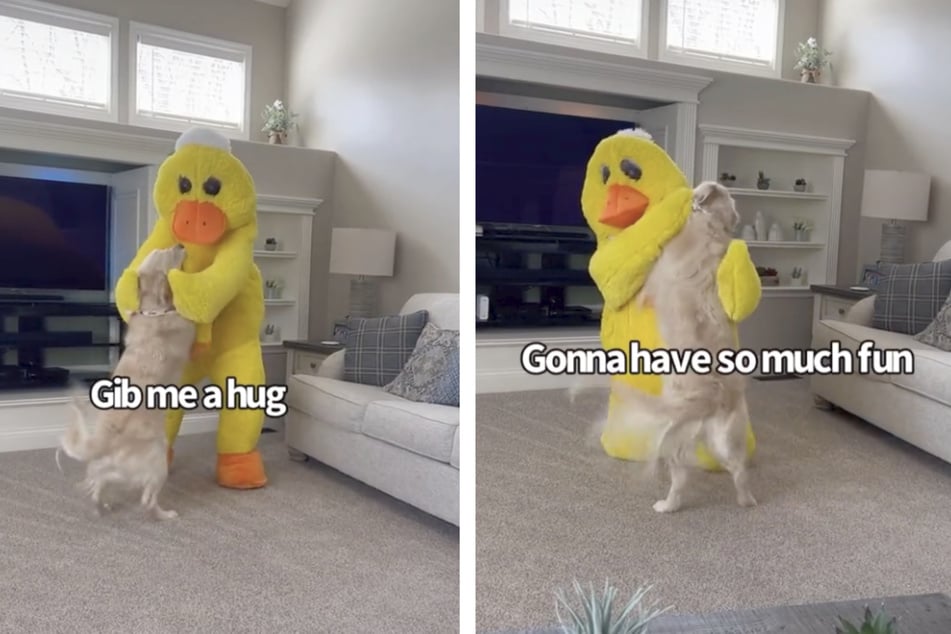 The next logical step for Charlie's owners was dressing up in a human-sized Quackers costume, but finding the right one proved impossible.
Or that's what they thought, until Stan stumbled on the perfect life-sized likeness in a Walmart this February.
"It looked almost identical to Mr. Quackers and it was the last one left," Alicia explains in her video.

Now, all that was left was to film the big reveal for Charlie's huge social media fanbase – and the final result definitely didn't disappoint.
The clip shows the golden retriever playing with the original Quackers, blissfully unaware of what's coming round the corner: Stan, waddling towards in him in the full size duck costume. When Charlie catches sight of his biggest present yet, he completely loses it, "wagging his tail so hard his entire body was moving," as Alicia puts it.
"It was like watching a child meet their favorite Disney character for the first time," she adds, as Charlie jumps up and down, hugging the giant Mr. Quackers who just walked into his life.
As for what's next, Stan and Alicia plan to keep their dog happy with regular "visits" from Quackers!
Cover photo: Screenshot Facebook/ Charlie the Golden