Furry Foursome: Spider monkey and dog trio delight millions on TikTok
North Carolina - Animal friendships might be the cutest kind – especially when they come from worlds apart!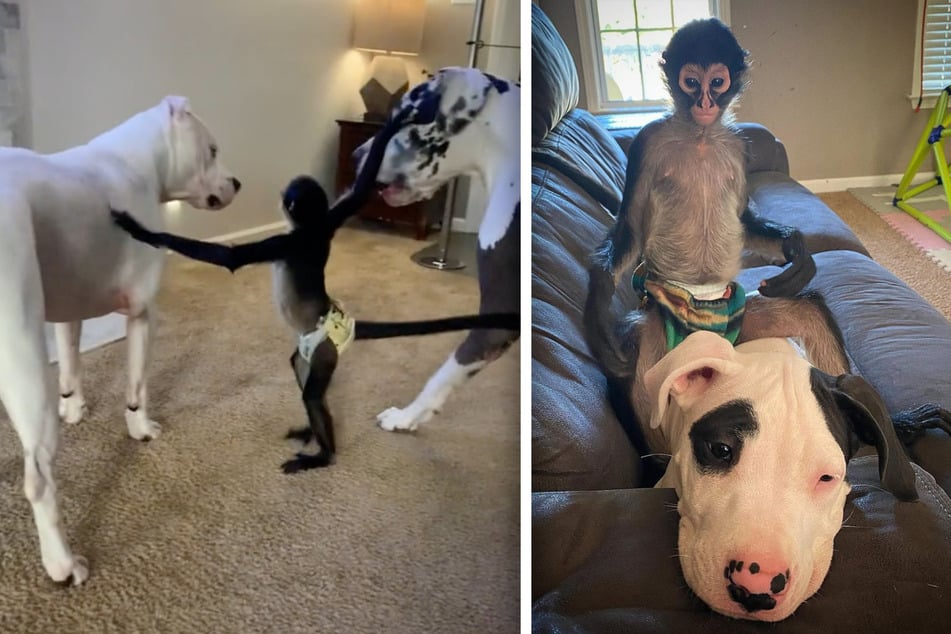 It's certainly rare that a spider monkey and three Great Danes live together in the same household.
But as many fans on TikTok can attest, the unusual animal combo works quite brilliantly – and leads to lots of monkeying around!

Keke G has made a name for herself on her TikTok account KekeGthespidermonkey, as well as on Instagram with AdventuresOfKekeG.
In the hundreds of heartwarming videos, the giant dog trio and the tiny monkey are shown having fun romps at home.
In Keke G's most successful TikTok video to date, the monkey can be seen crawling toward one of their Great Danes with her tail in the air. When the four-legged friend tries to run away, the little monkey hangs onto the dog's tail and hilariously gets pulled by the hound across the floor.
The twelve-second clip has gained more than 30 million views and counting.
In another clip, you can see two of the Great Danes growling at each other, but before any serious hostility can arise, their spider monkey sibling jumps in and settles the dispute.
After a concerned user wrote that the dogs could "tear the little guy apart," the pets' owner commented that the furry foursome gets along extremely well.
"They've been living together for more than a year now, and there's never been any problems," the owner replied.
In another comment, Keke's owner explained that the family regularly rehabs small mammals, and took the monkey into their home as a baby.
Here's hoping Keke and her doggy pals will keep starring in many more funny vids down the line.

Cover photo: Collage: Screenshot/Instagram/adventuresofkekeg