Is this the coolest pooch in the world? Man and his dog go on amazing adventures together
Florida - A man straps his golden doodle up on his back and decks him out with gear to hit the streets of South Florida in style.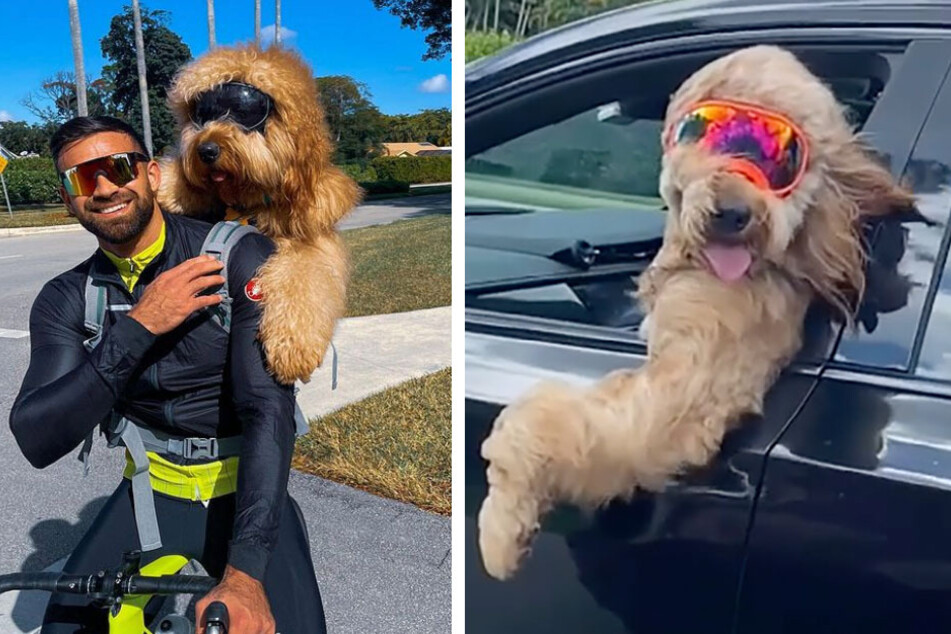 What's a bike ride without your dog packed up and loaded in a bag on your back?

Cliff Brush Jr. is a bike-riding, dog-loving man who is seldom seen on the streets of Florida without his golden doodle Brodie snapped in and snug in his special dog backpack.
When they hit the road, you can barely see the bag that Brodie is strapped on his back. Partially because of the mass amount of fluff that is Brodie, and because the pup seems to tower over Cliff when they're on rides, wrapping his paws around his shoulders in the way only a life-sized, bike-riding dog could.
There's no doubt that Brodie's living the good life, and doing so in style. If you'd only ever seen his human's Instagram account, you'd think this ball of fluff lived on a bike or riding shotgun in Cliff's car, but he's so much more than that.

There's no denying that Brodie looks incredibly happy and adorable riding through the city with his pup shades and a helmet that makes you wish you could look half as cool as he does.

You can't put Brodie in a corner
Not only can Brodie ride on the back of his owners back like a pro, he can dance like one, too.
In the most recent video on Brodie's Instagram, he shows off his sweet moves after Cliff sets him up for pup dancing success right before the beat drops.
Brodie's owner isn't just a dog dad to him. He also has a golden retriever named Luna who just became a mom for the first time!
Cover photo: collage: screenshot/instagram/brodiethatdood/cliff_breezy