Pigcasso: The world's most successful non-human artist
Franschhoek, South Africa - Pigcasso looks just like any other pig. Above all, she loves to eat and bathe in mud, and just lie around doing nothing.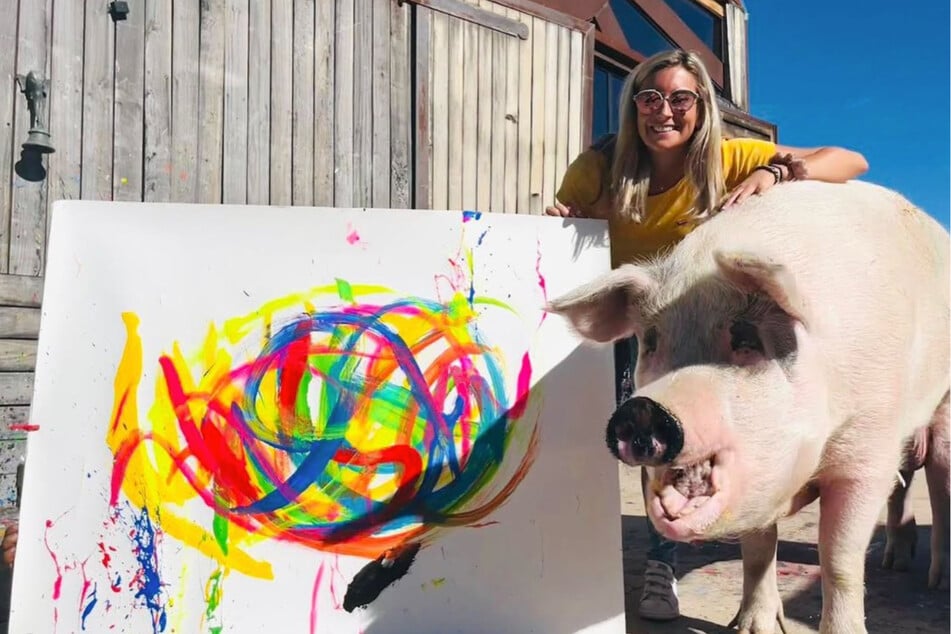 But the six-year old sow, who lives on a sanctuary in the Western Cape, South Africa, also has a very unusual hobby: painting.
Two to three times a week, her owner Joanne Lefson brings out the paint buckets, and Pigcasso grabs the custom-made brushes with her snout and starts going to town on the blank canvas.
Waving her head up and down and from side to side with swift, jerking movements, the pig has soon filled the canvas with colorful strokes, only interrupting the process to devour apples, melons, and other snacks offered by her owner as a reward.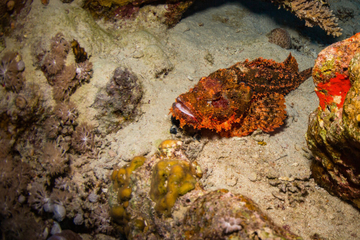 Destined to become a pork chop or a bacon sandwich, life's certainly changed for Pigcasso after she was rescued in 2016 by Lefson, who runs Farm Sanctuary SA in Franschhoek, with the mission of inspiring compassion for farm animals.
To keep the little piglet occupied, knowing that pigs are "intelligent animals, who enjoy being entertained," Lefson put different toys in her stall, but Pigcasso destroyed everything – except for some old paint brushes.
Wondering if this was a sign of hidden potential, Lefson says she then decided to teach the pig to hold the brushes in her snout, and Pigcasso soon began to paint.
While her owner helped her to get started, "her expressionist technique she developed by herself," Lefson says. Move over, Francis Bacon!
Pigcasso goes from hobby painter to world-famous artist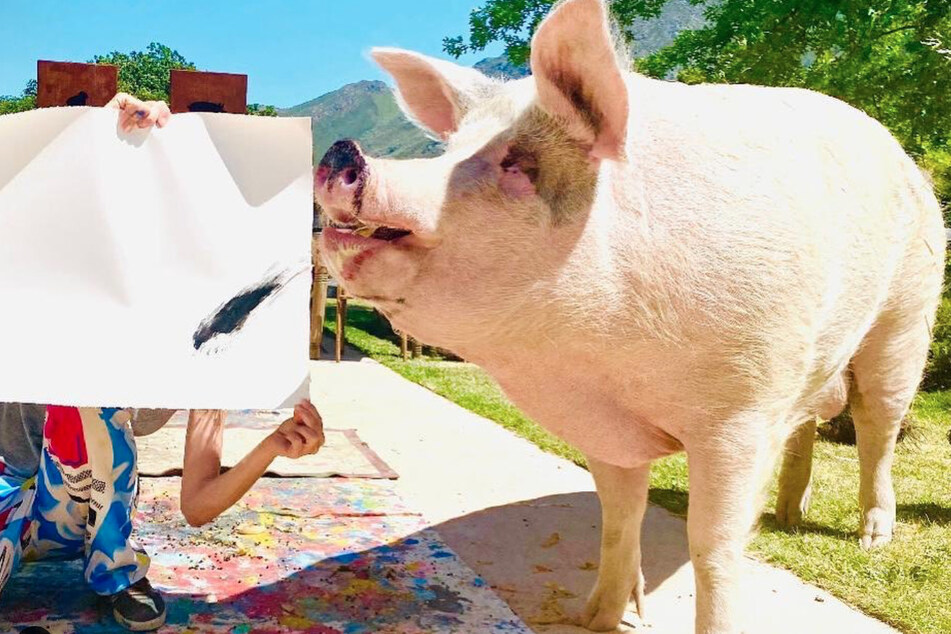 Pigcasso's passion had been a mere hobby, until a New York couple visiting the sanctuary asked to purchase some of her paintings. "From then on, it just took off," Lefson tells dpa.
Word about the pig's unusual talent soon spread, and tourists from all over the world began visiting the farm to see Pigcasso, who by now weighs some 1,100 pounds, and buy her paintings.
Dubbed the world's only painting pig by her rescuers, Pigcasso's paintings sell for as much as 66,000 South African rand ($4,100). All profits benefit Farm Sanctuary SA's causes.
Last December, Pigcasso's painting Wild and Free sold for $27,000 at auction, earning the sow a Guinness World Records entry for the most expensive artwork by a non-human artist.
Pigcasso's works are signed by both the pig – with her snout – and Lefson, to ensure authenticity.
The animal rights activist is very much involved in the process, which she calls a "human–non-human collaboration."
Lefson picks out the colors and adjusts the canvas if needed. But while she decides when a work is finished and names the paintings, she doesn't interfere with Pigcasso's creative process, she says.
Pigcasso makes friends with Jane Goodall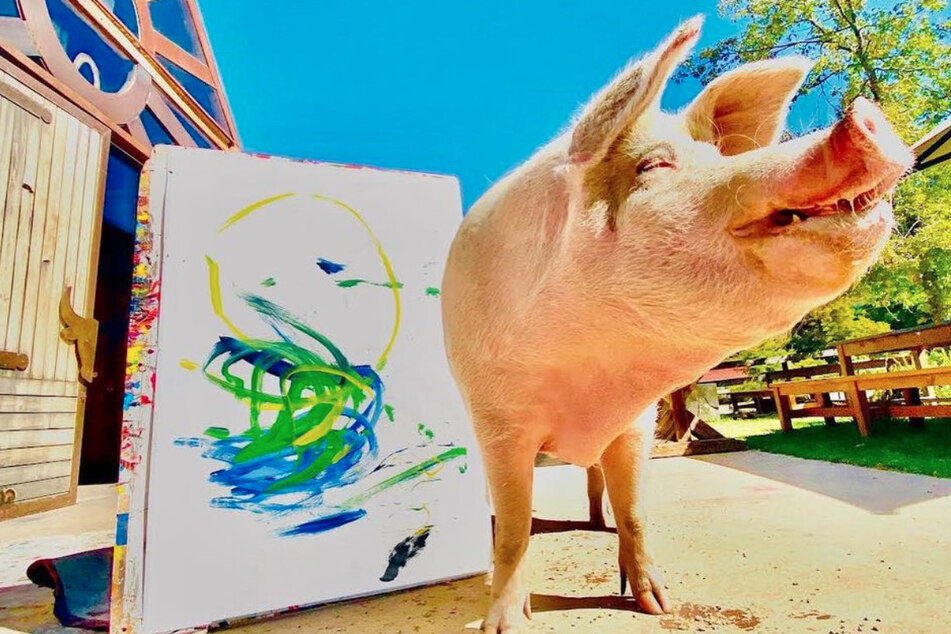 Besides the original artwork, buyers also receive a copy of a video showing Pigcasso painting the work and a certificate of authenticity, as well as a picture showing the artist with her painting.
One of Pigcasso's best known collectors is Jane Goodall, the ethologist made famous by studying chimpanzees in the wild. She has also written the foreword for a book on the porcine painter's life, set to be published next year.
And it's been a busy life so far. Besides the countless paintings that have been purchased by fans from all over the world, from Columbia to Kazakhstan, in 2019, Swatch also launched a new limited-edition watch with the design by Pigcasso herself.
The sow from South Africa isn't the only artistically gifted animal, however. In the US, Dagger DogVinci, a Black Lab/Golden Retriever mix, also paints for a good cause, while the animals at the Thai Elephant Conservation Center near the Thai city of Chiang Mai create "abstract elephant art."
From an artistically gifted beluga whale in Japan to a painting black rhino in the zoo of Denver, Colorado, the list goes on and on.
Pigcasso's talent supports the animal sanctuary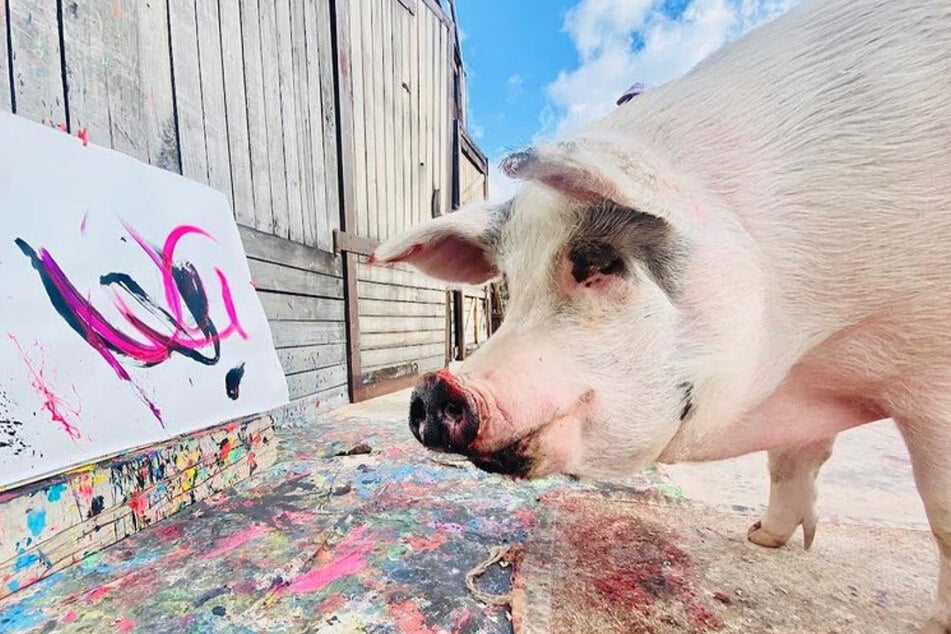 Animals certainly have innovative traits, says Allison Kaufman, an animal researcher at the University of Connecticut. For example, they are able to come up with new ways to find food or explore new routes to impress a partner, she explains.
It's possible to teach animals how to paint, just as you can train them to imitate any other behavior, Kaufman says, adding that as long as they are not forced to perform a certain task, this kind of training benefits animals as it stimulates them cognitively.
But when it comes to art, it's impossible to say whether an animal is creating something intentionally, the researcher says. "There's not really much need in the animal world for emotional expression – at least that we know of. That doesn't mean we shouldn't enjoy animal art," says Kaufman.
For Lefson, Pigcasso's talent is above all a great way to support the sanctuary, which is also home to numerous chickens, goats, cows, and sheep, all of whom were originally destined to end up in the slaughterhouse.
"It's about much more than Pigcasso's fame. I want to show that pigs have value, that they deserve to be treated better," says Lefson.
"Her primary purpose? To paint a better picture for pig-kind – and to hang in the Musee d'Oink-say," Pigcasso's official website jokes.
Lefson hopes that the pig's artwork will also animate buyers to take a stance against factory farming, or at least think twice before purchasing pork the next time.
Because you never know – under different circumstances, the sausage on your plate might have become the next van Hog.
Cover photo: Screenshot/Instagram/pigcassohoghero