SXSW 2023: TikTok sensation JVKE proves he's in his Golden Hour at C23 Live showcase
Austin, Texas - It's not SXSW without an impending weather disaster, but famed TikToker and music artist JVKE lucked out for his Golden Hour sunset showcase.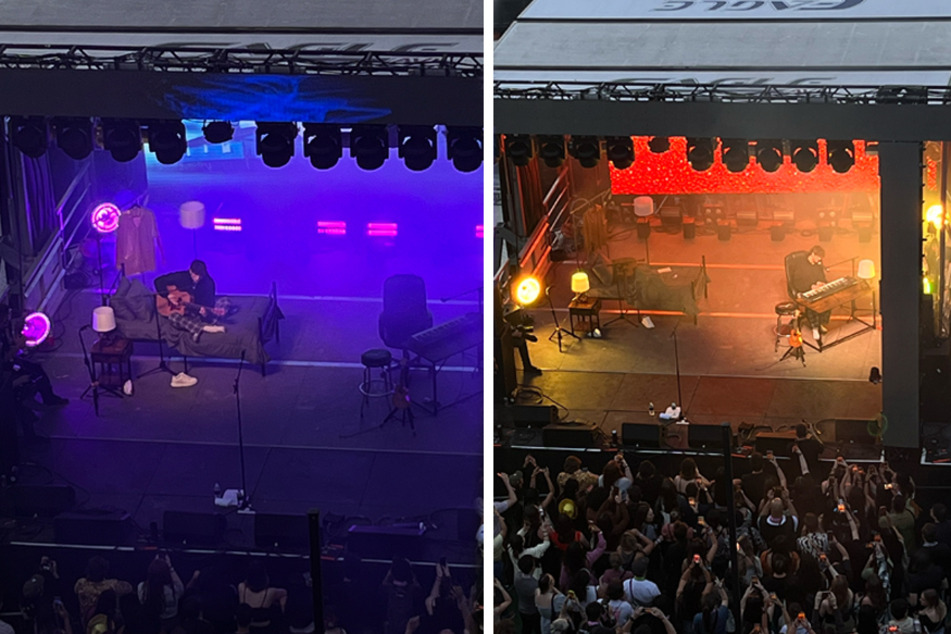 SXSW is nearing its bittersweet conclusion, and music artists of all calibers have taken various stages throughout downtown Austin to show attendees their specific brand of musical magic.
Take JVKE for instance, a music artist who's flooded TikTok with his other worldly piano-playing skills and falsetto abilities. While most probably know the emerging artist's poetic and heartfelt ballad Golden Hour, he proved he's more than a one hit wonder at Bose x NME's C23 Live SXSW showcase on Thursday night.
Though a strong thunderstorm system wreaked havoc on outdoor shows later in the night, JVKE's set was unaffected, allowing attendees to catch a microscopic glimpse of the sunset behind monstrous storm clouds that were rolling in while simultaneously catching a vibe.
But the grayscale setting of sweet mother nature almost helped enhance the stage lighting throughout JVKE's performance, with purple, orange, and red hues perfectly contrasting against the looming thunderstorm.
Lighting aside, it was largely apparent that JVKE felt beyond comfortable commanding the stage that was set up as a makeshift bedroom, seamlessly moving from the keyboard to a bed for a lyrical serenade. He even picked up a ukulele at one point of the set.
Those who questioned whether JVKE, who recently joined Alicia Keys for a duet during one of her shows, had enough high-energy tracks in his pocket to keep the SXSW crowd captivated and engaged from start to finish found out that he's got quite the range.
From acoustic ballads to bass-heavy bangers and everything in between, it seems JVKE's SXSW appearance proves his music career is just getting started.
Cover photo: Collage: TAG24/Taylor Kamnetz