Eminem reportedly defies NFL with big Super Bowl halftime show gesture
Inglewood, California - Eminem didn't just rap at the Super Bowl halftime show, he made a statement – one the NFL reportedly disapproved of ahead of the show.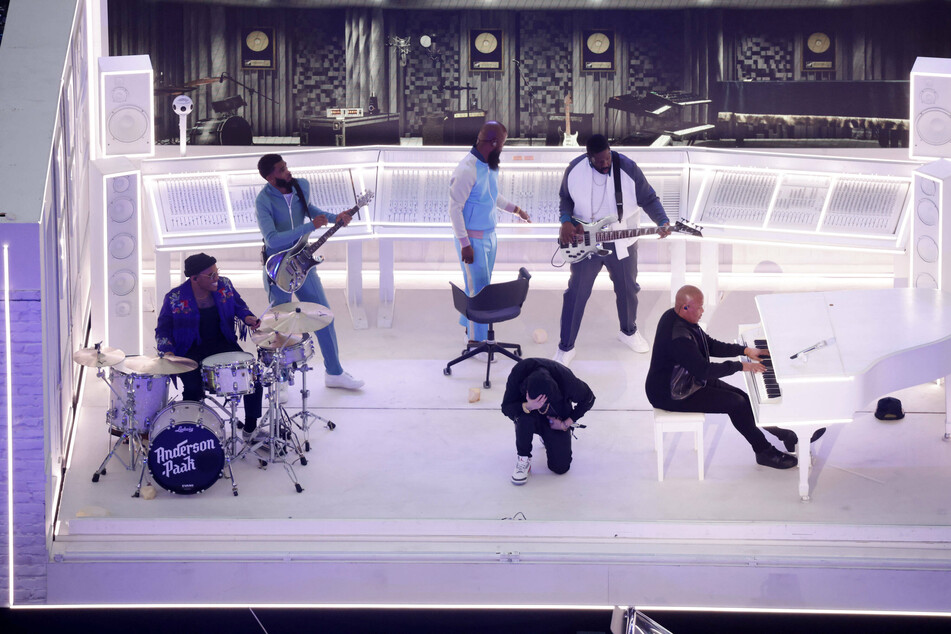 The rapper took the knee during Super Bowl LVI Sunday after performing Lose Yourself on the massive stage alongside Dr. Dre, Kendrick Lamar, Mary J. Blige, and Snoop Dogg, in a halftime show for the ages.

The move was done as a tribute to ex-NFL quarterback Colin Kaepernick, who famously knelt during the national anthem at games as a form of protest against police brutality, often used against Black Americans.
Prior to the show, the NFL turned down the request by Eminem to kneel during the performance, Puck reported.
"If Eminem did kneel to spite the NFL and disobey them, salute," SNY anchor Chris Williamson tweeted following the show.
"@Eminem didn't ask the @NFL for permission to kneel. .. He asked to let them know he would. Thank you, Marshall," author Rochelle Riley tweeted.
Hours ahead of the performance, some Twitter users suggested that Eminem dismiss the league's stance and show his support regardless.
"Idk just spitballing here but maybe like if you're showing solidarity with a marginalized race whose culture you co-opted to become rich af you should just show support with or without permission," tweeted Tiny Deaths vocalist and Spotify Greenroom contributor Claire de Lune.
Per ESPN, the NFL shot back at claims it had opposed the gesture, saying that it had observed rehearsals ahead of the Super Bowl and was "aware that Eminem was going to do that."
Cover photo: IMAGO / ZUMA Wire