Kylie Jenner shows off sexy bikini and millions of fans totally freak out!
Los Angeles - Cosmetics mogul Kylie Jenner proved once again that she's got curves worth flaunting.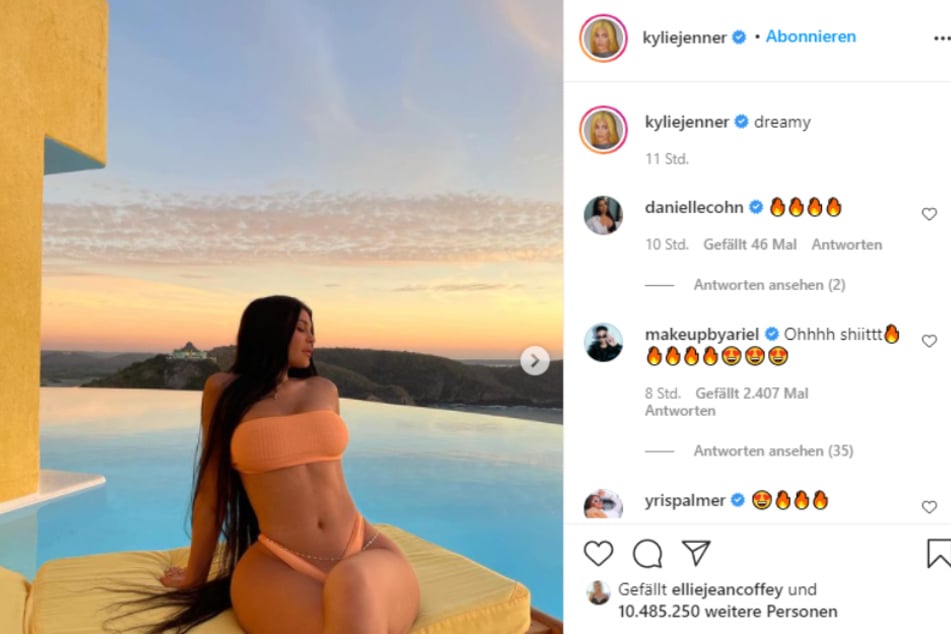 If you want to take a sexy photo posing in a revealing bikini is a great way to set the scene.
And it doesn't hurt if the background happens to be a sunset in paradise.
In Kylie Jenner's latest Instagram picture, the hot entrepreneur is chilling in front of a picturesque blue infinity edge pool in a striking peach-colored strapless bikini.
The high-cut swimsuit really highlights her curves.
The sensual photo had more than 10 million likes and 43,000 comments just 11 hours after it was posted.
Sadly Kylie didn't reveal where the gorgeous snap was taken. But that didn't matter to the billionaire's 211 million followers. They showered her post with flame and heart emojis.
In the description of another picture featuring the same stunning outfit, Kylie wrote "A little bit of sunshine to warm me up" in Spanish.
Kylie's Instagram channel is always sizzling because the cosmetic entrepreneur knows exactly how to pose. Maybe she got some tips from her older sister Kim Kardashian? Whatever her inspiration is, the posts are definitely a huge hit with her siblings, as well as her fans.
"I literally don't think I can handle this," Khloé Kardashian gushed in the comments – and she's definitely saying what everyone else is thinking!
Cover photo: Screenshot Instagram @kyliejenner