Too scary to eat? This baker's Halloween treats go viral
Tacoma, Washington - Lindsey Ellen is a luxury cake baker and took her birthday as an opportunity to create especially scary treats. The internet loved the grisly-looking bites.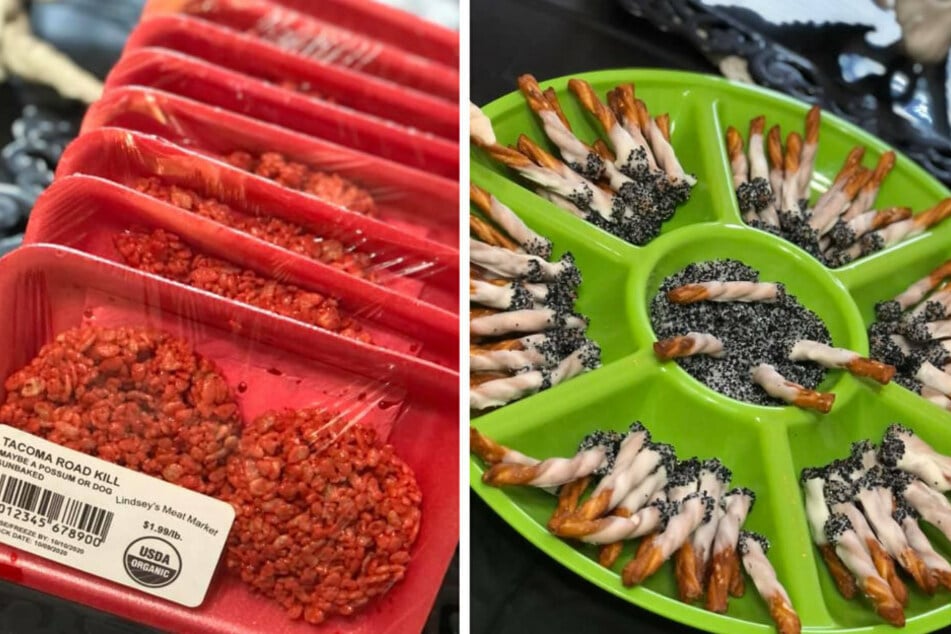 In mid-October, Lindsey posted some snapshots of her latest sweets for her birthday on Facebook.
But these treats are a far very cry from your normal birthday fare. They look almost too gruesome to eat!
To go along with the food snapshots, Lindsey wrote, "All set up for my birthday I HAD WAY TOO MUCH FUN making these."
Given what she created, they might not have been quite as fun to eat though. 
From rice krispies and red velvet cake coloring, Lindsey created burger patties that look like real raw animal meat. But she added to the icky factor by packing her "meat" in burger containers and labeled them "Tacoma road kill."
She also made a treat that at first glance no one would want to go anywhere near: edible cigarettes in a huge green ashtray! Want one of these smokes?
The confection queen posted pictures of seven creative but very creepy treats. There were transparent blood bags filled with vodka and juice, "pee" jello shots, and Covid-19 vaccines that were also booze based. And by using marshmallows on crunchy sticks dipped in chocolate, she managed to make what looked like used Q-tips.
She also put together a skeleton that dared anyone to eat its meat – that is, salami slices stacked in a very suggestive position. 
Lindsey shows off her spooky snacks on Facebook
Lindsey is also active on Instagram
Her Facebook post got a whole lot of attention. It has 14,000 likes and over 400 comments. 
If you want to see more of this baker's imaginative creations, you should definitely check out her Instagram account, Cake Genius. It's easy to see why creative baking Lindsey's passion and she's on a crusade to defend the nutritional value of her favorite food:  "Who said that cake can't be part of a healthy diet?"
It seems that the internet agrees with her. Almost 3500 users follow her on Instagram, and the number is rising.

Cover photo: Facebook/Bildmontage/LindseyEllen