Woman strikes TikTok gold with her hilarious reaction to a sweet in-flight surprise
Internet - TikTok user Kara Saba had the most heartwarming reaction to a little passenger who got a little handsy with her on the plane.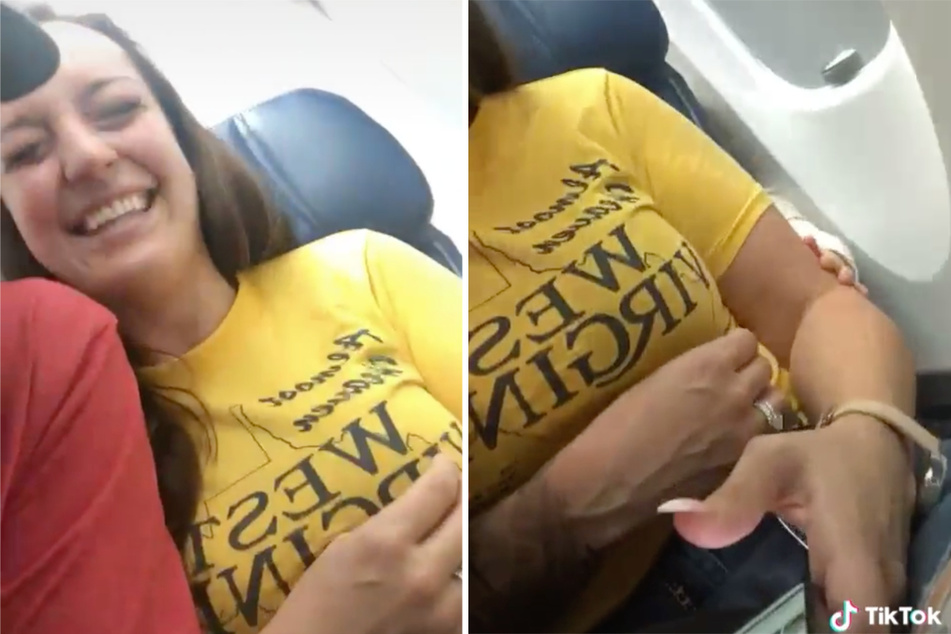 Toddlers on flights can be quite a pain whenever they simply won't keep still. But a baby on board can also be something very funny, as this viral TikTok video proves.

In the clip, the young Kara is flying home from her honeymoon with her husband. And this flight turned out to be quite special.
Throughout their entire journey, the couple just couldn't stop laughing – and the reason for this can be seen on Kara's upper left arm.
A tiny baby hand reaches from behind her seat and gently slaps, strokes, grabs, and plays with Kara's arm as if it was a toy. While other passengers might have seen this as an inconvenience, Kara obviously doesn't mind at all.

Instead, she seems to even enjoy the unusual massage and can't stop laughing as it continues.
In her TikTok post, she added: "Her name was Adeline and I hope her mother sees this."

The chances of that happening are pretty good: Kara's clip already has more than 13.3 million views since Monday and has gained over 2 million likes!

TikTok users are delighted with Kara's response
In the comment section, Kara got tons of praise for her lovely reaction to the baby.
One user wrote: "THANK YOU on behalf of Mama's everywhere for being able to find the joy in a situation like this. The world needs more of y'all!"
"I'm glad you guys were nice," another commented.
A third one agreed: "I mean, can you even be mad? This is adorable."
But not all users seem to see it that way: "I would have pinched or flicked that hand so hard .. sorry not sorry".
So obviously not everyone is as easygoing and fun with babies as Kara and her husband.
Cover photo: Screenshot/tiktok.com/@kara.bouu