Teenager describes brutal transphobic attack in heartbreaking Instagram post
Barcelona, Spain - Instagram model Eva Vildosola was the victim of a shocking transphobic attack in Barcelona. She shared her story and pictures of the abuse with her followers.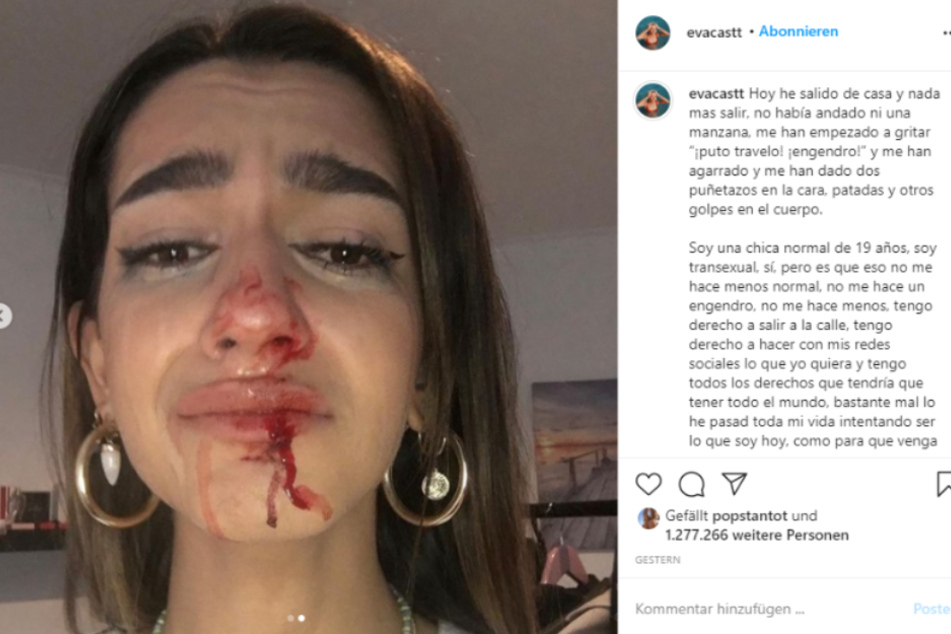 She was hoping to be able to find peace and relax in the beautiful city of Barcelona, Spain. But that's not what she found.

Eva Vildosola had just left her apartment when a couple of men ambushed her, calling her a "freak."
On her Instagram account, the teenager shared the traumatic event. "They screamed at me, grabbed me, hit me and kicked me," Eva wrote.
She went on to say "I'm a normal 19-year-old girl, I'm transgender, yes, but that doesn't make me less normal, it doesn't make me a monster, it doesn't make me less, I have the right to go out in the street, I have the right to do with my social networks what I want."
Eva also pointed out that many transgender people are mistreated and abused, which is why she took to social media to call attention to her horrible experience. She wrote "No more transphobia please, I don't want to die tomorrow."
Eva Vildosola realized she was transgender when she was eleven years old. After a suicide attempt that included a farewell letter, her mother jumped to her aid and supported her in her transition. Today Eva finally feels comfortable in her body.
The teenager has 200,000 followers on Instgram.
Cover photo: Instagram Screenshot @evacastt