Christian Smalls and labor activists rally in Albany for warehouse worker protections
Albany, New York - New York lawmakers and union leaders joined forces on Tuesday to demand the state legislature pass key protections for warehouse workers.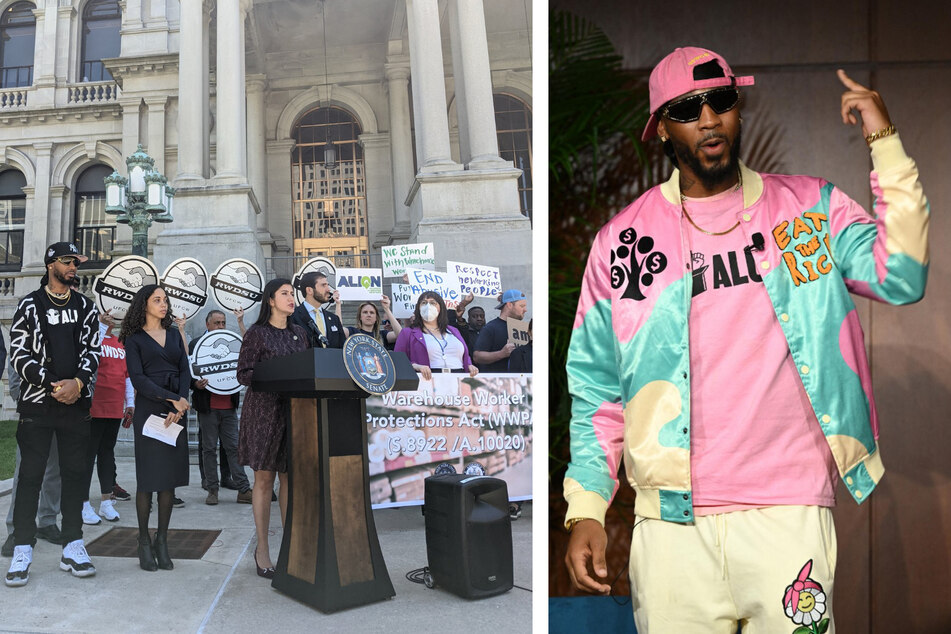 Christian Smalls, president of the Amazon Labor Union, joined activists and politicians outside the New York State Capitol in Albany to demand passage of the Warehouse Worker Protection Act.
The legislation, introduced in April, is modeled after a similar bill that passed in California last year.
It would require Amazon and companies that have a warehouse with more than 50 employees – or that have more than 500 employees statewide – to disclose the productivity quotas they places on workers and their disciplinary measures if those numbers are not reached.
Companies would also not be able to impose quotas that deny workers bathroom breaks and other rest periods. The calls have come amid reports of high workplace injury rates.
Jessica Ramos, the state senator from Queens who sponsored the bill, was present at the rally, along with representatives from the Amazon Labor Union; Retail, Wholesale and Department Store Union; and Teamsters Local 804, among other groups.
In his remarks, Smalls took the mic to tell the crowd, "I've seen year after year people who work hard and get fired by an algorithm for no reason but business needs."
"Amazon is on notice and they need to be held accountable. We need the Warehouse Worker Protection Act," he added.
Cover photo: Collage: Screenshot/Twitter/ALIGNny & Dave Kotinsky / GETTY IMAGES NORTH AMERICA / Getty Images via AFP