"Excluded no more": Essential workers demand wage fund extension at NYC rally
New York, New York – New Yorkers hit the streets on Tuesday to demand a $3-billion extension of the state's Excluded Workers Fund.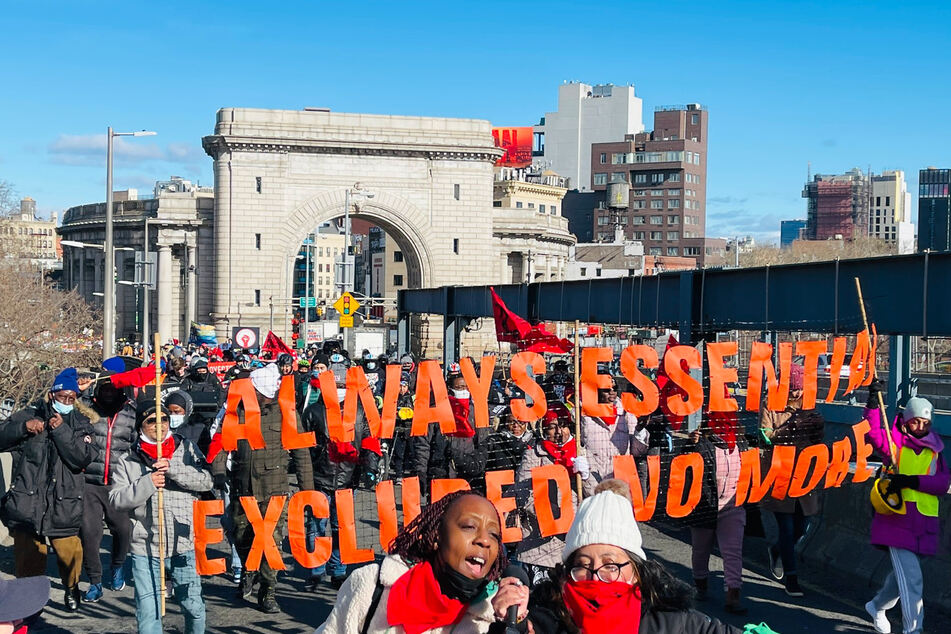 Domestic workers, service workers, deliveristas, and more marched through New York City on Tuesday calling for immediate measures to alleviate economic hardship for excluded and immigrant workers.
Specifically, protesters are urging lawmakers to pass A9037/S8165, a bill in the state legislature that would provide further funding to compensate workers who do not qualify for unemployment insurance or other assistance programs.
Amid massive job cuts during the coronavirus pandemic, many of those workers have been left in a tight spot. Immigrant workers suffered disproportionately from rising unemployment rates and lack of access to assistance programs.
New York first responded to the crisis by passing the Excluded Workers Fund. But after paying out more than $2 billion to over 128,000 New Yorkers, the program had used all its allotted funding and stopped accepting applications.

Times haven't gotten easier for many New Yorkers, though. Now they are rallying together to demand that the Excluded Workers Fund receive greater investment and that those solutions become permanent.
They are calling on everyday people to sign their petition as well as contact state lawmakers to show support for the legislation, which is currently still in committee in both houses.
They are also collecting donations for a March 15 march to Albany, a 150-mile journey that will highlight their struggle and demands for change.
Cover photo: Screenshot/Twitter/#FundExcludedWorkers