Family of an unarmed 20-year-old killed by Columbus police says there was "no justification" for the shooting
Columbus, Ohio - Body camera footage has been released of an unarmed 20-year-old being shot and killed at his apartment by a Columbus police officer who was attempting to serve an arrest. And now, his family is speaking out.
On Tuesday, law enforcement officers arrived at the apartment of Donovan Lewis to serve him with a warrant for improperly handling a firearm, domestic violence, and assault.
Recently released body camera footage shows the officers knocking on an apartment door for nearly 10 minutes before a man opened the door, who was taken into custody. Another man was in the apartment entrance way that was also detained. Both occupants refused to answer when asked by the officers if anyone else was in the apartment.

After announcing their intent to release a police K9 without a response, officers let their canine companion loose. After moving through the kitchen, the dog began barking outside a closed bedroom door.
The K9's handler, Officer Ricky Anderson, then went to hold back the dog to open the door with his fellow officer following closely behind. The body cam video shows that both officers had their guns drawn towards the door before opening it.
One second after opening the door, Anderson – a 30-year law enforcement veteran – shot Lewis in the chest as he began to sit up in bed.
Though Lewis appeared to be unresponsive on the bed after being shot, officers continued to bark orders at him, like telling him to put his hands behind his back. When the wounded 20-year-old failed to respond, an officer was seen grabbing Lewis' arms to manually put them behind his back while shouting for him to "stop resisting."
The officers are then seen carrying Lewis by the arms and legs out of the apartment. He was taken to Grant Medical Center for treatment and later pronounced dead.
Lewis' family and the community respond to the fatal shooting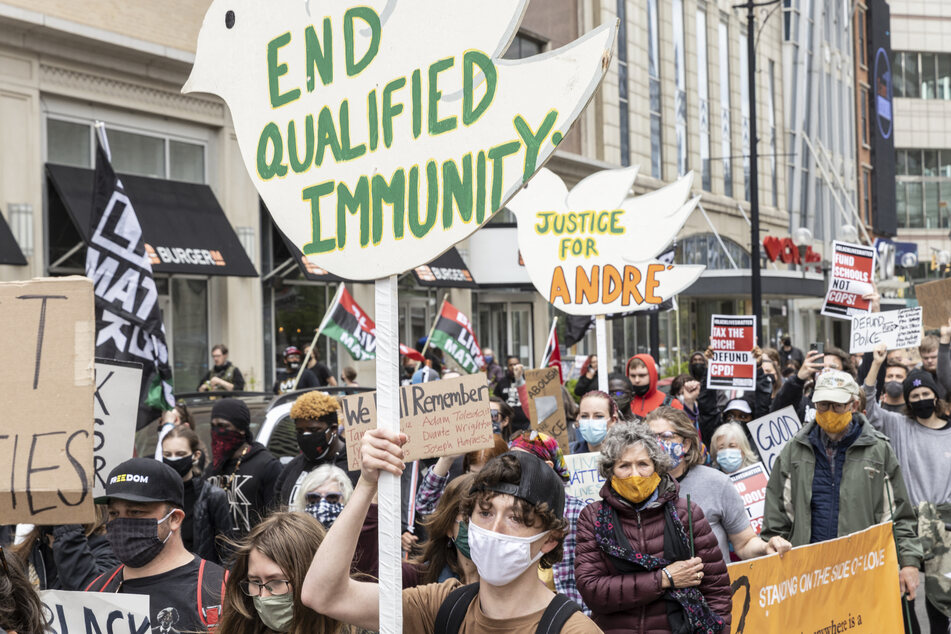 Columbus police Chief Elaine Bryant said that Anderson shot Lewis because he thought the was reaching for a weapon. All that was later found was a vape pen. "As a parent, I sympathize and grieve with his mother. As a community, I grieve with our community," Bryant said at a news conference.
"When our officers have done the right thing, we're going to stand with them ... and when they do the wrong thing, we're going to hold them accountable. We can't do either of those things right now until this investigation is complete."
Lewis' family reportedly issued a statement through their attorney Rex Elliott: "There was no justification – let me be clear – no justification for officer Anderson to shoot an unarmed man trying to get out of bed as police officers were instructing him to do."
In response to the shooting, civil rights attorney Ben Crump tweeted: "This is just the most recent of many fatal police shootings committed by Columbus police involving unarmed citizens – including Andre Hill! The pattern and practices of this police department MUST be reformed!"

Hill was shot and killed by former Columbus police officer Adam Coy, who was responding to a non-emergency 311 noise complaint, in December 2020. Coy claimed he shot him because he believed Hill was armed. As it turned out, he was simply holding a cell phone in his hand. No weapons were found.
On Thursday, the NAACP released a statement of its own: "The NAACP mourns the horrifying and heartbreaking loss of Donovan Lewis, another Black life taken far too soon at the hands of those who are tasked with the responsibility to 'serve and protect' us.
"We demand that the Columbus Police Department launch a full scale investigation, and take swift, necessary actions to bring Donovan's murderers to justice – his family deserves nothing less."
Officer Anderson is on paid administrative leave pending an investigation. The Ohio Bureau of Criminal Investigation will be taking the lead on the investigation per an agreement with the Columbus police regarding any officer-involved shootings.
Cover photo: Collage: IMAGO / ZUMA Wire