Los Angeles shooting leaves at least three dead and four wounded
Los Angeles, California - At least three people were killed and four wounded Saturday morning in a shooting in an upscale neighborhood in the Benedict Canyon area of Los Angeles, authorities said.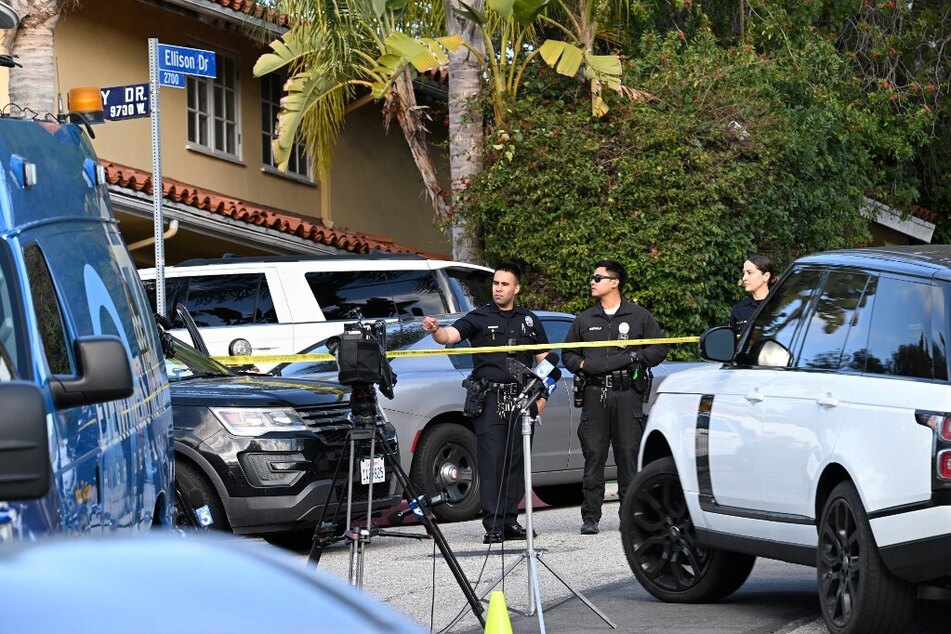 Three people were killed inside a vehicle on the street and four were wounded outside, a law enforcement source told the Los Angeles Times. The suspect or suspects remain at large.
LAPD Sgt. Bruce Borihanh said the property involved was a "short-term rental home" and that there was a gathering going on at the time.
"We called it a gathering, until we can interview some of the people that were here to determine exactly what kind of gathering it was," he told reporters at the scene.
He said the attack was not random. Neighbors reported seeing several cars driving away from the shooting scene within minutes of the gunfire.
Los Angeles Fire Department officials responded to the shooting at 2:55 AM in the 2700 block of Ellison Drive, a street of large hillside homes north of Beverly Hills. Los Angeles police were also on the scene.
Few details were immediately available, but police said the wounded were taken to local hospitals, according to LAPD Capt. Jonathan Tippet. Two are listed in critical condition and two were stable.
A coroner official said around 10:00 AM that investigators were still at the scene and they had not yet identified the victims. The entire block was cordoned off with crime scene tape early Saturday and multiple LAPD vehicles were on the scene. LAPD forensic scientists are on the scene scouring for evidence.
Investigators were also collecting video footage from security cameras in the neighborhood, according to a law enforcement source.
Residents speak out after fatal shooting in LA neighborhood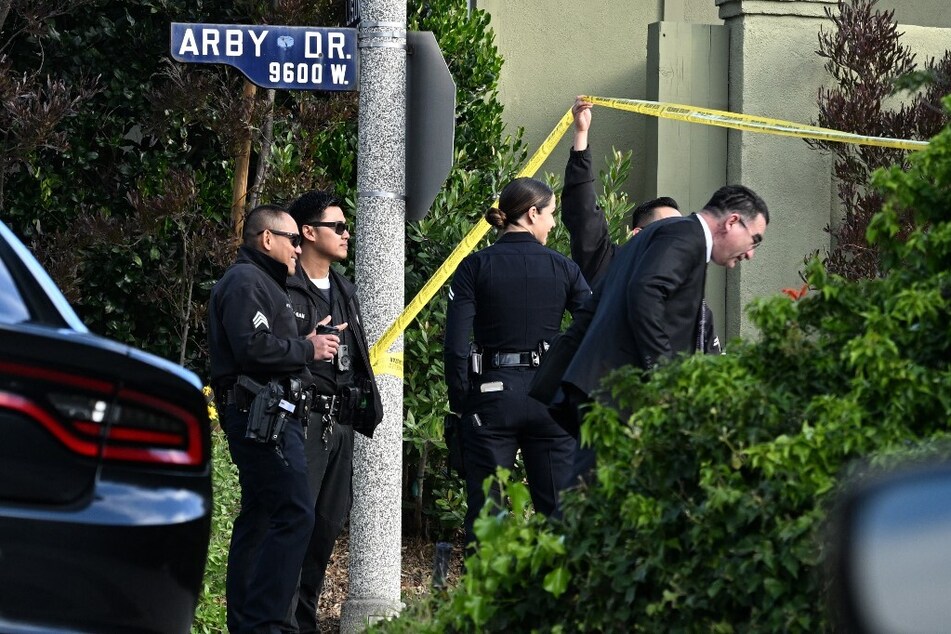 Ellison Drive is a cul-de-sac tucked away in a warren of streets lined with attractive homes and tidy landscaping.

"It's a pretty quiet neighborhood. My family has been here forever," said Rachel David, a resident in her late 20s.
David left the house to meet friends around 11:00 PM Friday night. When she returned the next morning around 5:00 AM and saw rows of flashing police cars, she initially wondered if it was a film shoot, a fairly common occurrence in the area. Then she spotted a large white van she believed to be the coroner's.
"I wait for my Ubers right at that corner," David said, pointing at the intersection of Ellison and Arby drives, where the slash of yellow police tape was. "Not anymore."
David's mother, who declined to give her name, said the sound of police helicopters woke her around 3:00 AM.
"Now you know why moms worry about their children when they're out late," the woman said.
"I just feel terrible," she added, gesturing with her coffee mug toward the blocked-off street where the three victims' bodies were still in the car.
The women live around the corner from the crime scene with David's grandmother, who has lived in the house as its original owner since the 1960s. For decades, it was a quiet neighborhood of longtime residents. In the last five years, as many of the original owners have died, many of the homes have been converted into rental properties, the women said.
"Literally, I don't even lock my car at night, it's so safe," David said. "Even people trying to find our house can't find it."
Residents say they were surprised by the shooting in an otherwise calm neighborhood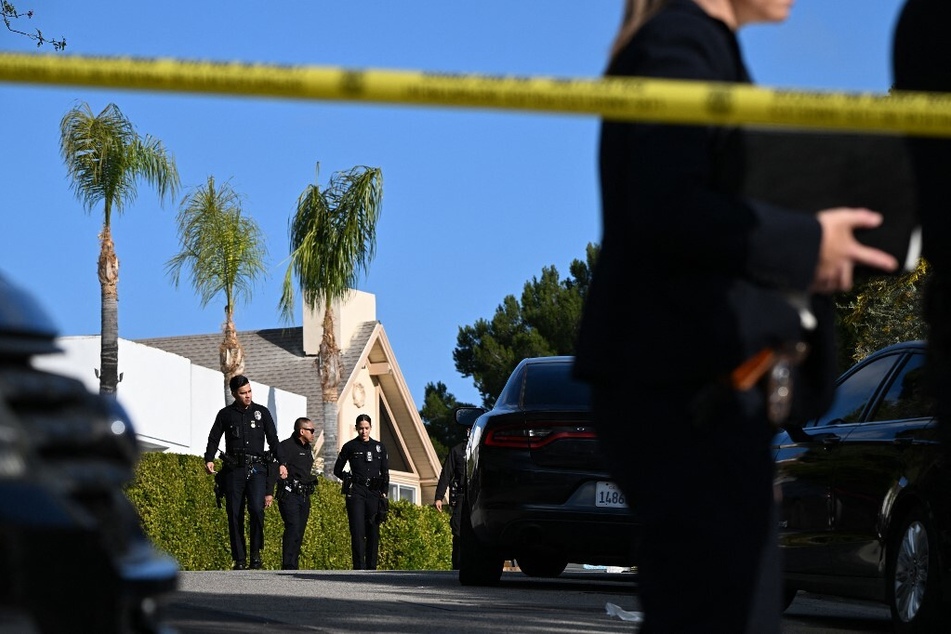 An Ellison Drive resident who declined to give her name said the sound of police helicopters circling the neighborhood woke her up at 3:00 AM.
She assumed police were looking for suspects involving a lesser crime, perhaps a robbery. Then her phone pinged a few hours later.
"My dog walker woke me up at 6:30 and said, 'Oh my God, are you OK?'" the woman said. "Then I realized it was way more serious than someone getting their jewels stolen."
A resident of the neighborhood for several decades, she described it as a quiet area that in recent years had seen an influx of short-term occupants.
Several houses had recently undergone renovations and appeared to have been converted to short-term rentals.
"There are some party houses up there," she said. "I've always been curious what was gonna happen up the hill."
Several homes in the neighborhood are listed on Airbnb and Vrbo, ranging from $600 to $7,500 a night.
California plagued by gun violence in recent weeks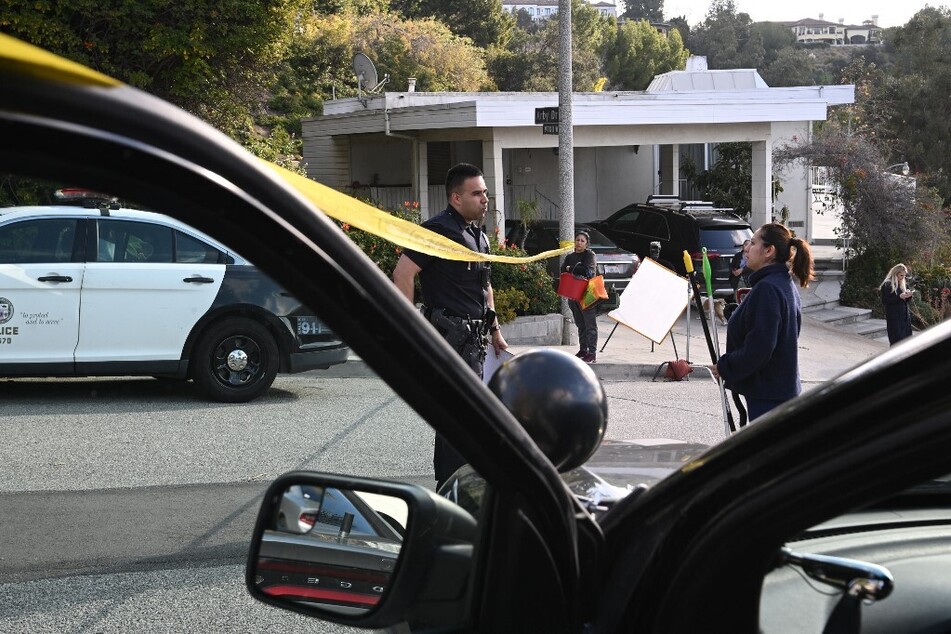 Shortly after 9:00 AM, a knot of people gathered at the tape blocking off Ellison Drive, wondering how they were going to get to their jobs in the homes along the blocked-off street.
"I don't live here, just coming for work," said a woman who had hauled a red vacuum cleaner to the top of the hilly street only to find the last few steps of her route blocked. After a short conversation, a police officer lifted the tape to allow her and another woman carting two shopping bags of cleaning supplies through.
Another woman wrapped in a cardigan and a headband holding back graying hair looked down the street toward her employer's house.
Her employer's dog, a sturdy bulldog, pulled on a pink leash at her feet. Her employer wasn't home, said the woman, who declined to give her name.
"I worked yesterday [until] 5 o' clock and everything is fine," she said. She was surprised to come to work this morning and come across this scene in an otherwise quiet neighborhood. "Everything here is good."
Cover photo: Robyn Beck / AFP