Police officers brutally smash skateboarder's head into pavement for running a red light
Barrie, Canada - A vicious arrest, during which violent cops brutally attacked a skateboarder who was begging for help, has sparked nationwide outrage in Canada.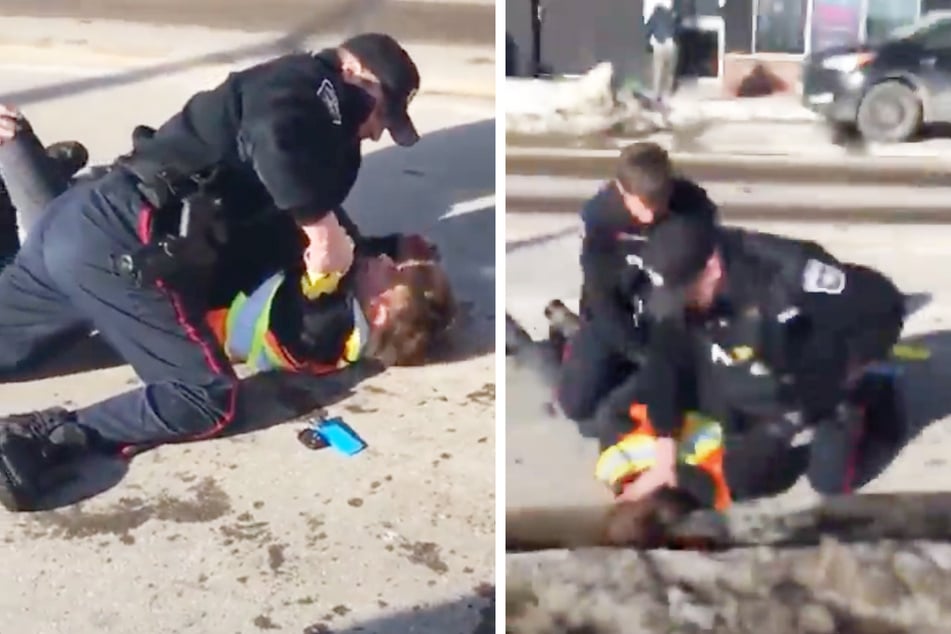 A disturbing video of the brutal scene shows two police officers pinning a 20-year-old man to the street and smashing his head into the concrete after he allegedly ran a red light on his skateboard in Barrie, Canada.
The police reportedly pulled Skyler Kent over after he crossed a red light in front of them.
The mishap should have ended with a ticket. But the situation escalated when the officers then went after Skyler a second time because he allegedly skated on the road. The officers got out of their car and viciously tackled him to the ground, which is when the video began recording, according to TMZ.
The horrendous two-minute footage which shows Skyler screaming for help, with a Barrie police officer on top of him, has since Thursday went viral all across social media.
"Get off of me!" the skateboarder yells several times, to which the officer responds with even more force and tells him to stop resisting, even as the young man shows no signs of any physical resistance. The cop keeps ordering Skyler to put his hands behind his back, which he clearly can't do while he is being pinned down.
At one point, the officer reaches back to pull out his taser and presses it into the poor skater's shoulder. He can be heard saying, "You want this? I'll light you up!"
Witnesses plead officers to stop assaulting the skateboarder – but it only gets worse
Witnesses filming the brutal scene beg the cop to stop hurting the kid, but he isn't listening. "Roll on your stomach!" he orders Skyler, who can be heard replying "I can't!"
The officer then hits Skyler on the head with the taser and, together with another cop, flips him over. Blood is already pouring from Skyler's head, but the first cop grabs Skyler's hair and slams his face into the ground.
The person filming the incident can be heard screaming in horror.
Brutal cop "reassigned to alternate duties" amid investigations
As the violent videos went viral on social media, Barrie Police Chief Kimberley Greenwood called for an independent investigation. However, it was Skyler who ended up being charged with causing a disturbance and resisting arrest.
"The images captured in the video are concerning to both the public and myself," she said in a statement, adding the cop in question has been "reassigned to alternate duties" pending the investigation.
Barrie Mayor Jeff Lehman responded to the brutal footage on Twitter: "I've seen the videos of the violent arrest on Dunlop Street. This will be fully investigated. I won't be ignoring this, and once we have all the details, there will be full accountability," he wrote.
Cover photo: Montage: Screenshot/Twitter/fahhamakhlaq