Model posts a picture of herself with her dad and many find it creepy
Atlanta, Georgia - Model Brielle Biermann recently celebrated her stepfather's birthday, and she posted a photo of them on Instagram. But many of her followers thought her choice of seating was a bit disturbing.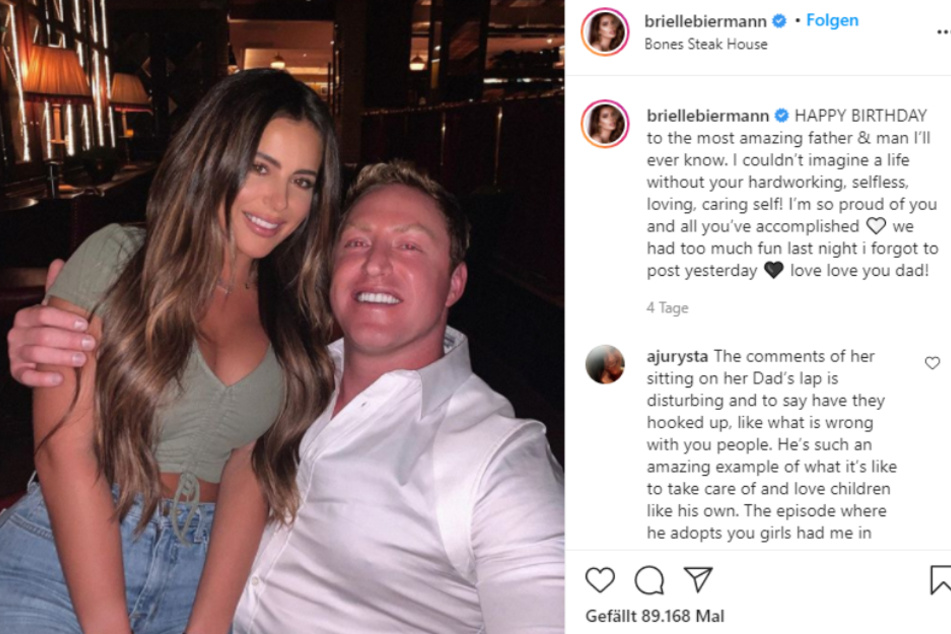 The daughter of actor Kim Zolciak-Biermann (42), of The Real Housewives of Atlanta fame, clearly just wanted to publish a loving tribute to her stepdad.

She wished a happy birthday to the "most amazing father and man I'll ever know. I couldn't imagine a life without your hardworking, selfless, loving, caring self!"
The 23-year-old added: "I'm so proud of you and all you've accomplished. We had too much fun last night, i forgot to post yesterday. love love you dad!"
Biermann probably didn't imagine there could be  anything controversial over such an innocent post. 
But it turns out many users found their close relationship creepy. The good-looking Kroy Biermann is only 35 years old and could easily pass for the young model's boyfriend. On top of that, she's appears sitting on his lap.
"Your daughter should not be sitting on your husband lap," one user complained. "That's a little uncomfortable she is an adult sitting on her stepfather's lap," added another. 
There were also some dissenting voices. "Some of these comments are ridiculous! A child sat on her dad's lap...what is abnormal about that!" someone asked. Another person wrote: "Stunned at these comments. If you think sitting on her dads lap is perverted it says more about you than it does Brielle."
Beautiful Brielle Biermann has 1.3 million followers on Instagram
Brielle Biermann eventually had to address the reactions, and she replied to one comment: "Honestly bc i had no where else to sit we were making jokes the whole time about him being Santa it was comedy" (sic).

Brielle's mother married Kroy in 2011. She continues to work as an actor, while her husband is an entrepreneur and businessman. 

Cover photo: Instagram Screenshot @briellebiermann