TAG24 exclusive: Lonni Pike, the social media star taking on ageism in fashion and tattoos
Temecula, California - You might have seen Lonni Pike or heard her "wear what you want" message on your TikTok or Instagram feed, and TAG24 found out she's just as spectacular as she seems on social media.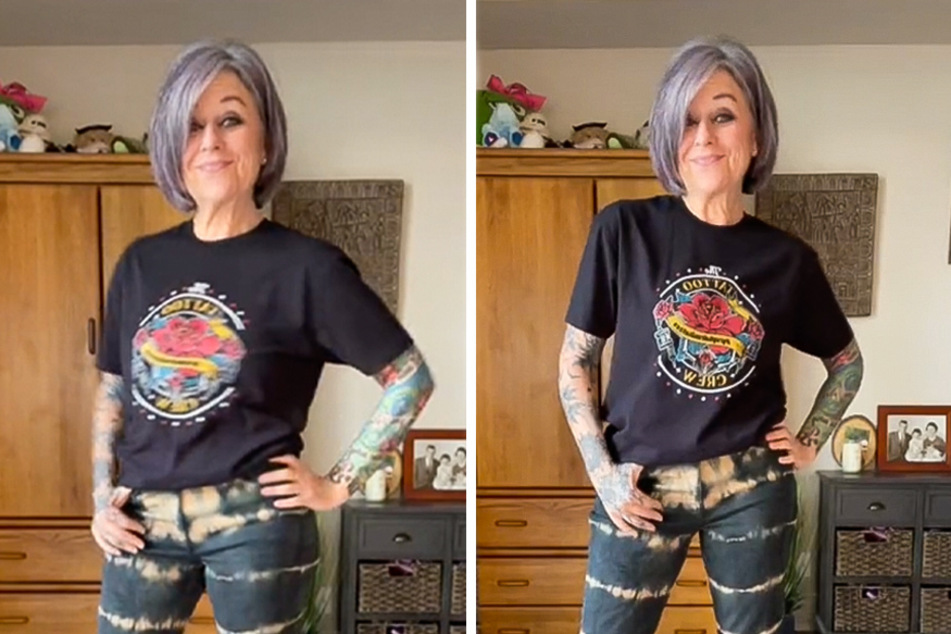 As a society, we've come a long way in terms of being more self-expressive, understanding, and accepting of those with different beliefs, styles, and interests than us.
But just because we've come a long way doesn't mean we don't have leaps and bounds to go, and 57-year-old Lonni Pike is here to remind you that it's OK to express yourself however feels most authentic to you on any given day.
In December 2019, the tattooed Dr. Martens lover started her first Instagram page with hopes of encouraging and showing others her age that there was nothing to be afraid of or conform to when it comes to self-expression.
"I got really tired of being constantly told that once you're over 50, you lose your vitality, and you lose your identity, and you lose the opportunity to be as fierce as you want to be," she told TAG24.
Yet, given her eccentric style and the fact she's got quite the collection of beautifully done tattoos, Lonni found she wasn't connecting with women her age on Insta, "because I look different."
After trying to shift her messaging, she still felt as if she didn't quite fit anywhere within the social media sphere. But one conversation with her son quite literally changed her perspective, and in turn, her life.
"I was talking to my son about that, and he's like, 'If you don't fit in, just make your own path.' And I'm like, 'Hmm, I think I shall!'"
Alas, GrayHairAndTattoos – the handle that's now garnered nearly one million TikTok followers and 103,000 Instagram followers – was born.
Self-expression has no age limit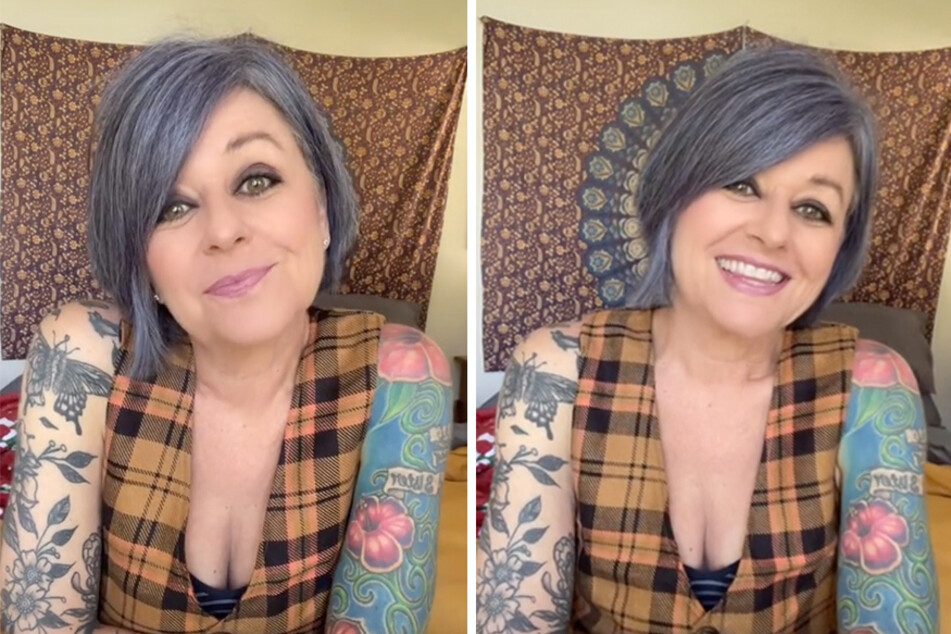 When asked why she felt compelled to encourage others to wear what they want and have a sense of freedom with their fashion choices, Lonni's answer was simple: she wants the same freedom.
"I don't want to be told I have to do anything," She said, adding, "I just know what it's like to be told you can't, I guess, and I just want to tell people you can."
"We constantly hear from society and we constantly hear from the media that if you don't look a certain way, if you're not a certain age, you're just not as valuable as somebody else who fits that mold. To me, and excuse my language, but it's bulls***."
She did admit that half of the battle when it comes to finding your freedom in fashion – and life in general – stems from the inner conflict many of us experience when it comes to taking risks, or getting that tattoo you've always wanted.
"We have to be really careful about what we tell ourselves. Because even when we turn off society's message, we still have our own internal message, and what are we telling ourselves? Are we telling ourselves that we're too old, are we telling ourselves that we can't?"
A main thing Lonni stressed was that her "wear whatever you want" message applies to people of all ages, genders, backgrounds, and sizes.
Being a mother herself, she knows what it's like to have society tell you what it deems appropriate for a parent to wear, and is honored to have a platform that allows her to be the voice of reason that says "no" to such constructs.
"When I say, 'You have the freedom to wear whatever you want,' it applies to 20-year-olds, thirty-year-olds."

She continued, "I have young moms reaching out to me, going, 'You know, I'm a mom now, and I feel like I should dress differently,' and I'm like, 'Why? What message are you teaching your kid? Are you teaching your kid that it's more important to fit in, or are you teaching your children that it's better to just be happy with who you are?'"
A new founded love affair with ink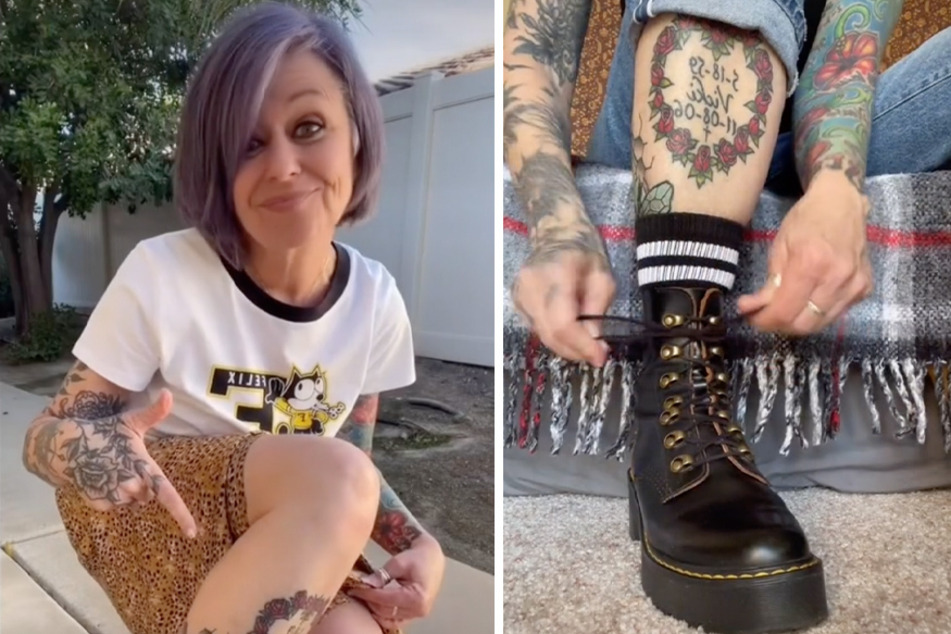 The same passion Lonni has for freedom of expression in terms of fashion extends to tattoos, as well.
The California native got her first tattoo – barbed wire around her ankle – at the age of 30 at what she described as an "outlaw biker shop out in the desert" alongside her sister.
"I was getting out of a bad marriage, and I never wanted to feel that way again. I never wanted to feel trapped inside, and isolated from the world."
While Lonni admitted she always thought tattoos were cool when she was younger, she didn't really have a desire to get one herself up until that point.
"To me, it was the ultimate statement of, 'I'm in control of my body, I'm in control of my life, and this is how I'm gonna decorate it.'"
"I always say my tattoos are like my kids, it all depends on how much they've pissed me off as to whose my favorite," she joked, adding, "If I had to say which one was absolutely my favorite, it would be my hand tattoo."
In her experience, her hand tattoo didn't hurt as much as she expected, and shared that it was actually her leg tattoos that hurt the most.
"Like on my calves, it's like, 'What the hell, no, no, no, I didn't sign up for this!'"
As they say, beauty is pain, and just because it might hurt to get calf tattoos isn't enough of a reason to stay away – at least not for Lonni.
So far, she already has five appointments on the books for 2022 to sleeve both of her calves. Her first will be in March with her local tattoo artist in Temecula, California. The other four are with Austin Maples out of Los Angeles, who will do an American traditional calf sleeve.
If you're on the fence about getting a tattoo or a daring style change, Lonni says it all depends on your motive and intent.
"If you're like, 'I want this part of my journey to be on my skin forever,' then get it regardless of what anybody tells you. It's a part of who you are."
Cover photo: Collage: Screenshot/TikTok/Lonni Pike