Real-life Popeye could lose limbs after pumping them full of petroleum jelly!
Moscow, Russia - A former MMA fighter and bodybuilder once thought injecting petroleum jelly into his arms would help him in the ring. Now, he's left with dead muscle mass and his life on the line.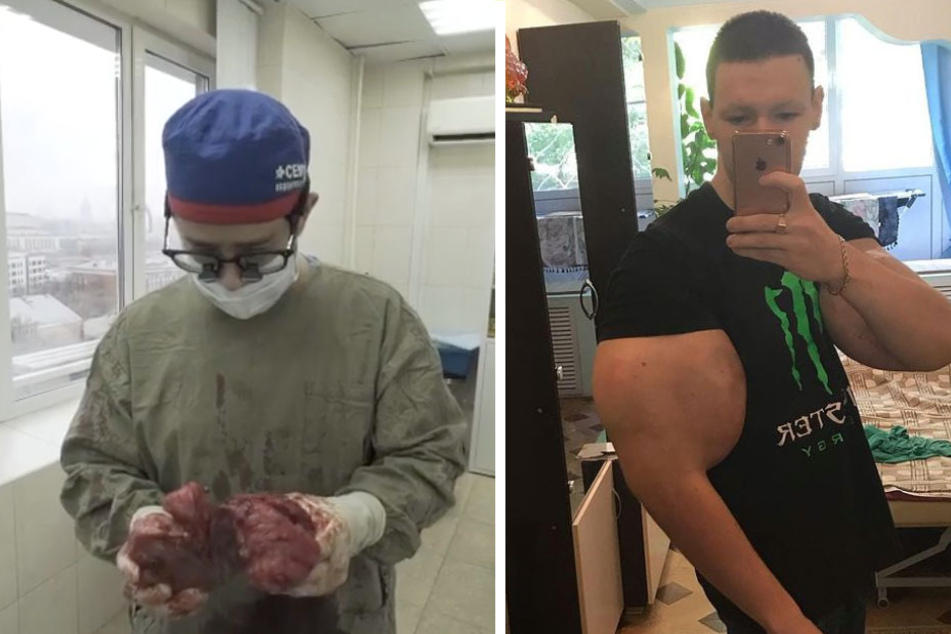 As a bodybuilder, it's easy to cross the line and go into overkill mode. That's exactly what happened to Kirill Tereshin, better known as "Popeye" after he decided to inject his biceps with petroleum jelly to bulk up.

When he started getting physically ill, Tereshin sought out medical attention. It only then that he became aware of the huge risks he had been taking.

The petroleum jelly attacked his muscles and could have not only caused him to lose all functionality in his arms, but also killed him eventually!
The injection obsession began when the now-24-year-old was looking to get an advantage over others in the MMA ring, but his fake muscles didn't stand a chance against his opponents' natural bulk. Even with his 23-inch biceps, he once lost to a fighter 20 years older than him.
Tereshin now realizes just how bad his choices were. "I bulked up my arms when I was 20 due to my own stupidity. I did not think about the consequences," he told the New York Post
His fake muscles were literally killing off the real ones in his arms, and he was told that if he didn't get the jelly surgically remove, he could lose the use of his arm altogether – if not worse.
The road to recovery is long and high-risk
Luckily, his doctors and loved ones convinced him to seek treatment from Alana Mamaeva, a leading campaigner against botched plastic surgeries.

With the fundraising help of Mamaeva, Tereshin was able to afford the surgeries needed to remove the jelly and dead muscle mass from his arms.
During his first procedure, the doctors removed over 3 pounds of dead muscle mass, something sure to make any bodybuilder squirm with horror.

Although he's undergone multiple surgeries, Tereshin still has a long way to go, and his body is sure to sport even more abnormalities once he completes his journey to recovery.
Cover photo: Screenshot/Instagram/drmelnikov_professional/ruki_bazuki_official