Crappy Meal: Woman reveals what happens to McDonald's food after 17 years!
Springville, Utah - What happens if you save those fast food leftovers for decades? A Utah mom showed off her "Food Museum" on TikTok and uncovered some stomach-turning results.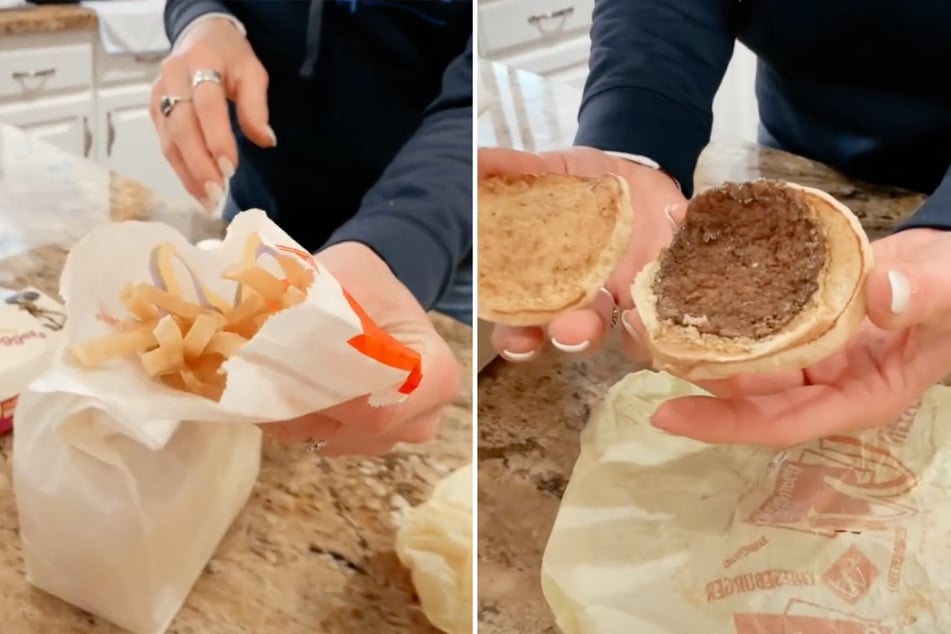 Mindy Sumsion loves to conduct at-home experiments to find out how fast food ages.
In a TikTok clip posted by her daughter Savannah, Mindy unwraps a McDonald's bag that she has saved since 2004 in her self-made Food Museum.
It is clear from her kid's reactions that the 17-year-old old food doesn't smell delicious anymore.
Yet, even though it stinks, the aged food looks like it was freshly made!
The french fries appear to be rock hard, the burger is dried-up between two stuck together bun halves, and the cheese has shrivelled.
But amazingly, the Chicken McNuggets look perfectly edible and mold is nowhere to be seen!
The video has already gained over three million views and 300,000 likes on TikTok from amazed viewers.
"That food is as old as me!" one TikToker said.
"I'll still eat it," commented another.
Savannah told her followers that the food has never been frozen to be preserved, and that her Mom keeps the food "just for kicks and giggles."
Experiment also looks at other fast food chains
In follow-up posts, Mindy also explores keepsakes from other fast food chains.
Her experiments from Wendy's and In-and-Out Burger have grown bacteria, unlike the McDonald's food. Some of the mold has even eaten its way through the packaging.
"It's just preservatives," a commenter explained of the findings.
At the end of the videos, the Utah mom repackages all the treats and puts them back in her plastic Food Museum box – so the experiment continues.
Viewers may have to wait another 17 years to see if there have been any more changes!

Cover photo: Instagram/Screenshot/savswhitehead & TikTok/Screenshot/savswhitehead (collage)