How to make lasagna: Best easy homemade lasagna recipe
Lasagna might not be quick, but it's certainly easy. A nice meaty sauce, some pasta sheets, a lot of cheese, some béchamel, and you're ready to go. Here's our easy and cheap lasagna recipe!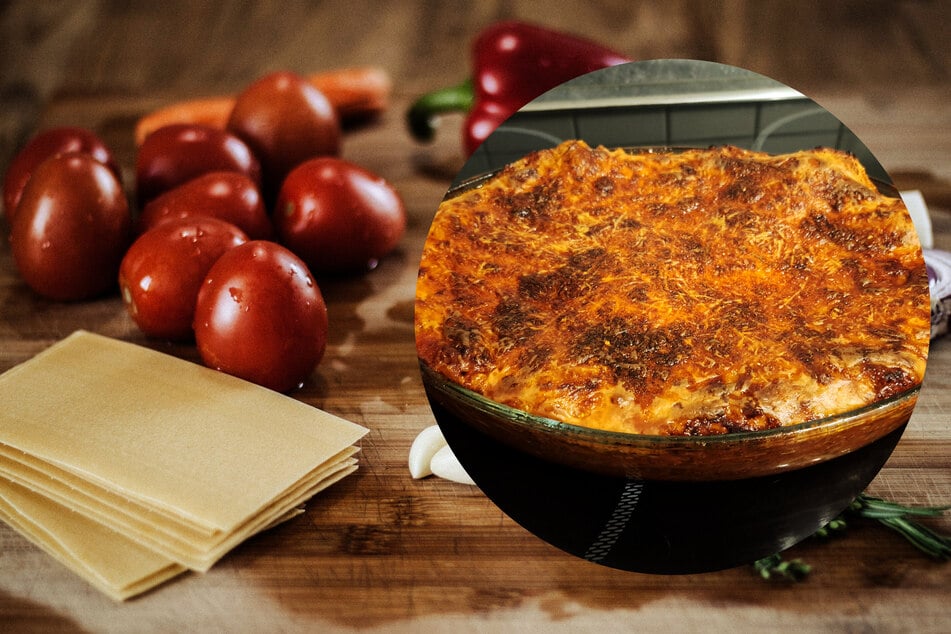 There's something truly special about a good, homemade lasagna. The rich sauce with the cheese and slightly chewy pasta makes for something that'll keep everyone happy. Grab the kids, make it a fun activity, and get ready for the best lasagna you've ever had at home.
If you're into food, then you're going to love this easy homemade lasagna recipe. We're here to show you how to make lasagna, and while it might not be quick, it will be incredibly tasty!
What makes a good traditional lasagna?
Lasagna first appeared during the Middle Ages, possibly as early as the 1280s, and is traditionally a baked pasta dish filled with cheese and ragù and topped with a creamy béchamel sauce. It lends itself to experimentation, so while there is something wonderful about a truly traditional lasagna, there's no shame in changing things.
If you want to make a traditional lasagna, you need to use multiple different types of cheese in each layer. Those cheeses would often be the likes of Pecorino Romano, buffalo mozzarella, and provolone. That extra cheesiness thickens up the dish and lends it an insane amount of creaminess and stringiness, something you either do or don't want.
We used one kind of cheese in this recipe, Parmigiano Reggiano, to make it more accessible. It may not be traditional, but it's yummy and allows you to taste that sauce far better. What's not to love?
How to make homemade lasagna
It doesn't take much to make a good homemade lasagna, just a bit of time. There are a few pieces of equipment that will make things much easier, though, and others that are absolutely essential. Let's get on with things.
Here's what you will need to make homemade lasagna:
Glass or oven-ready lasagna / casserole dish to bake the lasagna
Two pots, one big and one medium-sized
A sharp knife and a cutting board
Spatula
Paper towel
Whisk
Cheese grater
Big spoon / ladle
Keep in mind: A sharp knife is quicker, more precise, and most importantly, safer. At the beginning of this recipe, you will need to do some chopping. Try to make sure that you are using a nicely sharpened knife.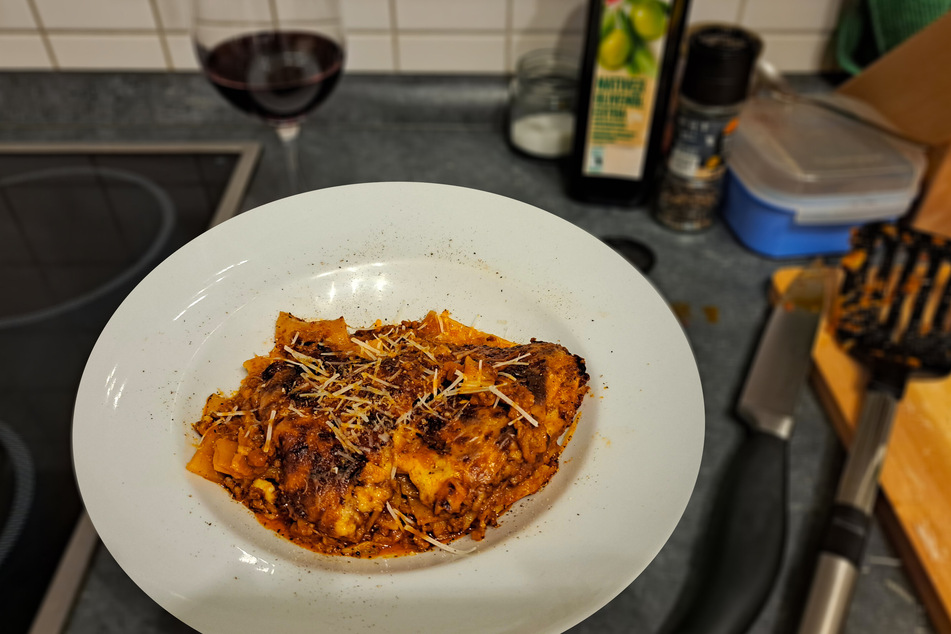 Traditional lasagna recipe | Ingredients
There are a lot of ingredients required when making lasagna, but we're going to try and keep them as minimal as possible while maximizing that flavor. Let's cut to the chase. Here's what you're going to need.
Here are the ingredients for homemade lasagna
Sauce ingredients:
Beef / pork mince, 20 oz
Three medium-sized carrots
Four celery sticks
One big onion
3 cloves of garlic
Beef stock, 1 cup
Red wine, 1 cup
Tomato passata, 2 cups
Water, 1 cup
Olive oil
Salt
Pepper
Béchamel ingredients:
Milk, 2–3 cups
All-purpose flour, 3-4 tbsp
Butter, 1 knob
Construction ingredients:
Lasagna pasta sheets (dried or homemade), 10 oz
Parmigiano Reggiano, 10 oz block of the proper stuff
Hot tip: It's important to note that the quantity of pasta will vary based on the size of your baking dish. Buy a full packet and use however much you need.
Traditional lasagna recipe | Instructions
While it will take you a good long while to make a fantastic lasagna, it isn't actually that difficult. The trick with the sauce is to keep it simple: make a soffritto, brown the meat, add the liquids, and let it simmer. The trick with the béchamel is to get it creamy. Construct your dish with love, and it will turn out great!
Here's how to make homemade lasagna:
Step 1: It's time to dust off your knife skills and start making a soffritto. Start by washing and grating your carrots, then snap off the tough bits of your celery. (Take the celery and bend it towards one end, and it'll naturally snap where you want it to snap.) Halve and peel your onions.
Step 2: Finely dice all three vegetables so they are very small. If you have trouble with the carrots, feel free to grate them with a cheese grater. This should be more or less the transformation you're looking for: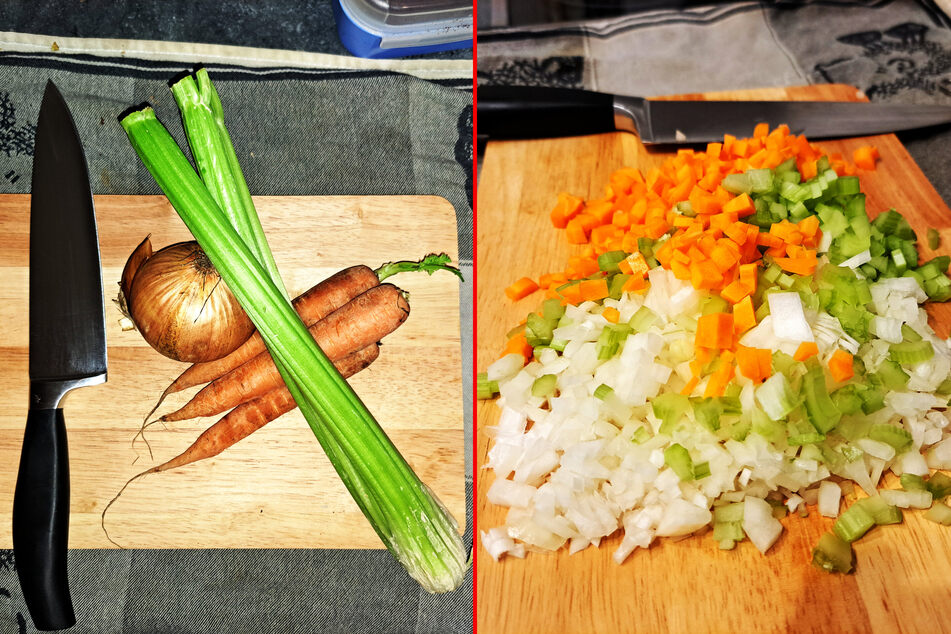 Step 3: Place your large pot on the stove and add a very generous amount of olive oil to the bottom. Bring it up to a medium-high heat, and once the oil is shimmering, mix in the soffritto vegetables.
Step 4: Mix the soffritto for at least 10 minutes. Make sure the mixture doesn't brown, but rather slowly melts down and becomes translucent. After about 5 minutes, crush your garlic and add it to the mixture.
Step 5: Once the soffritto is cooked through, add your meat and mix it thoroughly with the soffritto, breaking it up so there are no lumps. Brown your meat so it is cooked through, and season it with some salt and pepper.
Step 6: Add your liquids, including the stock, the wine, and the tomato passata, and mix thoroughly with the meat. Bring it all up to a boil and add your water. (Fill your passata bottle with water, give it a shake, and add that tomato-water!)
Step 7: Simmer your meat sauce for at least an hour, preferably 1.5-2 hours. Taste the sauce and adjust its seasoning to your liking. As it boils, add a bit of water every now and again to keep it wet, and intermittently stir it.
Step 8: Preheat your oven to 356-392°F and grease your lasagna baking dish with some butter, using the paper towel.
Step 9: It's time to make your béchamel. Start by adding your knob of butter to a medium-sized pot and slowly melt it on the stove. Take care that it doesn't melt too fast and start to burn.
Step 10: Once the butter has melted, add your flour and whisk briskly. This should clump up a bit and make a rather solid rue. Now slowly add your milk, bit by bit, while whisking quickly and continuously.
Step 11: As you add your milk and the temperature increases, your mixture should slowly form a cream. Make sure to keep whisking as otherwise the flour will clump. When it is done, season it with some salt and pepper. It should have a texture somewhat like this: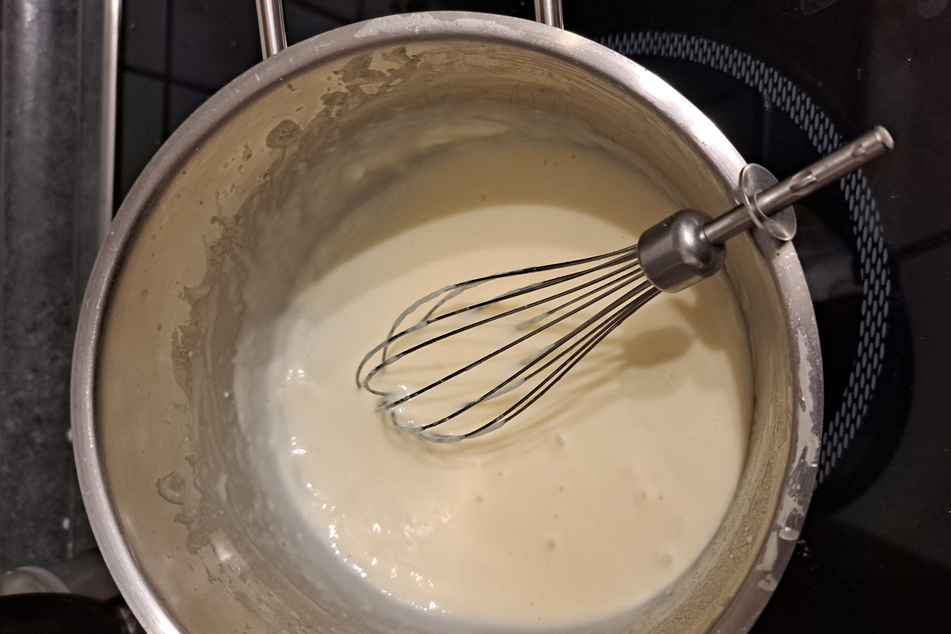 Step 12: It's now time to construct your lasagna. Add a scoop of the sauce to the bottom of your dish and spread it out. Now add a layer of pasta sheets. Then continue as follows, until the dish is almost full: Sauce, cheese (grated), pasta.
Step 13: After three or four layers, once the dish is almost full, add one final layer of meat. Now put your béchamel on top, making sure not to let it bite too far into the meat sauce. Top it with a healthy layer of grated cheese.
Step 14: Bake in your preheated oven (again, at about 356°F) for 45 minutes. Remember that you need to allow enough time for that pasta to cook, so don't take it out early!
Step 15: Take your dish out of the oven and serve with a dusting of cheese, some cracked black pepper, and a nice glass of red wine. Enjoy!
Keep in mind: This should use up all the sauce if you are using a medium-sized dish. If you are making more, then you will need to adjust the proportions accordingly.
Veggie lasagna recipe
Here's the deal: You can make an absolutely delicious vegetarian lasagna if you follow exactly the same recipe, but replace the minced meat with lentils and the beef stock with vegetable stock. Indeed, the lentil version of this recipe is every bit as delicious as the more traditional meat version.
Of course, making it vegan is a bit harder on account of the milk, butter (the béchamel), and cheese, but it's still possible. Use lentils instead of meat, as described above, vegetable stock, and vegan cheese. The more difficult part is, of course, the béchamel. It's not impossible, though.
Vegan béchamel sauce recipe
Ingredients:
Olive oil, 4 tbsp
Flour, 3 tbsp
Soy milk, 2–3 cups (depending on the thickness you want)
Salt
Cracked black pepper
Instructions: Follow more-or-less the same method, making a sort-of rue out of the olive oil and flour, letting it clump, and then slowly adding the milk. Whisk briskly until it reaches the right texture, and season with salt and pepper.
Homemade lasagna noodles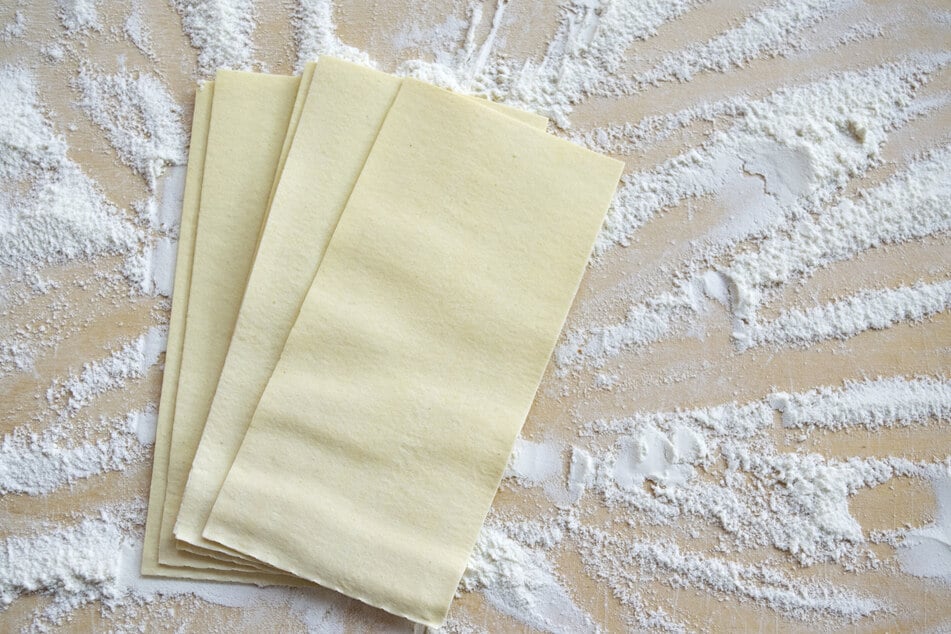 Making homemade lasagna sheets is incredibly easy and doesn't take much time. Because you are making simple sheets, all you really need is a good rolling pin and a bit of patience to get it nice and thin.
Homemade pasta is basically just flour, eggs, and a little bit of salt.
Easy, right? We have a detailed guide on how to make homemade pasta, so check that out for more information!
Let's bust that myth: Many people will cook their pasta before they put it into the lasagna to bake. This is unnecessary and results in a sloppy mess, as the pasta will be limp when it comes out. As long as you don't layer the sheets on top of one another, the sauce will add moisture to your pasta, and it will cook to al dente in the oven.
How long does it take to make lasagna?
You should allow a comfortable 2.5-3 hours to make a good lasagna. It's good to take your time, as you want to get those veggies cooked nicely and that sauce packed full of flavor. Then you want it to boil for a minimum of an hour. You need to make the béchamel, construct the lasagna, and then bake the whole thing for at least 45 minutes.
Homemade lasagna is easy and incredibly versatile
There are many different kinds of lasagna, each of which uses more or less the same methodology. Do you want to make it with salmon? What about veggies or lentils? Are you vegan, perhaps? There's always a way to enjoy a good lasagna with your friends and family, and if you make it yourself, that cheesy goodness will be even better.
Homemade lasagna is time-consuming, but that doesn't make it hard. It's a great activity to undertake with your kids on a Sunday afternoon, and a labor of love that'll keep the whole family happy.
Cover photo: Kristine Tumanyan / Unsplash (Background) & TAG24