National Cookie Day: What's a kitchen sink cookie and how do you make it?
You don't always have to run to the store to make cookies. You can make yourself something delightful, chewy, and unique while cleaning out your pantry. Have you heard of "kitchen sink cookies?" Here's how to make these gooey goodies.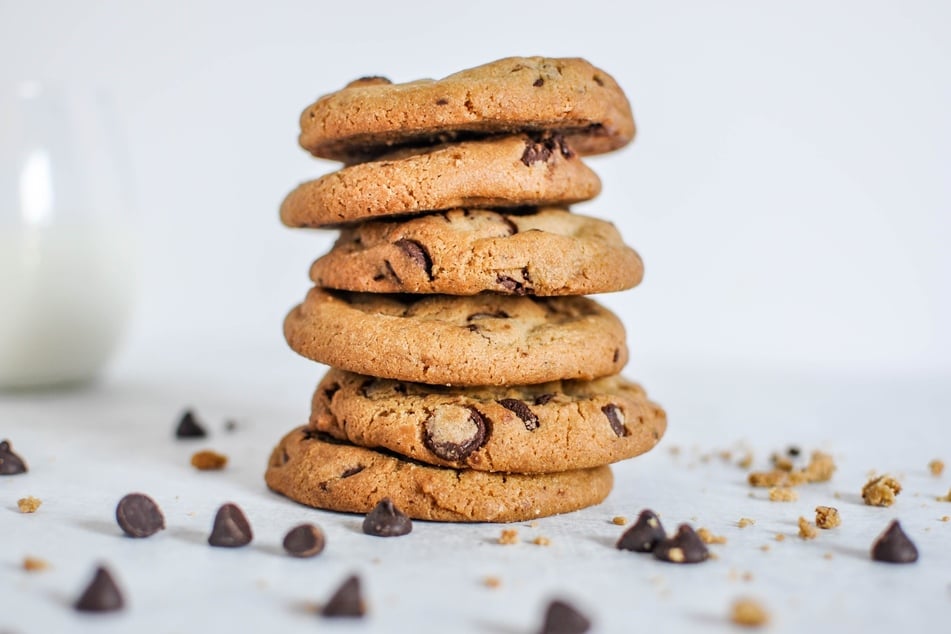 The saying, "Everything but the kitchen sink" means, of course, that there's "everything imaginable" packed in.
This goes for kitchen sink cookies, which you can bake by adding in anything and everything – from potato chips, chocolate chips, nuts, goldfish crackers, and dried fruit, to coconut flakes and old Halloween candy.
In other words, these cookie combos can be made with those crumbs and bits at the bottom of the snack bag that you just don't really know what to do with. Or anything taking up space in your kitchen.
If you've got some baking basics under your belt and can gather the ingredients for the cookie base, you're ready to make these treats. All you'll need to do is scrounge around for some sweet and salty add-ins, and the rest is cake (or rather – cookies)!
Kitchen sink cookies: Ingredients
Kitchen sink cookies have a base similar to chocolate chip cookies, which gets chilled to make a firmer cookie, but with choose-your-own adventure flavor add-ins.
This recipe gets its inspiration from our favorite from the New York Times, but with a TAG24 twist! It makes about 18 cookies.
Kitchen Sink Cookie Ingredients:
3/4 cup or (1.5 sticks) of slightly soft butter
1 cup of brown sugar
1/2 cup of granulated sugar,
1 egg
1 teaspoon of vanilla extract
1 teaspoon kosher salt
1 teaspoon baking soda
2 1/2 cups all-purpose flour
3/4 cup salty mix-ins
and 3/4 sweet mix-ins
The sweet and salty mix-ins should come from raiding your panty. It's part of the fun, after all.
The sweet sprinklings are easy and can be made of anything sugary that tickles your fancy, like chocolate, chopped-up candy bars, or dried fruit. If you want a sticky pop of sweetness, throw in some marshmallows.
Hot tip: The only thing that won't be so dandy as an add-in is raw fruit, as it will make the cookies a bit mushy.

The added salty bits can be nuts, chips, pretzels, or even something as crazy as crackers. (Yes, even favored nacho chips will work.) But the real trick is a combination of salty crumbs.
Hot tip: You may want to avoid adding powerful herbs, like rosemary, thyme, or ranch dressing – especially if you're also adding any kind of peanut butter. The combo is not so great.
Your pantry and your imagination are the only limits to kitchen sink cookies, though you could always take a jaunt to the store. You really can combine almost any type of sweet and salty pieces to create a fantastic cookie – one that is very much you.
Kitchen sink cookies: Instructions
1.) Start by mixing your dry ingredients together (excluding your sweet and salty pieces) and setting them to the side.
2.) Cream the butter and sugar together until they're fluffy (using an electric mixer is best). Then mix in the egg and vanilla. Once these are added, mix in the dry ingredients' mixture you've set aside, adding in slowly. Make sure it's all well combined.
3.) Mix your sweet and salty bits in an extra bowl, then add them to the combined dough (use a spoon rather than an electric mixer here, or you may end up with your pieces in a purée).
4.) Once everything is mixed together, squish the crumbly dough together to form a log and chill in the refrigerator for about an hour. If you're in a rush, you can stick it in the freezer for 20 min instead, but your cookies may end up being more breakable and less chewy.
5.) Preheat your oven to 325 degrees Fahrenheit. Slice your chilled cookie dough log into 1/2-inch thick cookie disks and organize them flatly on a baking sheet with parchment paper. Bake for 20 min or until golden brown.
Once your kitchen sink cookies have cooled, enjoy your own very special and unique cookie treat – and the fact that you've got a few less crumbs cluttering up your pantry.
Cover photo: 123RF/wirestock