Beyoncé concert sees "the messiest proposal" ever
London, UK - What was supposed to be the romantic climax of a relationship ended up becoming a viral hit on TikTok as a concertgoer proposed at Beyoncé's concert.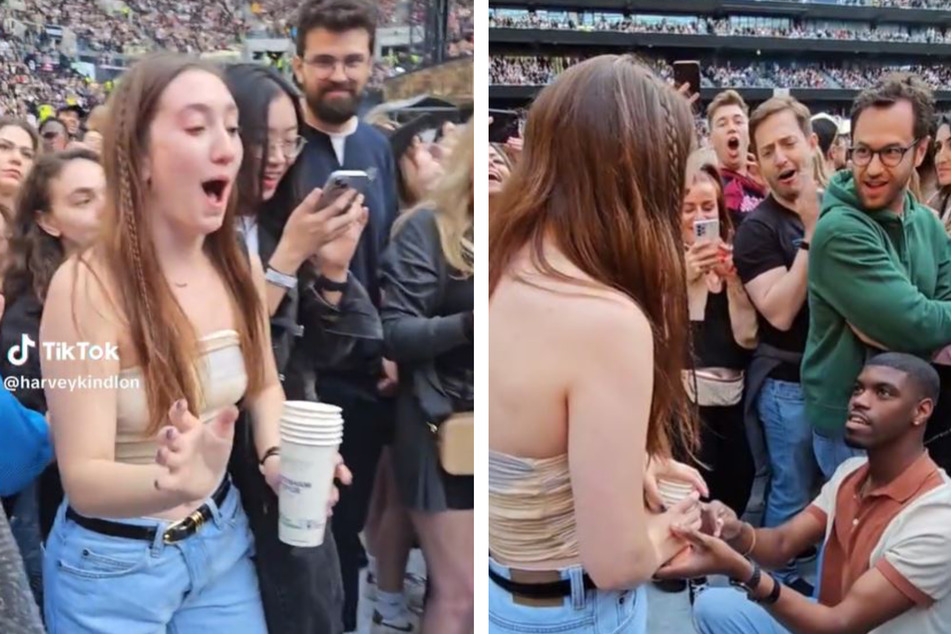 As Beyoncé once sang: "If you like it then you should have put a ring on it!" One man took it to heart.
At Queen Bey's Renaissance tour stop in London on Monday, the fan took the opportunity to try his luck and make the ultimate confession of love.
The poor guy suddenly went down on his knee in front of what appeared to be his shocked girlfriend.
Dozens of spectators pulled out their cell phones to capture the declaration. Among them was TikTok user Harvey Kindlon, whose TikTok clip of the moment has since been viewed over 468,000 times.
In the vid, the girlfriend looks surprised, as her jaw drops along with everyone standing around them.
Unfortunately, it seems to have escaped her boyfriend's notice that she is holding several paper cups in her hand. Nevertheless, he tries to awkwardly slip the engagement ring on the lady of the heart.
"B***h drop the cups!" someone can be heard yelling in what Kindlon deemed "the messiest proposal."
Then things get a bit more embarrassing.
Beyoncé concert proposal becomes a viral hit
In the middle of the moment, a faux pax happens: the man drops the ring!
The couple then spend the next few seconds searching for the piece of jewelry on the ground among the crowd.
Finally, a helping hand held jumps in, finding the ring and handing it back to the pair.
The boyfriend then tries his luck one more time, but again needs some assistance. While the man tries to slide the ring onto his girlfriend's right ring finger, someone explains to him that he has the wrong hand.
Finally, the almost-fiancée intervenes, pulling the piece of jewelry over her left finger herself. The two seal the deal with an embrace and some tears, while Beyoncé performs and everyone around them cheers.
The somewhat botched proposal has amused thousands of fans worldwide – at the expense of one happy couple.
Cover photo: Collage: Screenshot/TikTok/harveykindlon