Religious tattoo addict responds to getting called "Satan" all the time
São Paulo, Brazil - Adriano Lemos got into extreme body modifications and tattoos at the young age of only 16. Now, almost two decades later, he uses his religious faith to forgive those who label him "Satan."
Having covered more than 70% of his body in tattoos, and various modifications including inked-up eyes, facial implants, and a split tongue, Lemos from São Paulo has faced a lot of online criticism.
His account on TikTok has received millions of views, and sits at a little under 400,000 followers. Criticism and trolling always comes with such success and fame, but for someone who looks like Lemos, this goes double.
Now, the Brazilian has opened up about how he uses his religious faith to forgive those who throw him shade and refer to him as "Satan."
Religion guides this tattoo addict's reaction to criticism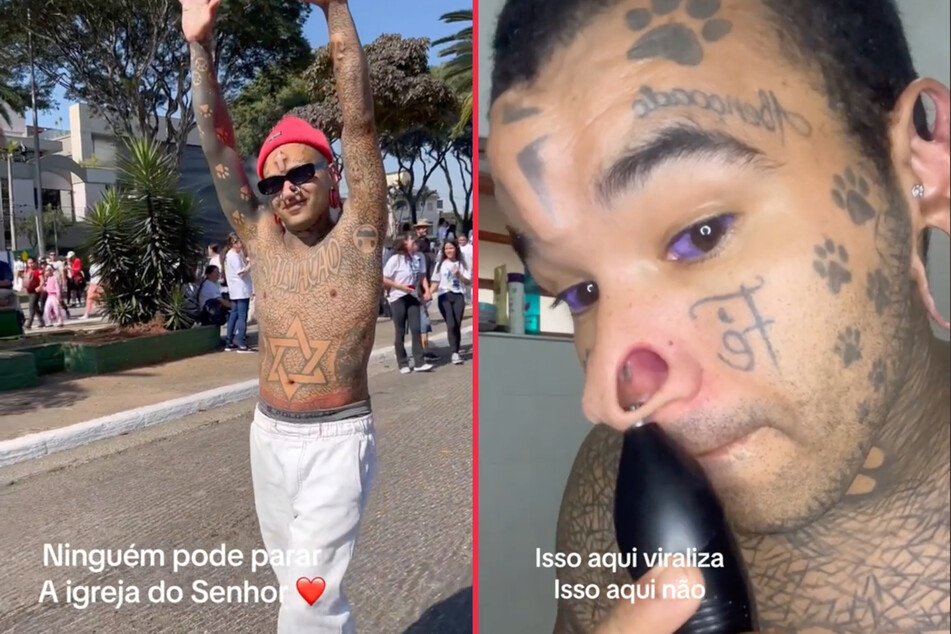 Lemos admitted during an interview with Brazilian news outlet UOL that he prefers to focus on those who call him a "tattooed angel" as well as the purpose God has for him.
"Generally, those who comment on something like this are people who didn't even make a point of known a little about my story," he explained.
The ink enthusiast said he works to improve the world around him, helping abandoned animals, as well as families in need. He has even set up his own shelter.
Luckily, his religious community is where he finds unconditional acceptance: "It's calm at the church I attend, after all, they've known me since I had no changes whatsoever."
"Unfortunately, when I go to other places for an event the reception is not the best, due to the doctrines being more rigid and them having a different vision."
"I know how to deal with any criticism, including people with religious views, people who judge me without knowing me. After all, I know God's purposes in my life and through my life, so the criticism and offensive words will not stop my calling to God."
Cover photo: Collage: Screenshot/TikTok/@adrianolemosof