Tattoo enthusiast who's spent over 70 hours modifying her looks hopes to "inspire"
Phoenix, Arizona - A tattoo and body modification enthusiast who has spent over 70 hours modifying her looks has some words of advice for those who want to try something new: do it.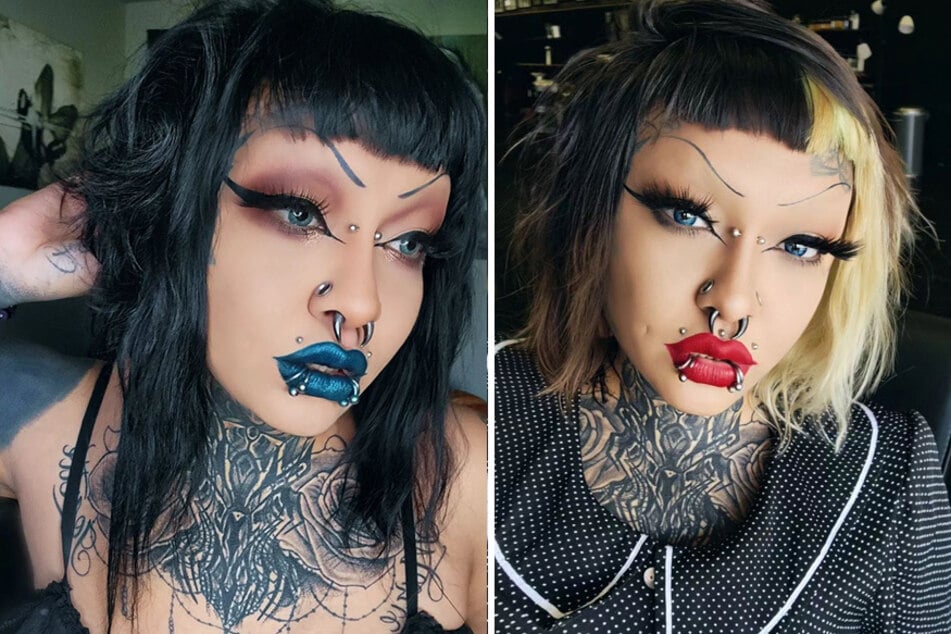 Body piercer Daoine Morte got her first piercing, a snake bite piercing on her lower lip, when she was just 13 years old. Four years later, she got her first tattoo.
Now, the 30-year-old is covered in ink and has endured 70 hours of torture in order to modify her body, such as splitting her tongue, stretching her ears, and getting various piercings, amongst other things.
She's spent thousands of dollars modifying her look, and has now forgotten how many tattoos and body mods she has in total.
"I have snakebites, modified septum, stretched nostrils, philtrum, four nipple piercings, four inch earlobes, helix, double ragùs, and two lower helix piercings," Daoine told Mirror. "I have one arm completely blacked out, the outline of a cathedral on the other which I'm currently blacking out."
Additionally, the piercing professional says her tattoo collection also includes, "Two horror portraits on one thigh, two original horror creatures created by my fiancé tattooed on that same leg. A giant planchet and a broken heart shaped face on the other, I have a cat skull in a hexagon on my knee, another creature by my fiancé on that calf."
Though it's taken her 17 years to create the look she has today, Daoine says, "there is more to come."
Despite sometimes getting side-eyed in public and trolled online, Daoine says the response for the most part is "all love."
"I've been called an alien, the devil, ugly, a freak, told my parents must hate me, I'll be single forever, they hope I never have children, that I'm pretty but I've ruined myself," she says. However, the words of others don't define her happiness, and she hopes to inspire people "to try something new."
Cover photo: Collage: Screenshot/Instagram/mamalobez