Tattooed dad with metal fangs inspires his kids to follow in his footsteps
Bocaiuva, Brazil - A tattooed dad with 98% of his body covered in ink has inspired one of his kids to follow in his body art footsteps.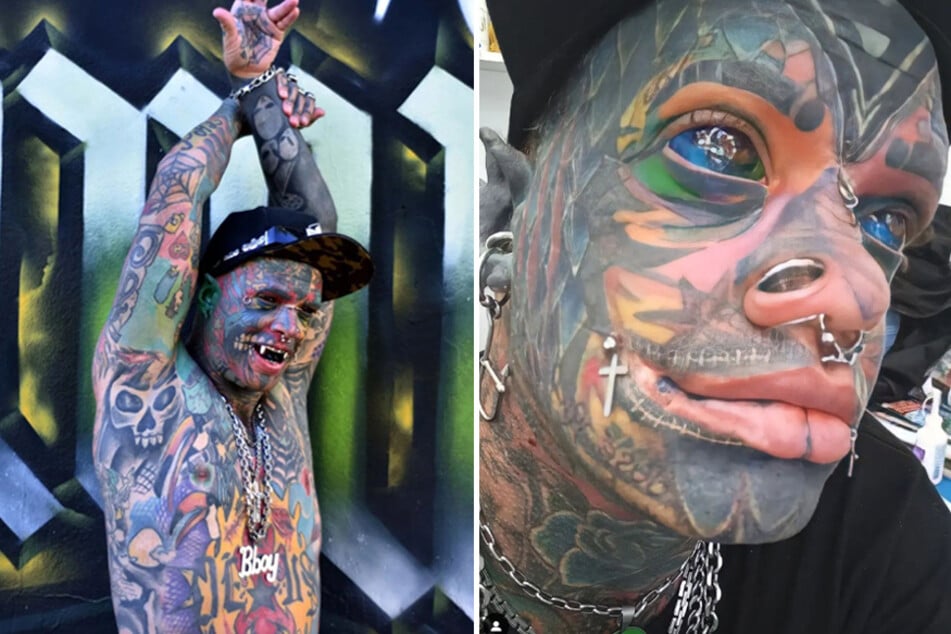 Marcelo de Souza Ribeiro (38) has more than 1,500 tattoos across his body. Got his first tattoo at the age of 15, and by 22, he realized he wanted to take things further with body mods.
Now, he has metal fangs implanted in his mouth, modified and gauged ears, miscellaneous piercings, tattooed eyeballs, blacked out gums, and a bifurcated tongue.
Before getting the metal fangs, Ribeiro told the Mirror that he had been wanting to get them done for 10 years, adding, "I love the shine and the look they have – they don't impair my eating in any way."
The tattoo-obsessed man also admitted that he wants to get more tattoos done in the few areas he doesn't have any yet, like a small spot on his leg and his "more intimate areas."
But Ribeiro isn't the only one who wants more ink. Apparently, his kids have expressed interest in following in his uniquely tattooed footsteps.
His 19-year-old daughter Hilary has apparently already started her tattoo journey, too, getting her first piece of ink at the age of 17 and a handful more over the last two years.
Ribeiro even told the outlet that his nine-year-old son Aleff, "always says he wants to get tattoos when he grows up."
Speaking of his family's opinions on his body art, which Ribeiro has spent roughly $33,000 on, Ribeiro said they were "never against my way of living and liking tattoos – even my mother has several."
Hey, we are all about a tattoo-loving family!
Cover photo: Collage: Screenshot/Instagram/marcelobboy