Tattooed TikToker transforms to ink-free version of herself in jarring reveal
Los Angeles, California - One tattoo-filled TikToker totally transformed herself to show what she may do before meeting a prospective love interest's parents.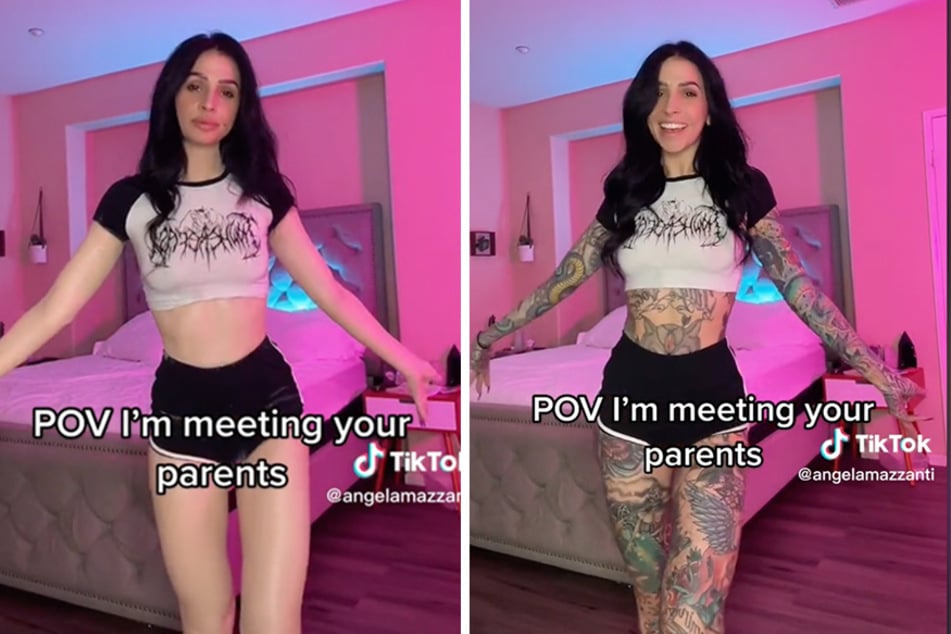 They say first impressions are everything. While one shouldn't have to change a single thing about themselves to gain the approval of others, there's no denying that in some instances – such as meeting someone's parents – there may be a little more pressure to over-perform in some ways.
Take TikToker Angela Mazzanti, for instance. While it's unlikely that someone with "if tattoos were a personality trait" in their TikTok bio actually cares about what others think of her tattoo-filled look, Angela still tried on an ink-free look for size thanks to the power of makeup.
In a video captioned, "POV I'm getting ready to meet your parents" that's amassed 11.6 million views and counting, Angela is seen covering her many tats with Dermablend foundation until she appears completely tat-free from head to toe.
Though some may watch the clip and think about how impressive Dermablend's foundation seems, others took minor offense. One TikTok user commented, "If you are embarrassed of them, why did you even get them??? It was a decision. So be proud of the decision you made," to which the original poster replied, "It's a joke……"
Let this serve as a reminder that not everything you see on the internet is an accurate depiction of someone's real life!
Cover photo: Collage: Screenshot/TikTok/@angelamazzanti