The 106-year-old tattoo artist who became an international superstar
Buscalan, Philippines - Aged 106, Maria Oggay is the oldest traditional tattoo artist in the Philippines. With hundreds of visitors trekking to her village in the mountains of Kalinga province, she has become an international superstar preserving local culture.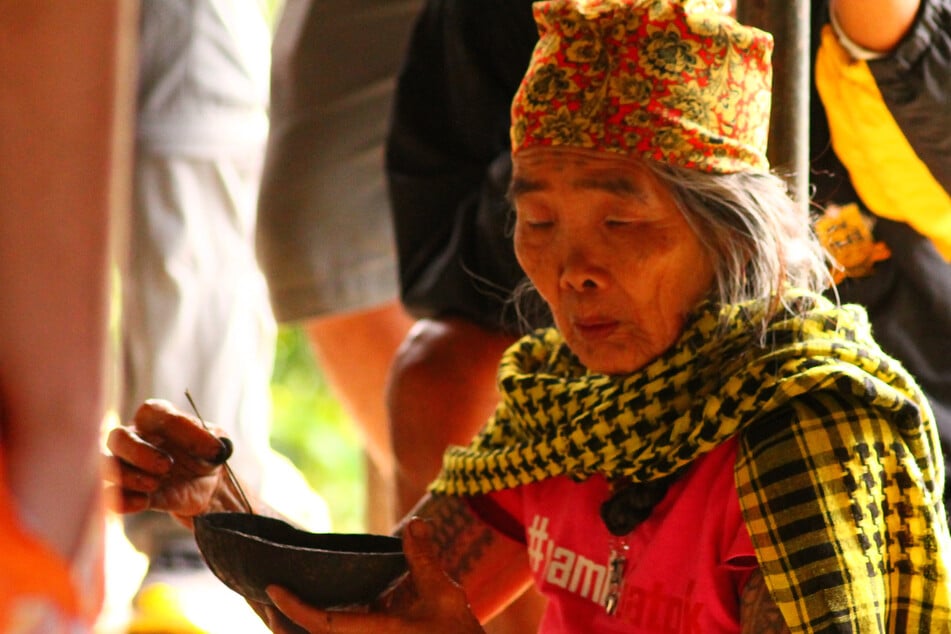 Hunched over and sitting on a low pile of sacks outside her house in the remote village of Buscalan, Maria Oggay was oblivious of the buzz around her as dozens of excited visitors queued up to get inked.

Shrouded in mist, Buscalan sits on a ridge in the Cordillera mountain range and can be reached via a 12-hour drive from Manila, along zigzag roads that are prone to landslides.
The last part of the journey is made by foot as visitors trek for about one hour to the village, passing breathtaking views of rice terraces and lush mountains, through crisp, cool air.
In the quaint village, home to about 900 residents and the Butbut tribe of headhunters, Oggay is known as Apo Whang-Od, the oldest mambabatok, or traditional tattoo artist, in the Philippines.
At 106 years old, Whang-Od still practices the ancient art of batok – the technique of tattooing through hand-tapping using a lemon tree thorn and charcoal soot – that she learned as a teenager. Through the decades, she has skillfully etched tribal designs onto the skins of thousands of people, including foreigners who make the pilgrimage to her village, promoting her culture.
"As long as I'm still healthy and my eyesight's good, I'll continue to give tattoos," she said, as she wiped her tearing eye.
From obscurity to the cover of Vogue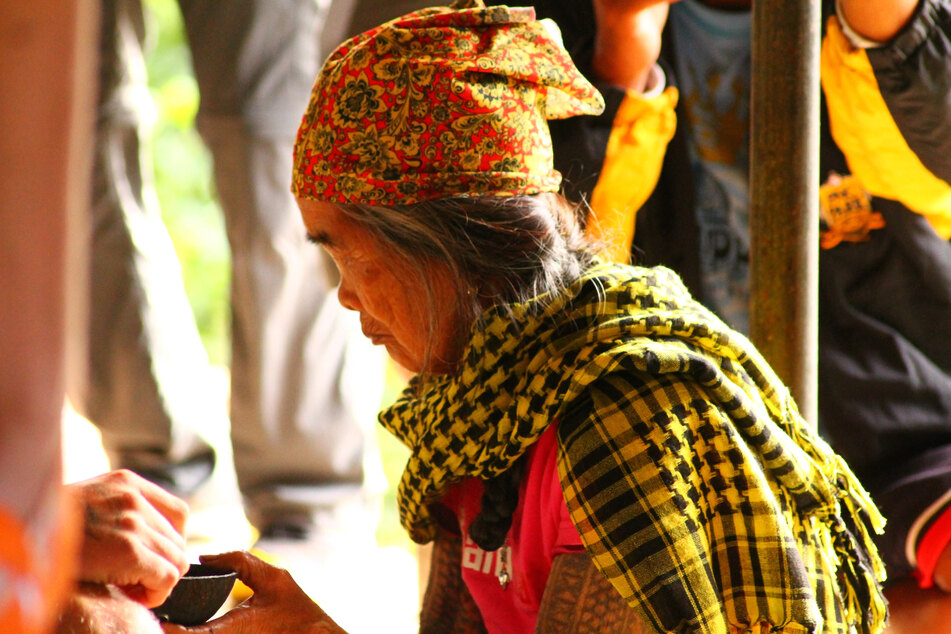 More than a decade since a Discovery Channel series catapulted Whang-Od to celebrity status in 2009, the sprightly woman again caught the world's attention when she became the oldest model to grace the cover of the Philippine edition of the international magazine Vogue in April.
"I'm happy that my photos can be seen by many people in different places. But I'm also embarrassed just thinking about them looking at an ugly face," she said, laughing.
Her face and name have become a brand and can be seen everywhere in the village – on coffee mugs, t-shirts, keychains, magnets, and other souvenirs. A marker at the turnoff to the village from the main road declares "Welcome! Whang-Od Buscalan Tattoo Village."
The world-famous native of Kalinga province, about 185 miles north of Manila, has embraced modern fashion, donning a black hoodie over a white t-shirt and paisley track pants.
A black knitted bucket hat adorned with sunflowers, dangling pink flower earrings and colorful beaded necklaces complete her outfit for the day.
But her best accessory remains her many tattoos of different designs on her wrinkled skin, marking various moments in her life, including achievements, ailments, and former lovers.
"The tattoo is important," Whang-Od said in the local dialect. "When you die, all the necklaces and the earrings will go, but the tattoo will stay."
Passing on an ancient craft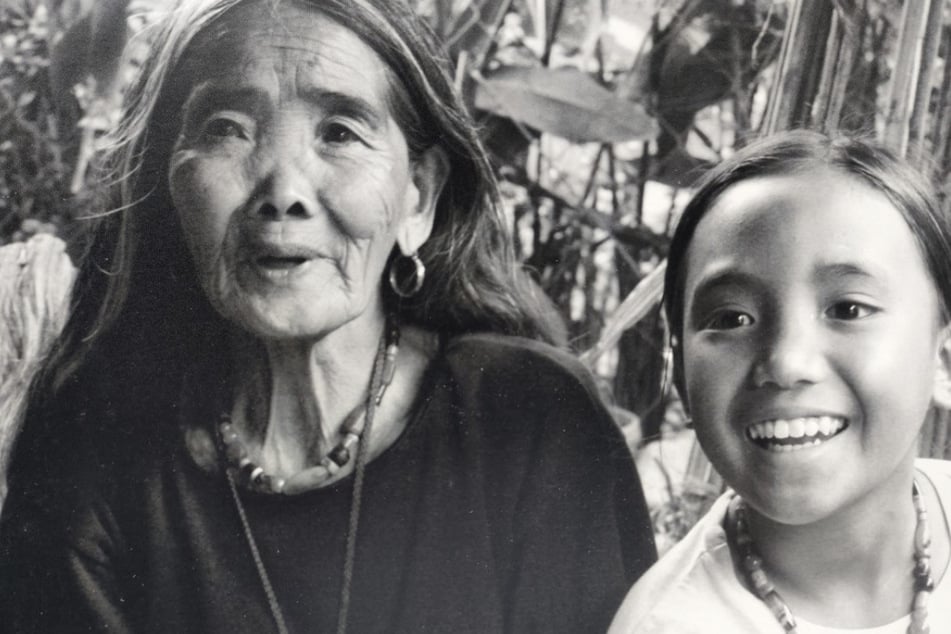 Her first tattoo was a ladder and a python on her left arm that she got when she was 15 years old.
Her favorite tattoos refer to names of her former lovers: "These tattoos carry good memories. One was made by a guy from the other village as a keepsake. It's an unforgettable tattoo."
An accidental tattoo is the black ink left on her fingers from decades of tapping that has also fractured her right thumb.
"It's painful when I touch it," she said. "It got twisted before and now the bone's broken."
For years, Whang-Od was thought to be the last Kalinga mambabatok since did not marry and had no children to train in the craft, which can only be passed on within bloodlines. But from 2007, she started to train her grandnieces Grace Palicas and Elyang Wigan to keep the ancient tradition alive.
The Vogue cover, coming off the Covid-19 pandemic when travel was restricted, has boosted interest to meet and get inked by Whang-Od, who now only does a signature of three dots, representing herself, Palicas, and Wigan – her legacy.
"Without her, the village and our tradition would never have been known around the world," the 26-year-old Palicas said of the cover. "She is the face of this tradition."
In the past, only warriors from the Butbut tribe were given tattoos as a sign of their bravery in protecting the village. Those who got inked based on fake claims of taking a life for the village's welfare died even before the tattoo healed.
"Now, everyone wants to get a tattoo, a piece of the artwork," Whang-Od said. "I think it's a good thing that a lot of people, even foreigners, are interested in getting one."
Tattoo artist's success leads to spike in tourism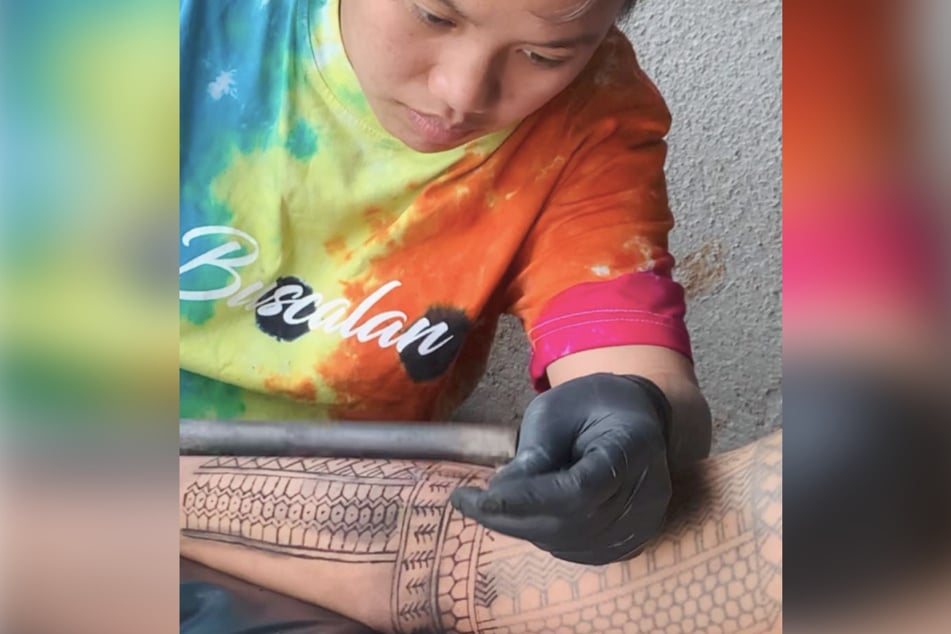 Whang-Od's popularity has benefited the entire village of Buscalan, where tattoo tourism has sparked new, lucrative sources of livelihood aside from agriculture. Residents have become tour guides, opened their houses for accommodation, and sold souvenirs, among other initiatives.
That additional income means residents are able to afford modern comforts. Some Wi-Fi hotspots have sprouted in the village, where there is no mobile phone signal. Galvanized iron sheets and cement have replaced dried grass and wood as the materials used to build most houses. Mechanized trolleys have even been set up to take supplies up the mountain, across a deep valley where a raging river flows.
Jade Kuehnl, a 26-year-old tourist from Britain, had been wanting to visit Buscalan since learning about Whang-Od three years ago. She finally went on the trip with a friend from the US in late May.
"I feel like I'm part of something," said Kuehnl, who got the three dots tattooed on her left ankle. "I know that there's a history, that this tattoo was meant for men who fought to protect the land here, so at some point it feels a little conflicting, but it feels special."
Whang-Od turned down marriage proposal from customer
Seeing the legendary mambabatok at work brings a sense of awe and nervous excitement to visitors, who are made to sit on plastic stools as they wait their turn. The rhythmic tak-tak-tak sound of the tapping takes their mind off the pain that accompanies each jab, as they come in quick succession.
Tina Rose Gado, a 45-year-old Filipino assistant nurse, was with a group of six friends visiting from Canada.
"I feel proud that I now have the mark of Whang-Od," she said after getting inked on her left wrist. "I will really show this off."
Whang-Od has prepared for death, picking a spot for her grave – near the back of her house where she gives tattoos. She said she has lived a good life, but joked that it would have been better if she had a husband and children.
A foreigner she tattooed once asked her to marry him, but she turned him down: "I'm too old for that stuff. I'm dying," she giggled. "It's hilarious to even think of an old woman getting married."
Whang-Od said she hopes that people continue to visit Buscalan to get traditional tattoos even after she dies, keeping the tradition and her memory alive.
"If I die, then I die," she said. "But it would be great if people would still come. As long as people will come, we will give them tattoos."
Cover photo: Collage: IMAGO / Pond5