TikToker inspires tattoo trend involving kids, and viewers are losing it
If you saw a TikTok video of someone giving a toddler a tattoo, would you assume it was real or fake? One TikToker has inspired social media users by his not-so-serious tattoo content you'll have to see to understand!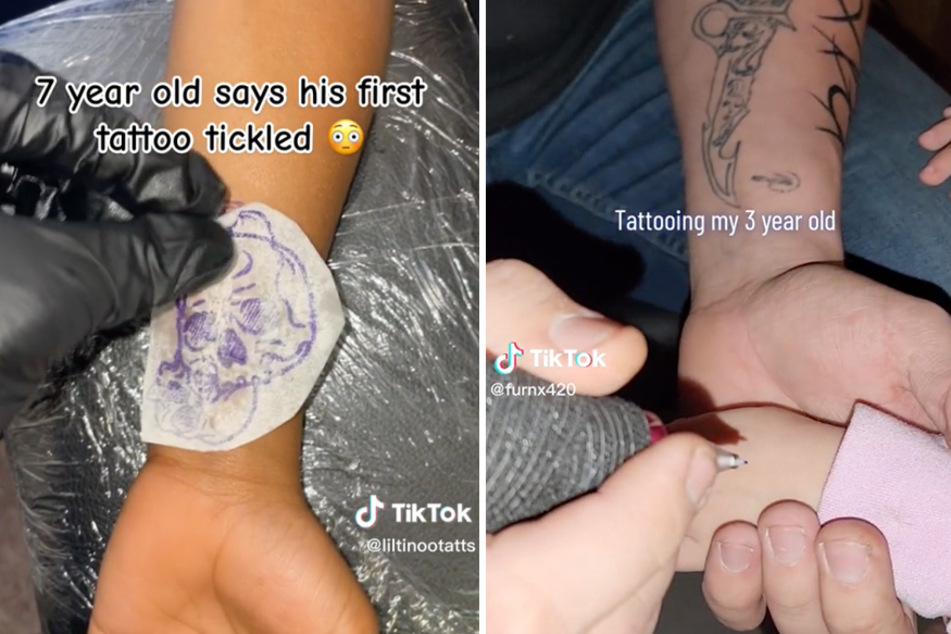 Back in December, TikTok user @furnx420 stunned 10 million viewers by posting a video where he was seen "tattooing" a toddler. However, the TikToker wasn't using a real tattoo gun, but rather, placed a marker inside a handheld tattoo machine to fake the process.
While some TikTok users didn't understand, leading the TikTok user to post a follow-up video explaining his marker method, noting "It's come to my attention that people are a little dumber than you'd think," others were inspired by his not-so-subtle trick.
Since then, many videos have surfaced of other tattoo artists and parents hooking kids up with sweet – albeit fake – ink.
While it was pretty clear that this wasn't a legitimate tattoo, other TikTok users have stunned viewers and started debates in various comments sections over whether similar tattoos are real or not.

Take a video posted by TikToker @liltinootatts, for example. In the clip that's amassed 5.5 million views, the tattoo artist insinuates he's giving a 7-year-old a permanent tattoo with a real tattoo gun. Though the original poster never confirmed or denied whether the tat was real or fake, social media users sounded off in the comments.
Social media users react to questionable tattoo trend
One person left quite the distressed comment: "Please tell me this isn't real that tattoo looks like it was drawn on with markers and bro doesn't even know what he's doing he's [too] young."
One TikTok user argued that the tattoo wasn't real: "Y'all it's in sharpie he didn't actually use the tool."
A woman who claims to be the young kid's mother even dropped by the comments to say: "Approved By Mom. Love It!"
What do think about this deceptive tattoo trend?
Cover photo: Collage: Screenshot/TikTok/@furnx420 & @liltinootatts