New York has a new Statue of Liberty that's chillin' like a villian
New York, New York - The concrete jungle has gotten a second Statue of Liberty – and visitors can chill out, have a picnic, or get a tan with her in the park!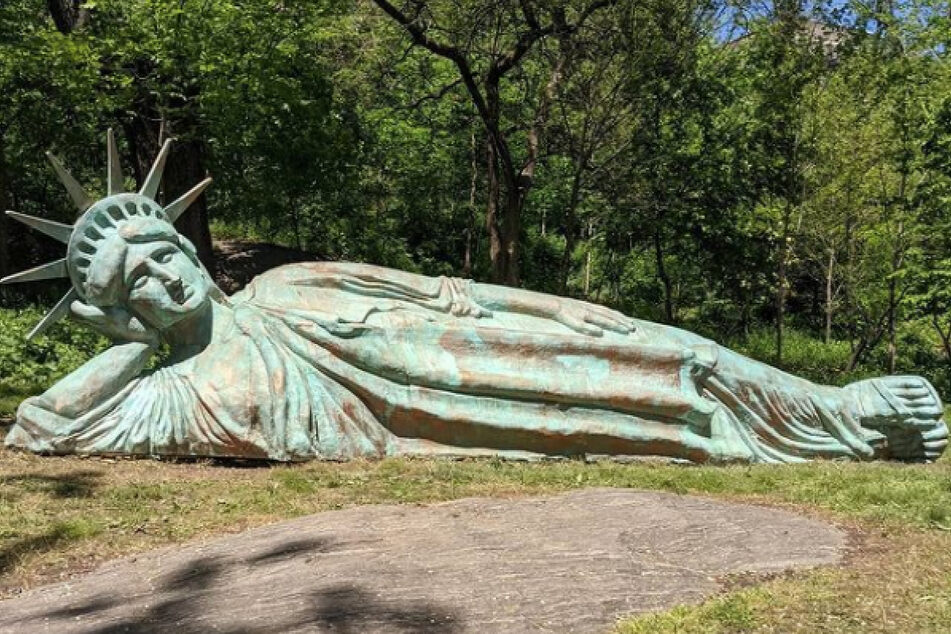 The new Lady Liberty in town isn't standing in the Hudson with her arm raised above her head – like her famous twin sister – but is instead taking a more chill approach.
The brand-new reclining statue, which is almost 23 feet long, was made by artist Zaq Landsberg and laid down in Harlem's Morningside Park on Monday.
It will be on display until April 2022, and can be seen near the park entrance at West 120th Street and Morningside Avenue.
The art installation has created an Instagrammable moment and seeks to attract more tourists to take advantage of outdoor spaces in Manhattan amidst Covid-19.
Officials are hoping to add it to the list of the many incentives for vaccinated New Yorkers – like free local cheesecake and hot dog giveaways – to encourage the city's re-opening.
The sleepy green giant is not the only new statue to hit Manhattan this week: a huge bronze figure was unveiled on Wednesday in front of Rockefeller Center.
Oracle stands at just under 30 feet high and weighs 15,000 pounds. Created by artist Sanford Biggers, the huge figure depicts an African mask-style head and Greek god-like body. It will only be on display for a limited time until June 29.
Along with the art additions, New York's governor Andrew Cuomo announced that he wants to expand even more outdoor tourist attractions, like the pedestrian High Line park, to attract more travelers to the city.

Cover photo: Screenshot/Instagram/snoop_lizardd