Woman accidentally catches coup on camera while filming workout video
Naypyidaw, Myanmar - Khing Hnin Wai wasn't trying to film the military coup in Myanmar. She was just recording a fitness video when roadblocks, military vehicles, and soldiers suddenly appeared behind her.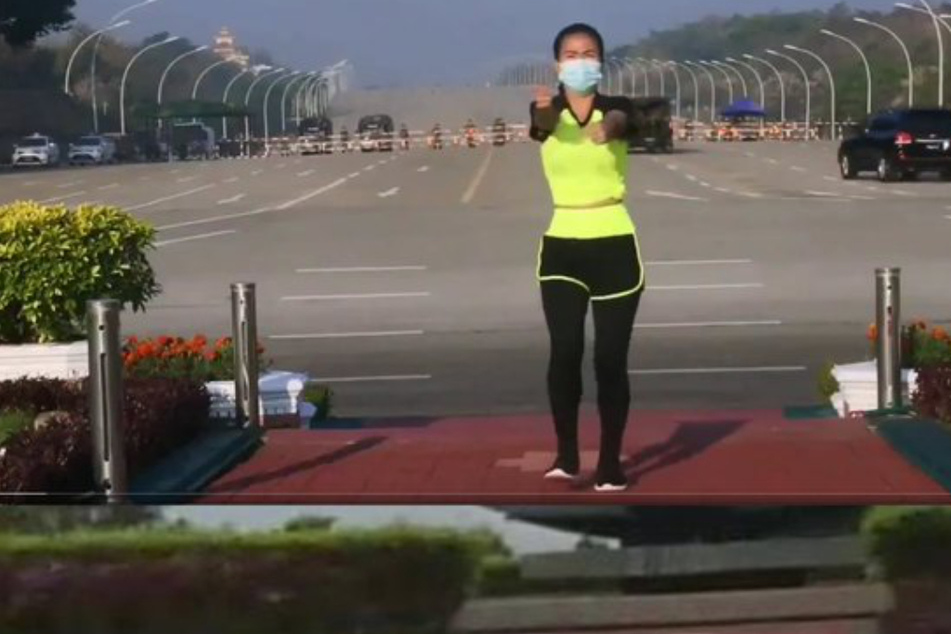 In the clip, the fitness instructor moves spryly back and forth in a neon athletic outfit to the rhythmic sounds of techno-pop.
She is so focused on her workout that she doesn't seem to notice what's going on behind her. Several military convoys are making their way directly to the parliament building in Myanmar's capital Naypyidaw.
These are the first movements in the military's seizure of the government.
NPR reports that the video was recorded on Monday in Naypyidaw. Wai was working out to an Indonesian song called Ampun Bang Jago. According to a Tweet by Resty Woro Yuniar, a journalist for the South China Morning Post, the song was used last year during the Omnibus Law protests.
Khing Hnin Wai first posted her clip on Facebook, where it quickly went viral. The video has also been circulated on Twitter, where it's been viewed 16 million times.
Many social media users doubt the video's authenticity
At first, many social media users were skeptical and doubted the authenticity of the clip. They thought the whole scenario was just too absurd.
The BBC reported that internet sleuths went to work and confirmed the video's authenticity, even if the situation seems too wild to be true. Aric Toler, a journalist from the independent research network Bellingcat, shared photos refuting the idea that the video was a fake on Twitter, and he wasn't the only one. The BBC also contacted Khing Hnin Wai, who also said it was real.
Khing Hnin Wai spoke out on Facebook and shared videos to prove that she has made more than one video over the past eleven months, all at this particular intersection called Yaza Htarni, the roundabout near the parliament building.
She also wrote: "I wasn't dancing to mock or ridicule any organization or to be silly. I was dancing for a fitness dance competition. As it isn't uncommon for Nay Pyi Taw to have an official convoy, I thought it was normal so I continued."
But this time the military convoys weren't normal, and Wai unwittingly caught the beginnings of a coup on camera. Wai said she didn't realize what was really happening behind her until later: "Before I heard the news ... in the morning, the video I made for the aerobic dance competition has become an unforgettable memory."
The military in Myanmar ousted the civilian leadership of the Southeast Asian country led by de facto head of government Aung San Suu Kyi (75) on Monday morning and declared a yearlong state of emergency.
Cover photo: Screenshot twitter.com/AdityaRajKaul