Steph Curry shares adorable moment with daughter Ryan after a big win
San Francisco, California - It's fair to say Steph Curry had a great night as his Golden State Warriors progressed to the West semifinals – and there's nothing better than celebrating with your fam at the end.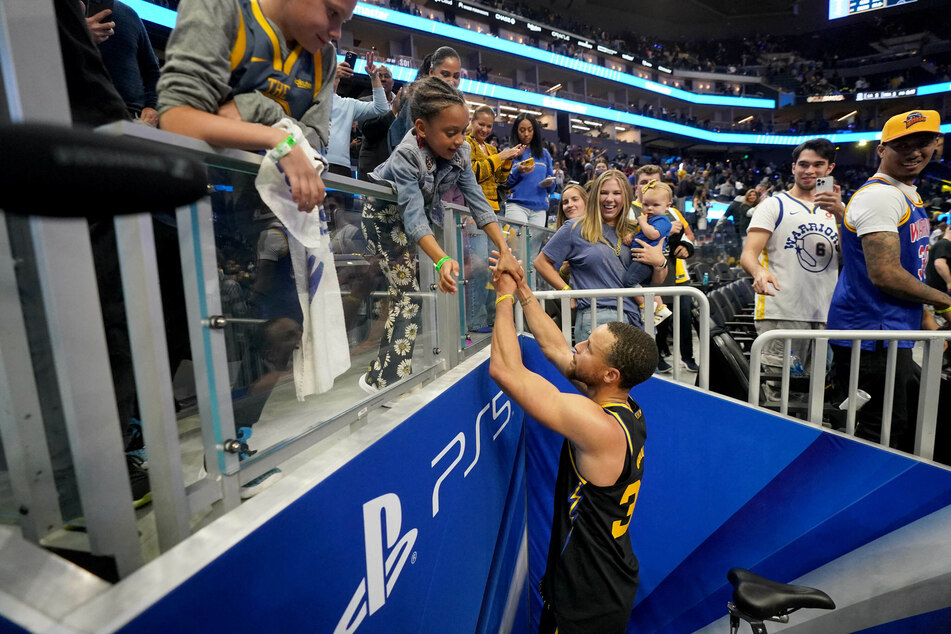 Curry's 30 points, five rebounds, and five assists helped the Golden State Warriors beat the Denver Nuggets 102-98 and clinch the first-round playoff series.
After the game, he made a beeline to the crowd, where a very special fan was waiting to get the party started: his six-year-old daughter Ryan.
Cameras captured the two exchanging a perfectly-executed secret handshake, before Curry's wife Ayesha also joined in to show her appreciation.
It was the perfect end to the perfect night for the 34-year-old point guard, who had made his first since start since coming back from a foot injury. The Warriors are now waiting to see whether they will face the the Memphis Grizzlies or the Minnesota Timberwolves in the Western Conference semifinals.
After championships in 2015, 2017 and 2018, the Warriors were beaten in the NBA Finals in 2019 and then endured two taxing seasons.
To be winning again in the playoffs felt good: "It means a lot. I never take it for granted," Curry said. "We understand we hopefully have a lot left to do, but getting to the playoffs and getting through a series and winning four games against a good team, it's hard."
"Every team wants to be in this position at the end of the year. For me, Draymond [Green], Klay [Thompson], [Kevon] Looney, we've all been there before and love the competition and the environment."
"It was just a weird feeling, because we hadn't been there in a while and wanted it so bad and kind of made it a lot more difficult for ourselves, but we still remembered how to do it which was a good feeling."
Cover photo: USA TODAY Sports