NBA roundup: Curry and Thompson tag-team Toronto, Giannis downs Pacers
San Francisco, California - The Splash Brothers found their range as Steph Curry and Klay Thompson combined for 64 points, including 10 three-pointers, to fuel the Golden State Warriors' 129-117 win over the Toronto Raptors in the NBA on Friday.
Curry top scored with 35 points on 13-of-21 shooting from the field, making four-of-eight from beyond the arc, with seven rebounds, 11 assists, and two steals at Chase Center.

Thompson finished with 29 points but nailed six-of-14 three-point attempts, along with eight rebounds.
Donte DiVincenzo made another strong impression off the bench, playing 33 minutes for 12 points with two-of-five three-pointers and 11 assists.
As a team, Golden State shot at 55.6% from the field (50-of-90), while they had 40 assists compared to Toronto's 24.
The win improves the Warriors' home record to 19-6, while they nudge over .500 with a 25-24 overall record to move up to seventh in the Western Conference.
Raptors guard Fred VanVleet scored a team-high 28 points on five-of-10 three-point shooting with 10 assists, while Scottie Barnes chipped in with 24 points.
Around the league: Giannis dominates, SGA racks them up for OKC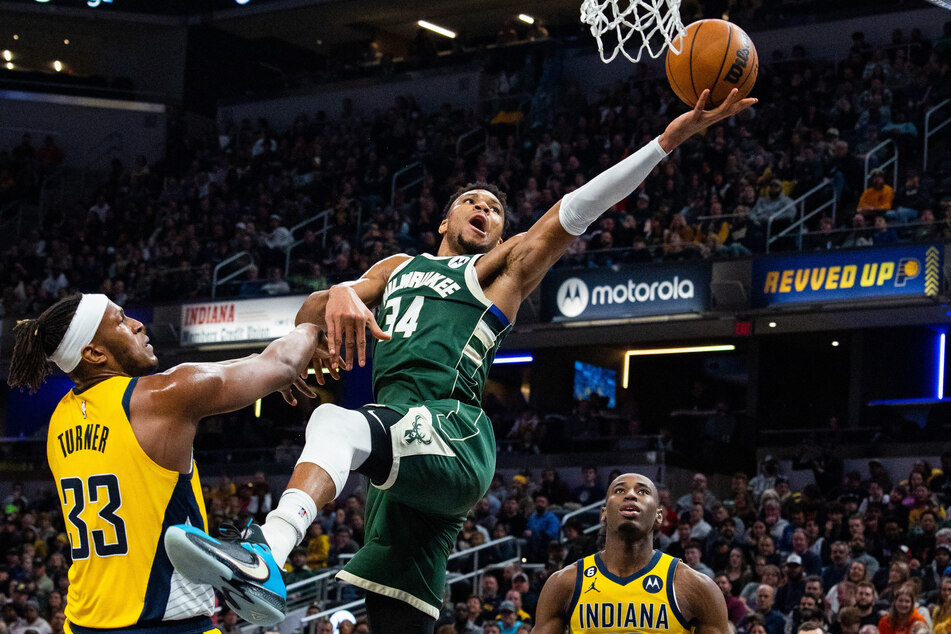 Giannis Antetokounmpo held off another Indiana Pacers' late charge as the Milwaukee Bucks won 141-131, fuelled by the Greek's 41 points, 12 rebounds, and six assists.

Antetokounmpo made five-of-eight free-throws in the final four minutes as the Bucks held on, having led 85-56 at half-time. Jrue Holiday contributed 20 points with nine rebounds and nine assists.
Khris Middleton continued his gradual return to full fitness, scoring 17 points in 15 minutes off the bench, while Myles Turner top scored for Indiana with 24 points.
Shai Gilgeous-Alexander recorded his fourth straight 30-point game as the Oklahoma City Thunder down the Cleveland Cavaliers 112-100 after scores were locked at three-quarter time.
Gilgeous-Alexander finished with 35 points, with eight assists and five rebounds for OKC, who won for the sixth time in eight games to improve to 24-25.
The Cavs were without Donovan Mitchell due to a groin injury, with Darius Garland starring for them with 31 points and 13 assists.
Meanwhile, Ja Morant recorded his fourth triple-double of the season with 27 points, 10 rebounds, and 11 assists in the Memphis Grizzlies' 111-100 loss to the Minnesota Timberwolves.
Cover photo: Collage: USA TODAY Sports