Jim Harbaugh reveals Michigan football's 2023-24 team is the best in nearly a decade
Ann Arbor, Michigan - Will this be the year the Michigan Wolverines wins the College Football Playoffs?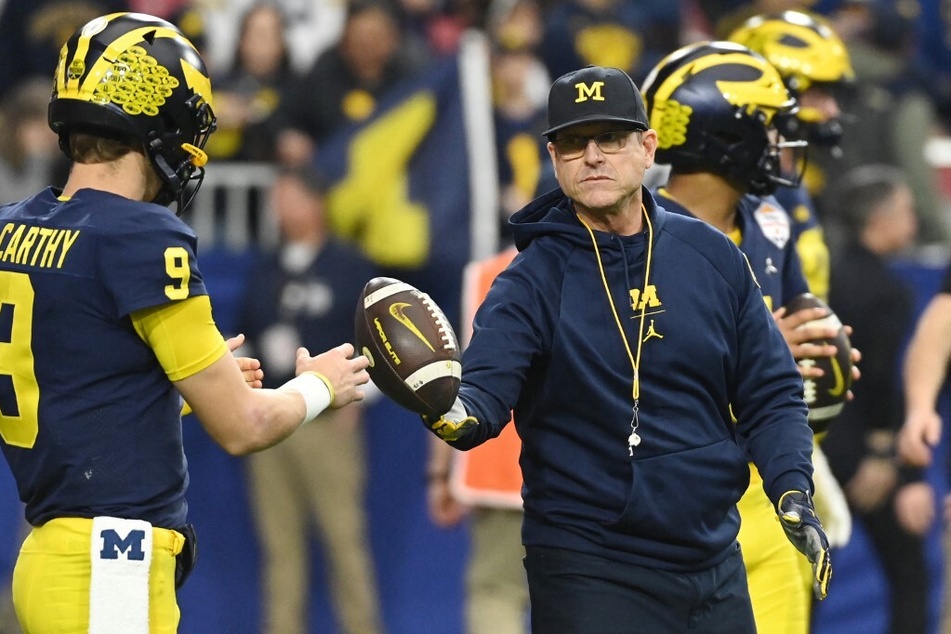 Entering the 2023-24 college football season, the Wolverines are coming off two of the most successful seasons in program history!
Adding to the confidence of continuing another great year, Michigan's veteran quarterback JJ McCarthy is set to return, along with the best running back duo in the country Blake Corum and Donovan Edwards, and its two-time Joe Moore Award-winning offensive line.
Without a doubt, head coach Jim Harbaugh believes that this Michigan team is the best he has ever coached.
"It's gonna be the best team," he said, noting it's the "best version of a Michigan football team on April 1st, 2023 that we've ever had," speaking about the team's annual Maize and Blue spring game. "A great roster of players, tremendous coaches all pulling in the same direction. That doesn't mean we're not going to have a letdown as the months go on, but this is the best version of football that I've seen since I've been here the last eight years."
He added: "This is not the time to regroup or to rest, or to take a step back. Now's the time to attack."
Will Michigan become the first college football team to reach 1,000 wins?
If Michigan can end the regular season undefeated, the program can have the chance to earn the honor of becoming the first program in college football history to reach 1,000 wins. The program currently has 989 wins.
The Wolverines will open the season against East Carolina on September 2 before navigating a difficult seven-game stretch that includes Big Ten road showdowns at Nebraska, Minnesota, Michigan State, Penn State, and Maryland.
The Wolverine's will end the regular season at home against heated rival Ohio State. Michigan is currently on its longest win streak against the Buckeyes with two wins in 23 years.
Cover photo: NORM HALL / GETTY IMAGES NORTH AMERICA / GETTY IMAGES VIA AFP