NFL's Marcus Davenport reveals he amputated his finger
New Orleans, Louisiana - Former first-round draft pick Marcus Davenport of the New Orleans Saints decided to amputate his finger after an infectious injury.
Dealing with prolonged finger pains, New Orleans Saints defensive end Marcus Davenport finally got the solution to his problem – but it came with a price.
The star athlete revealed he had the top portion of his left pinkie finger amputated during the off-season after it got infected following a previous surgery.
His pinkie had been a nagging issue for the 25-year-old since he first tore its ligaments in a bowl game during his junior year at the University of Texas at San Antonio.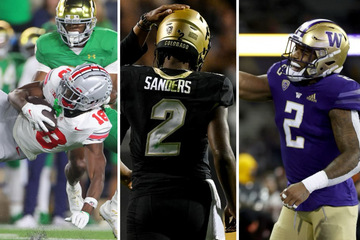 The finger bent significantly over time, leading to an urgent surgery in 2021. After breaking a finger-plate that was inserted this off-season, Davenport had three more surgeries before he opted to amputate part of it.
The former first-round draft pick didn't participate in the team's minicamp this week, as he continues to recover from a recent shoulder surgery. Saints head coach Dennis Allen told reporters that he expects the 25-year-old to be back in time for training camp.
Davenport doesn't believe the impairment will affect his performance, as he's already adapted to the bent finger, according to ESPN.
The 6-foot-6-inch, 265-pound defensive end has shown great potential throughout his four years as a rookie, with a career-best of nine sacks in just 11 games during the 2021 season.
Cover photo: Collage: Edward M. PIO RODA / SAM GREENWOOD / GETTY IMAGES NORTH AMERICA / Getty Images via AFP