NBA: Booker and Raptors mascot "homies now" after shenanigans in Suns win
Toronto, Canada - The Phoenix Suns were playing in front of an empty arena during Tuesday's win at the Toronto Raptors, but Devin Booker was still frustrated by a distracting figure.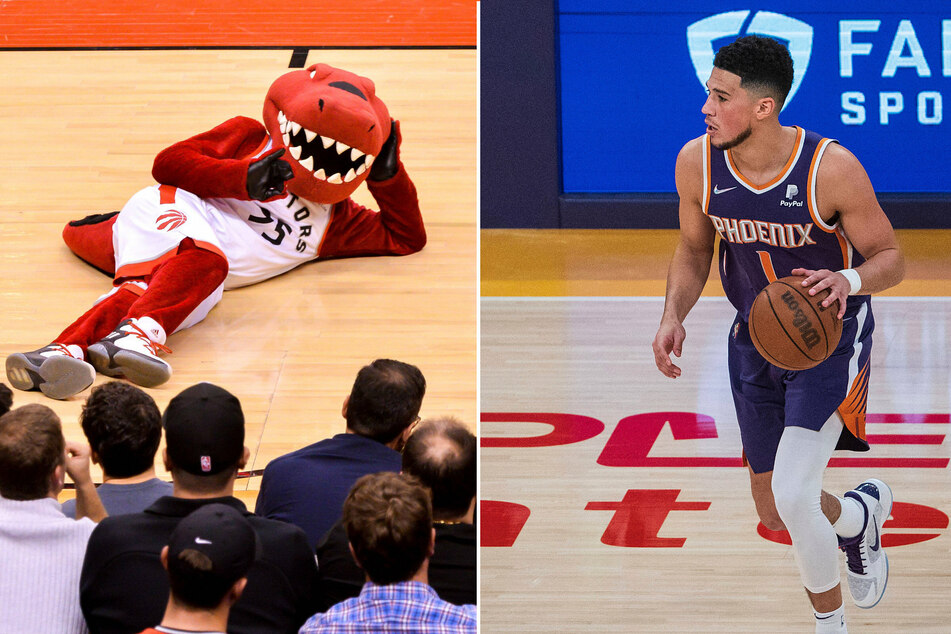 Having already hit the go-ahead shot with a little over a minute remaining at Scotiabank Arena, Booker stepped up for a pair of free throws with 6.5 seconds remaining on the clock with the Suns leading 93-92.

Booker drained the first but was visibly frustrated and complained to the referee because he was rattled by the antics of the Raptors' mascot, named aptly "The Raptor," who was waving his arms in his eyeline.
The officials made Toronto's talisman move out of sight and into the corner like a naughty child before Booker nailed the second attempt to put the seal on a 95-92 triumph.
Booker's complaints drew plenty of derision on social media but the man himself explained after the game that all was well.
"We hashed it out, we homies now," he said with a smile.
"I was just trying to get him out the way. It worked. I'd rather be shooting them without him down there."
"We play shooting games all the time every day. These two (Chris Paul and Jae Crowder) do the same thing and I complain then. That's just me."
Booker had 16 points on the back of four-for-13 shooting, making two of seven from beyond the arc.
But it was far from a vintage Suns performance. Phoenix had 20 turnovers that resulted in 18 points for the Raptors, while they allowed Toronto 15 more field goal attempts and let their opponents record a season-high 22 offensive rebounds.
The Suns' win sees them move to 31-9 on the season, the best record in the NBA.
Cover photo: Collage: IMAGO / ZUMA Press