NFL: Ravens swoop to seal late win over Chiefs in battle of former MVPs
Baltimore, Maryland - The Baltimore Ravens and Kansas City Chiefs got into a high-scoring affair on Sunday night, with the Ravens getting their first regular-season win in front of their home fans.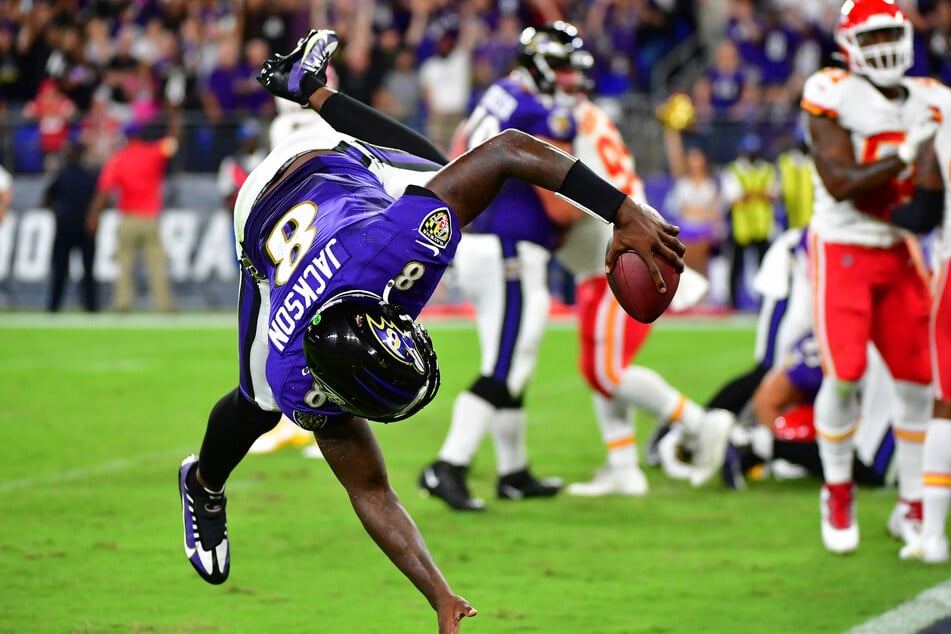 The Ravens beat the Chiefs 36-35 and gave superstar quarterback Lamar Jackson (24) his first win over fellow former MVP Patrick Mahomes.
Having met before three previous times, Mahomes always had the upper hand over Jackson, but after giving up a 14-point lead last week, the Ravens weren't looking to lose twice in a row.
Both teams traded scores back-and-forth through the first three quarters before the 2019 NFL MVP, Jackson made the fourth quarter all his, rushing for two touchdowns including a one-yard front-flipping run over the goal line to put Baltimore up by one with minutes to go.
Jackson finished the game 18-for-26 passing, 239 yards, two interceptions, and one touchdown through the air, to go with his two on the ground.
The Ravens, despite using four running backs that have replaced the three injured ones they lost prior to the season opener, rushed for 251 yards as a unit, also led by Jackson. Ty'Son Williams pitched in with 77 yards rushing, while Latavius Murray ran for 36 yards and a touchdown of his own.
Mahomes, the 2018 MVP, had a better game statistically than Jackson, going 24-for-31 passing, 343 yards, three touchdowns, and one interception.
Tight end Travis Kelce led the Chiefs in receiving with seven catches for 109 yards and a touchdown.
However, his team's defense simply couldn't stop Jackson and the Ravens' offense.
After Jackson's second touchdown rush in the fourth quarter, the Chiefs did get the ball back with over three minutes remaining. The ball was fumbled away by Chiefs running back Clyde Edwards-Helaire with less than a minute and a half to go, leaving the Ravens to run out the clock for the win.
Next Sunday, the Ravens (1-1) look for their second-straight win in Detroit, against the Lions (0-1) while the Chiefs (1-1) head back home to take on the LA Chargers (1-1).
Cover photo: IMAGO / UPI Photo