Paralympics: Weggemann leads Team USA swimmers to record-breaking glory!
Tokyo, Japan - Team USA cruised back to the podium at the pool on Monday, collecting gold among more medals in record-breaking fashion at the 2020 Tokyo Paralympic Games.
Mallory Weggemann (32) was back at the top of the podium with another gold medal, this time in the women's 100-meter backstroke S7 final.
She blew away the competition to finish at 1:21.27, a new Paralympic record.
Canada's Danielle Dorris (1:21.91) touched the wall second for silver while Weggemann's teammate Julia Gaffney (1:22.02), the world record holder in the event, finished in third place for the bronze medal. Another American swimming star, McKenzie Coan (1:23.10), just missed out on the podium, placing fourth.
In the women's 100-meter backstroke S9 final, two-time Paralympian Hannah Aspden won her first Paralympic gold medal with a winning time of 1:09.22.
Building on her bronze medal performance from the 2016 Rio Games, she arrived in Tokyo to beat out Nuria Marquez Soto (1:10.26) from Spain, who grabbed the silver, and New Zealand's Sophie Pascoe (1:11.15), who's also the world record holder in the event.
Aussie swimmer Ellie Cole (1:13.15), the Paralympic record holder, just missed a spot on the podium, touching the wall fourth.
Swimming star power keeps Team USA on several podiums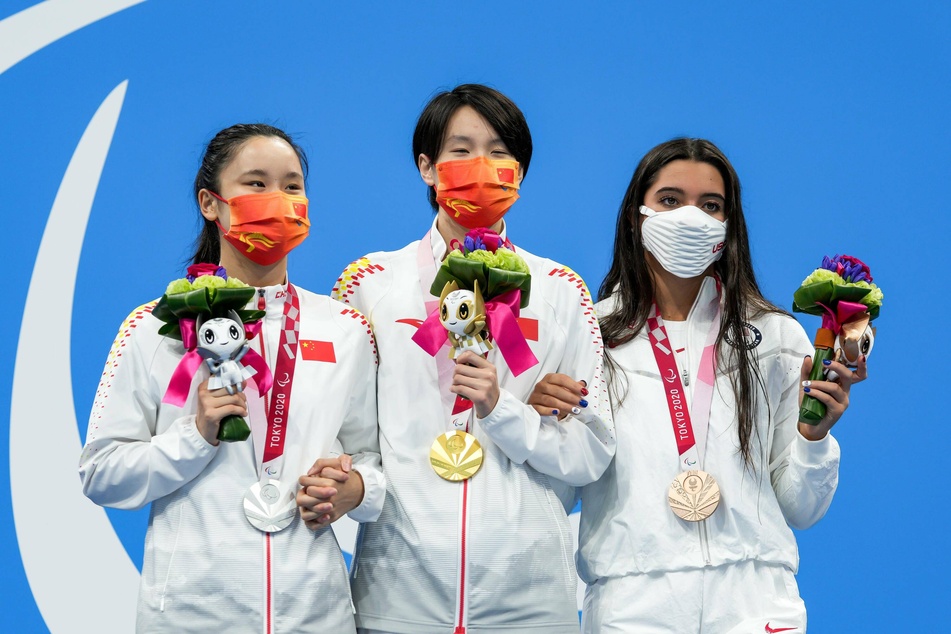 Anastasia Pagonis, one of the more popular swimmers in Tokyo, added to her medal collection on Monday by stopping an almost certain Chinese sweep in the women's 200-meter individual medley S11 final.
She finished at 2:45.61, good enough for a bronze medal, after powering past China's Xinyi Wang in the last 50 meters for the third podium spot. She was just behind China's Jia Ma (2:42.14), who set the world record for the gold medal, and her teammate Liwen Cai (2:42.91), who earned silver.
First-time Paralympian Leanne Smith's first career medal is silver as she finished second with a time of 1:37.68 behind Italy's Arjola Trimi (1:30.22) in the women's 100-meter freestyle S3 final. Ilulia Shishova (1:49.63) of the Russian Paralympic Committee finished in third for the bronze.
In the women's 200-meter individual medley SM13 final, Colleen Young also earned herself a silver medal, finishing at 2:26.80. Italy's Carlotta Gilli (2:21.44) set a world record to win the gold while Shokhsanamkhon Toshpulatova (2:27.92) of Uzbekistan won the bronze.
And Elizabeth Marks won the bronze medal in the women's 50-meter butterfly S6 final with a time of 36.83. She placed behind China's Yujan Jiang (34.69), who had already set the event's world and Paralympic records in the Tokyo preliminaries. She got the gold over Ireland's Nicole Turner (36.30) who placed second for the silver medal.
Swimming events continue in various events for Team USA throughout this final week of the 2020 Tokyo Paralympic Games, wrapping up with final races on Friday, September 3.
Cover photo: IMAGO / SNA